Where I feature new releases that grabbed my attention for the upcoming month. As always, release dates are subject to change. All titles link back to Goodreads.
Secrets in Death
(In Death #45) by JD Robb (romantic suspense)
--
September 5th
The chic Manhattan nightspot Du Vin is not the kind of place Eve Dallas would usually patronize, and it's not the kind of bar where a lot of blood gets spilled. But that's exactly what happens one cold February evening.
The mortally wounded woman is Larinda Mars, a self-described "social information reporter," or as most people would call it, a professional gossip. As it turns out, she was keeping the most shocking stories quiet, for profitable use in her side business as a blackmailer. Setting her sights on rich, prominent marks, she'd find out what they most wanted to keep hidden and then bleed them dry. Now someone's done the same to her, literally—with a knife to the brachial artery.
Eve didn't like Larinda Mars. But she likes murder even less. To find justice for this victim, she'll have to plunge into the dirty little secrets of all the people Larinda Mars victimized herself. But along the way, she may be exposed to some information she really didn't want to know…
Lady Eleanor's Seventh Suitor (The Sutherlands #1) by Anna Bradley (historical romance)
--
September 5th
There have been six suitors so far, all vying for the attention—and generous dowry—of the beautiful, elusive Eleanor Sutherland. What does this woman really want? Who has what it takes to melt the heart of the so-called Lady Ice? These are the questions Camden West keeps asking himself. But rather than wait for answers, Cam takes matters into his own hands . . . for he has a secret weapon.

Cam knows that Ellie's sister, Charlotte, harbors a scandalous secret—one that could bring ruin to the Sutherland name. If Ellie marries him, Cam promises to keep mum. But is she willing to sacrifice her own happiness for her sister's reputation?

To Ellie's surprise, it becomes clear that Cam doesn't need her money, nor is he interested in her status. Soon, what begins as a sham engagement transforms into something deeper, and more passionate, than Ellie could have imagined. Is it possible that all Cam truly wanted was her? And is that reason enough to say yes—or is handsome Cam hiding something else? Even for a lady in love, only the truth will do . . .
A Taste of Honey (Lively St. Lemeston #4) by Rose Lerner (historical romance) --
September 12th
Robert Moon risked everything, including his father's hardwon legacy, to open his beloved Honey Moon Confectionery on the busiest street in Lively St. Lemeston. Now he's facing bankruptcy and debtor's prison.
When a huge catering order comes in, he agrees to close the sweet-shop for a week to fill it. There's only one problem: his apprentice is out of town, so his beautiful shop-girl Betsy Piper must help Robert in the kitchen.
Betsy's spent the last year trying to make her single-minded boss look up from his pastries and notice that she would be the perfect wife. Now the two of them are alone in a kitchen full of sweet things. With just one week to get him to fall in love with her, she'd better get this seduction started...
She soon discovers that Robert brings the same meticulous, eager-to-please attitude to lovemaking that he does to baking, but can kisses—no matter how sweet—compete with the Honey Moon in his heart?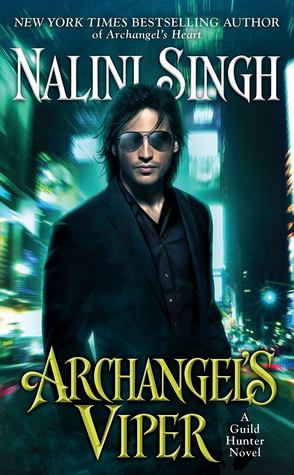 Archangel's Viper (Guild Hunter #10) by Nalini Singh (urban fantasy) --
September 26th
Once a broken girl known as Sorrow, Holly Chang now prowls the shadowy gray underground of the city for the angels. But it's not her winged allies who make her a wanted woman—it's the unknown power coursing through her veins. Brutalized by an insane archangel, she was left with the bloodlust of a vampire, the ability to mesmerize her prey, and a poisonous bite.
Now, someone has put a bounty on her head…
Venom is one of the Seven, Archangel Raphael's private guard, and he's as infuriating as he is seductive. A centuries-old vampire, his fangs dispense a poison deadlier than Holly's. But even if Venom can protect Holly from those hunting her, he might not be able to save himself—because the strange, violent power inside Holly is awakening…No one is safe.
Chasing Christmas Eve (Heartbreaker Bay #4) by Jill Shalvis (contemporary romance) --
September 26th
Run for the hills—temporarily. That's Colbie Albright's plan when she flees New York for San Francisco. Wrangling her crazy family by day and writing a bestselling YA fantasy series by night has taken its toll. In short, Colbie's so over it that she's under it. She's also under the waters of a historic San Francisco fountain within an hour of arrival. Fortunately, the guy who fishes Colbie out has her looking forward to Christmas among strangers. But she's pretty sure Spencer Baldwin won't be a stranger for long.

Spence's commitment to hiding from the Ghosts of Relationships Past means he doesn't have to worry about the powerful—okay, crazy hot chemistry—he's got with Colbie. Just because she can laugh at anything, especially herself... just because she's gorgeous and a great listener just because she gets Spence immediately doesn't mean he won't be able to let Colbie go. Does it?

Now the clock's ticking for Colbie and Spence: Two weeks to cut loose. Two weeks to fall hard. Two weeks to figure out how to make this Christmas last a lifetime.
Tangled Up in Tinsel (Sunshine Creek Vineyard #3) by Candis Terry (contemporary romance) --
September 26th
As if the holidays weren't stressful enough, Parker Kincade has a restaurant to open. The fact that his Groomzilla brother wants the place for his perfect Christmas wedding doesn't help. Then there's the stunning woman who appoints herself his new chef before he's ready to hire one. But one look at Gabriella Montani has Parker reassessing needs vs. wants. And that's before he tastes what she has to offer…
Gabriella doesn't need to get tangled up with a sexy man. What she needs is a job and a chance to prove herself. A place in Parker's kitchen could give her the opportunity she's been waiting for. The heat between them is sizzling, but a place in his bed could be downright dangerous. Neither Christmas nor men have ever lived up to her expectations, but Parker has soulmate written all over him. Should Gabi let herself be swept up in his holiday magic, or will it disappear before Christmas Day?
The Scotsman Who Saved Me (Seven Brides for Seven Scotsmen #1) by Hannah Howell (historical romance) --
September 26th
A brutal attack on Emily Stanton's family has left her for dead . . . until she is found in the woods by a handsome stranger with a thick brogue who vows to protect her. There's only one problem: As a woman with a noble English background, she has no business keeping company with such a man.

For Scotsman Iain MacEnroy, Emily's high-tone accent is a bitter reminder of the oppressive regime he left behind. The last thing he needs is to be burdened by the needs of a beautiful, blue-eyed Englishwoman. But taking care of elegant, educated Emily begins to transform Iain in ways he never imagined. Could it be that the deep divisions from the old world no longer apply in the new—and that Iain and Emily can share a passion as lush and wild as the Scottish highlands themselves?