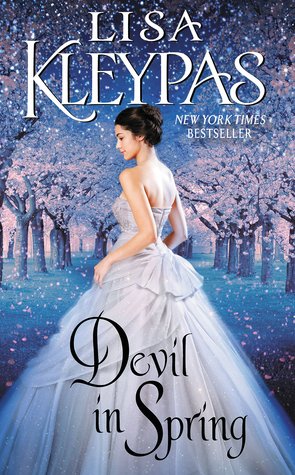 TITLE:
Devil in Spring
AUTHOR(S):
Lisa Kleypas
SERIES:
The Ravenels #3

GENRE:
Historical Romance
PUBLISHER:
Avon
PUBLICATION DATE:
February 21, 2017
FORMAT:
Print
SOURCE:
Avon Addicts Program
LENGTH:
370 pages
DATE READ:
March 22, 2017
CHARACTER ARCHETYPES:
Alpha Hero, Scandalous Heroine
TROPES:
Opposites Attract, House Party, Scandal
RATING: 4.5 STARS
SUMMARY:
An eccentric wallflower…

Most debutantes dream of finding a husband. Lady Pandora Ravenel has different plans. The ambitious young beauty would much rather stay at home and plot out her new board game business than take part in the London Season. But one night at a glittering society ball, she's ensnared in a scandal with a wickedly handsome stranger.

A cynical rake…

After years of evading marital traps with ease, Gabriel, Lord St. Vincent, has finally been caught-by a rebellious girl who couldn't be less suitable. In fact, she wants nothing to do with him. But Gabriel finds the high-spirited Pandora irresistible. He'll do whatever it takes to possess her, even if their marriage of convenience turns out to be the devil's own bargain.

A perilous plot…

After succumbing to Gabriel's skilled and sensuous persuasion, Pandora agrees to become his bride. But soon she discovers that her entrepreneurial endeavors have accidentally involved her in a dangerous conspiracy -- and only her husband can keep her safe. As Gabriel protects her from their unknown adversaries, they realize their devil's bargain may just turn out to be a match made in heaven...
MY THOUGHTS:
Why I Read It...
Why wouldn't I read this? It is Lisa Kleypas doing historical romance and(!) the hero is the son of Evie and Sebastian from
Devil in Winter
, one of my all-time favorites.
What I Liked About It...
1. Pandora has always been the most interesting of the Ravenel family for me and she definitely lived up to her previous appearances. I appreciated that Ms. Kleypas didn't shy away from her oddities, but also didn't overdo it. I admired her desire to be independent and her interest in being an entrepreneur.
2. Gabriel was everything I could have expected from Sebastian and Evie's son and more. I liked the slowly revealed complexities within his character and how they were a result from his upbringing.
3. The romance was super engaging and I thought it was fun that most of the time was spent on Gabriel trying to sell the idea of marriage/love on Pandora.
4. Gabriel's siblings were fascinating to read about and I want book about them now. I especially am interested in his older, widowed sister.
What I Disliked About It...
1. I could have done without the external plot that popped up halfway through. I feel like Pandora and Gabriel's story didn't need it. They were fascinating on their own.
Would I Recommend It...
Absolutely! It didn't have the magic of
Devil in Winter,
but I didn't have that expectation. For me, this book is an example of why Lisa Kleypas is so beloved in historical romance. There is just something about her writing that appeals to me.

BOOKS IN THE SERIES: