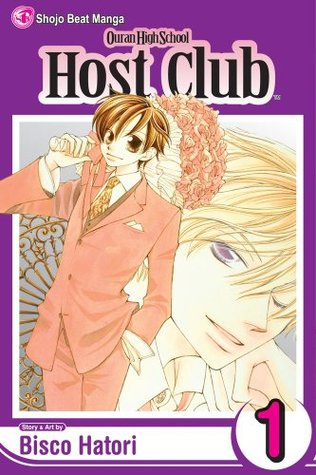 TITLE:
Ouran High School Host Club, Volumes 1-18
AUTHOR(S):
Bisco Hatori

GENRE:
Shoujo Manga
PUBLISHER:
Hakusensha (Japan); Viz Media (U.S.)
PUBLICATION DATE:
August 2003 (Japan); July 2005 (U.S.)
FORMAT:
Print
SOURCE:
Library
LENGTH:
18 volumes (approximately 180 pages each)
DATE READ:
2008-2017
TROPES:
Romantic Comedy, High School Setting, Family, Heroine in Disguise, Love Triangle
OVERALL SERIES RATING: 5 STARS
SUMMARY:
In this screwball romantic comedy, Haruhi, a poor girl at a rich kids' school, is forced to repay an $80,000 debt by working for the school's swankiest, all-male club-as a boy! There she discovers just how wealthy the six members are and how different the rich are from everybody else...
MY THOUGHTS:
Ouran High School Host Club
is an 18 volume, 83 chapter manga series that follows the adventures of Haruhi Fujioka, a scholarship student at a prestigious high school in Japan. Haruhi is determined to be a lawyer like her late mother and believes that an education from Ouran Academy will help her achieve that dream. But, things get tough when she comes across the Host Club and is forced to work for them to pay off a significant debt. And, to make things more complicated, she has to pretend to be a boy in order to work as a host.
The premise for
Ouran
is far-fetched, but that is par for the course with most manga that I have read. There is just something so fun and genuine about this series that makes me happy. It mostly focuses on Haruhi and her time at Ouran, but also provides plenty of background and adventures for her schoolmates especially the other members of the Host Club. There is just so much going on in this series that I think it could appeal to many readers with the comedy, character development, romance, friendship, and social commentary.
The main characters of
Ouran
are, for me, the real stand-outs of the series Almost every person is fully fleshed out and, no matter their page time, given a great deal of respect by the mangaka, Bisco Hatori. The members of the Host Club are given the most development and I was fascinated by the way they were written. Everyone is unique and given a chance to shine from the straightforward heroine (Haruhi) to the vivacious president whose past doesn't quite jive with his happy-go-lucky attitude (Tamaki) to the mischievous twins attempting to break out of their self-imposed shells (Hikaru and Kaoru).
I have give a personal shout-out to Kyoya, the super serious club VP who always seems one step ahead of everybody else and who is my personal favorite character. And, of course, I can't forget Hunny, the cake-loving third year who hides some amazing physical abilities, and Mori, Hunny's stoic and loyal sidekick. There are also plenty of intriguing side characters that Bisco Hatori uses to further the series plot and flesh out the school. I am especially partial to Renge, the club's obsessive manager, Ritsu, the tough guy who just wants to make friends, and Nekozawa, the president of the Black Magic Club.
The eighteen volumes of
Ouran High School Host Club
are chock full of comedy and heart. There are a multitude of chaotic adventures that are balanced with some more serious moments that often veer into social commentary especially regarding economic differences and family responsibilities. The romance is very sweet and, to me, it is obvious who will ultimately end up together. But, the journey is a lot of fun and I was on the edge of my seat waiting for certain people to finally take the chance. And, for people who have read manga before, there are some delightful parodies that just add to the overall enjoyment.
Because manga also involves artwork, I have to mention the series visual aspects. It is beautiful and full of detail. The way the school is designed showcases the expensive taste of many of the characters and also provides a dream-like quality that works well for the story. The characters are pretty distinct though I will admit that some of the Host Club's customers did run together in my mind.
I highly recommend this series to anyone who likes romantic comedies and wants to give manga a try. It is entertaining and has enough interesting characters that many people can relate to...even if they are super-rich and destined to be heads of major corporations. And I have to also give a shout-out to the twenty-six episode anime series that just brings the story to new heights.

BOOKS IN THE SERIES: