Where I feature new releases that grabbed my attention for the upcoming month. As always, release dates are subject to change. All titles link back to Goodreads.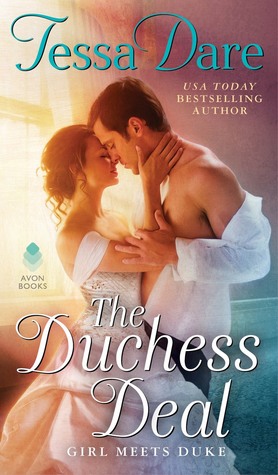 The Duchess Deal (Girl Meets Duke #1) by Tessa Dare (historical romance) --
August 22
When girl meets Duke, their marriage breaks all the rules…

Since his return from war, the Duke of Ashbury's to-do list has been short and anything but sweet: brooding, glowering, menacing London ne'er-do-wells by night. Now there's a new item on the list. He needs an heir—which means he needs a wife. When Emma Gladstone, a vicar's daughter turned seamstress, appears in his library wearing a wedding gown, he decides on the spot that she'll do.

His terms are simple:
- They will be husband and wife by night only.
- No lights, no kissing.
- No questions about his battle scars.
- Last, and most importantly… Once she's pregnant with his heir, they need never share a bed again.

But Emma is no pushover. She has a few rules of her own:
- They will have dinner together every evening.
- With conversation.
- And unlimited teasing.
- Last, and most importantly… Once she's seen the man beneath the scars, he can't stop her from falling in love…
My Hero Academia, Volume 9 (My Hero Academia #9) by Kohei Horikoshi (shonen manga) --
August 1
Midoriya inherits the superpower of the world's greatest hero, but greatness won't come easy.

What would the world be like if 80 percent of the population manifested superpowers called "Quirks"? Heroes and villains would be battling it out everywhere! Being a hero would mean learning to use your power, but where would you go to study? The Hero Academy of course! But what would you do if you were one of the 20 percent who were born Quirkless?

It's off to summer camp for Midoriya and the U.A. students! But this is no ordinary vacation—it's high-impact training where the students are expected to develop their Quirks even further! The teachers have set up some tough challenges, but none will be as difficult and as life changing as the threat a new group of enemies poses. What's even worse is who the villains' target is and why…
Yona of the Dawn, Volume 7 (Yona of the Dawn #7) by Mizuho Kusunagi (shoujo manga) --
August 1
A red-haired princess loses her family and her kingdom Now she must rise and fight for her throne!
Princess Yona lives an ideal life as the only princess of her kingdom. Doted on by her father, the king, and protected by her faithful guard Hak, she cherishes the time spent with the man she loves, Su-won. But everything changes on her 16th birthday when tragedy strikes her family!
In order to free the port town of Awa from an evil tyrant, Yona and her friends team up with Jaeha, the Green Dragon, and his fellow pirates. While Hak and the others are fighting on other ships, Yona and Yun infiltrate a human-trafficking operation! When the enemy closes in and things look dire, what will Yona do?"
Gentlemen Prefer Heiresses (Scandalous Gentlemen of St. James #4.5) by Lorraine Heath (historical romance) --
August 22
Lord Andrew Mabry, the second son of the Duke of Greystone, has no desire to marry. As the spare, he has no obligation to provide an heir and he rather enjoys spending his days and nights in play with the demimonde. But more and more of late, he finds himself wanting to play naughty games with the American heiress, Gina Hammersley.

After her scandalous older sister marries a marquess, Gina Hammersley suddenly finds herself the darling of London with beaux a plenty calling on her, sending flowers, and filling her dance cards. Unfortunately, the one she desires most is the one who has no wish to be caught in the marriage trap: Lord Andrew Mabry.

But when they are discovered in a compromising situation, this unlikely pair must decide whether to face scandal or discover if the passion they've always felt is strong enough to lead them into love.
When the Scoundrel Sins (Capturing the Carlisles #2) by Anna Harrington (historical romance) --
August 29
Annabelle Green needs a husband-and quickly. To inherit the only home she's ever known, she must be married by her twenty-fifth birthday. But finding a suitor has been next to impossible after a reckless rogue named Quinton Carlisle seduced her into a scandalous midnight tryst. Her reputation in ruins, Belle now needs a rather large favor. And she knows just who to turn to . . .

Quinn can hardly believe that the shy bookish girl he teased as a child has grown into such a brazen beauty. The very idea of marrying Belle to right the wrongs of his past is downright shocking . . . and deliciously tempting. Too bad marriage, convenient or otherwise, is the last thing Quinn wants. He'll help Belle find a husband and be on his way. But if he can't control his attraction to the bride-to-be, this marriage could go up in flames-of wicked desire.
The Laird Takes a Bride (Penhallow Dynasty #2) by Lisa Berne (historical romance) --
August 29
Alasdair Penhallow, laird of his clan and master of Castle Tadgh, is forced to end his carefree bachelorhood, thanks to an ancient decree that requires him to marry. But Alasdair's search for a biddable wife comes to a screeching halt when Fate serves up Fiona Douglass. Prickly as a thistle, Fiona challenges him at every turn, rendering herself surprisingly irresistible. Her love would be a prize indeed . . . if Alasdair could accept it.

Fiona gave her heart once, and doesn't plan to repeat that folly. Yet she finds herself drawn to Alasdair's intelligence and strength, and the passion he incites goes well beyond her expectations for what's only a marriage of expedience. Despite herself, she's falling in love with her husband.

But there's a high wall between them — and Fiona's not sure it can ever be torn down.
Just Another Viscount in Love (Season's Original #3.5) by Vivienne Lorret (historical romance) --
August 1
As the toast of the ton, Samuel Wortham, Viscount Ellery, should have no trouble finding a wife. Yet each lady he pursues ends up married to another. As a last hope, Sam plans a house party, intending to choose a bride from one of his guests. But when he encounters a raven-haired beauty by his estate's pond, he's captivated by her charm and desperate to see her again.

A quiet trip to the country is just what Gemma Desmond needs to take her mind off marriage. After all, as the daughter of a notorious criminal, her prospects seem quite grim. The last thing she expects is a chance meeting with a handsome lord and an invitation to his lavish house party. Ellery is everything she hoped for in a husband. But can she ever escape the stigma of her father's misdeeds?

When a pair of conniving debutantes frame her for theft, Gemma has her answer. Unwilling to let her scandalous reputation taint the kind, honorable man she adores, she flees. Yet Ellery isn't about to give her up. He might be just another viscount in love, but he refuses to let this potential bride slip through his fingers…