The Duke (Victorian Rebels #4) by Kerrigan Byrne
Historical Romance
St. Martin's Press -- February 7, 2017
RATING: 4 STARS

Strong as a Viking. Handsome as Adonis. Rich as Midas. Collin "Cole" Talmage, Duke of Trewyth, is the stuff that legends are made of. He's the English Empire's golden son--until fate has its way with him. Cole's family is killed and his closest comrade betrays him on the battlefield, leaving him gravely injured. But Cole is not one to dwell on misfortune. He is a man of duty, honor--and desire. And now he's ready for the fight of his lifetime...

Imogen Pritchard is a beautiful lass who works in a hospital by day and as a serving maid at night. Years ago, when she was young and penniless, she ended up spending a scandalous night with Cole, whose tormented soul was matched only by his earth-shattering passion. Imogen entered a marriage of convenience―one that left her a wealthy widow―but she never forgot Cole. Now that her long-lost lover has turned up in her hospital, injured and with no memory of her, Imogen is torn: Is it a blessing or a curse that their past remains a secret to Cole, even as his new passion for her leaves him wanting to protect and possess her...at all costs.
I have enjoyed Byrne's Victorian Rebels series and, while
The Duke
is not my favorite, I really liked it. The heroine is wonderful! She has to overcome a lot through the course of her life and I was really rooting for her to be happy. I especially liked the scenes of her working as a nurse. The hero was pretty tortured and I felt bad for him. But, I thought he had a few major jerk moments even towards the end. He did do a decent amount of groveling and the development of his character was interesting, but he was not a favorite aspect. The plot is complex, over-the-top, and completely engrossing. There is something about this author's writing style that grabs me from the beginning and doesn't let me go until the very end.
I received an eARC of this book from St. Martin's Press via Netgalley in exchange for an honest review.
***********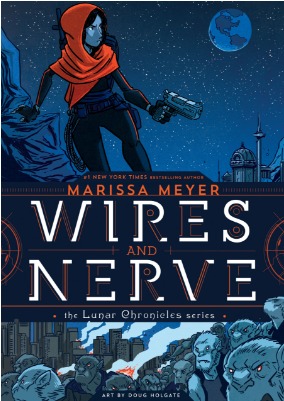 Wires and Nerve, Volume 1 by Marissa Meyer and Douglas Holgate
Young Adult Science Fiction
Feiwel and Friends -- January 30, 2017
RATING: 4.5 STARS
In her first graphic novel, bestselling author Marissa Meyer extends the world of the Lunar Chronicles with a brand-new, action-packed story about Iko, the android with a heart of (mechanized) gold. When rogue packs of wolf-hybrid soldiers threaten the tenuous peace alliance between Earth and Luna, Iko takes it upon herself to hunt down the soldiers' leader. She is soon working with a handsome royal guard who forces her to question everything she knows about love, loyalty, and her own humanity. With appearances by Cinder and the rest of the Rampion crew, this is a must-have for fans of the bestselling series.
The Lunar Chronicles series is one of my all-time favorites and I am super excited that Marissa Meyer is continuing to explore the world through graphic novels. Iko is such a fantastic character and I liked the way the plot allowed her to take center stage. She is kickass and determined to complete her mission while also still being boy crazy and fashion-obsessed which is fun. Of course, I loved seeing the rest of the main characters from the Lunar Chronicles and how they are dealing with the many changes that occurred at the end of that series. The artwork was really intriguing and I was easily able to follow the story. I am excited to see what Meyer has in store for Iko, Kinney, and everybody else.
***********
Breathless (Old West #2) by Beverly Jenkins
Historical Romance
Avon -- January 31, 2017
RATING: 4.25 STARS
As manager of one of the finest hotels in Arizona Territory, Portia Carmichael has respect and stability—qualities sorely missing from her harsh childhood. She refuses to jeopardize that by hitching herself to the wrong man. Suitors are plentiful, but none of them has ever looked quite as tempting as the family friend who just rode into town…and none has looked at her with such intensity and heat.

Duchess. That's the nickname Kent Randolph gave Portia when she was a young girl. Now she's a stunning, intelligent woman—and Kent has learned his share of hard lessons. After drifting through the West, he's learned the value of a place to settle down, and in Portia's arms he's found that and more. But convincing her to trust him with her heart, not just her passion, will be the greatest challenge he's known—and one he intends to win…
Beverly Jenkins has such a beautiful writing style that I was immediately sucked into
Breathless
and fell head over heels in love with Kent and Portia's story. I had fond memories of them from the previous book in this series,
Forbidden
, and was very happy to see them figure out how much they meant to one another. Portia is such a strong-willed heroine that I really admired. I loved watching her manage her uncle's hotel and work towards her dream of opening her own business. Kent was a sexy, determined hero who understood how precious Portia was and did everything in his power to make her happy. Their relationship felt very real and I enjoyed the slow pace which allowed me to really understand both protagonists. The mystery subplot was intriguing and provided enough external conflict to keep things from getting boring. I am excited for Regan's story next!
I received an eARC of this book from Avon via Edelweiss in exchange for an honest review.