Hosted by the ladies over at The Broke and the Bookish.
1. Swan by Kyoko Ariyoshi
One of the most famous shoujo manga books ever published, SWAN is Ariyoshi Kyoko's best-selling classic about a girl who strives to become a great ballerina. Masumi Hijiri is a 16-year-old girl about to enter her first ballet contest. The competition is fierce, and there's no telling whether she'll win, or how far her training can take her. After seeing her performance, the great director Sergeiev Alexej invites Masumi to join his company, and it is thus that she launches her career -- only to spend years dancing in the shadow of prima ballerina Kyogoku Sayoko. SWAN Vol. 1 begins the tale of Masumi's incredible journey through the great baller companies of Europe and America and through both triumph and despair as she struggles toward her goal of becoming the greatest dancer of her generation!
2. Maid-Sama! by Hiro Fujiwara
Misaki Ayuzawa is the President of the Student Council at Seika High School, formerly an all-boys school. Unfortunately, most of the students are still male and stuck in their slovenly habits, so man-hating Misaki really socks it to them in an attempt to make the school presentable to attract more female students. But what will she do when the sexiest boy in school finds out that after school, Misaki works in a maid cafe.
3. Boys Over Flowers by Yoko Kamio
When her only friend, Makiko, accidentally offends F4 leader Tsukasa, Tsukushi boldly defends her. Enraged, Tsukasa puts the dreaded red tag in Tsukushi's locker — a sign that she is now a target for the abuse of the F4 gang and the entire school. But when Tsukushi fights the gang with their own weapon, Tsukasa finds himself falling for her!
4. Special A by Maki Minami
Her whole life, Hikari Hanazono has been consumed with the desire to win against her school rival, Kei Takishima--at anything. He always comes out on top no matter what he does, and Hikari is determined to do whatever it takes to beat this guy...somehow!
At age 6 Hikari lost to Kei in an impromptu wrestling match. Now, at 15, Hikari joins "Special A," a group of the top seven students at a private academy, for the opportunity to trounce the guy who made her suffer her first defeat!
5. A Bride's Story by Kaoru Mori
Acclaimed creator Kaoru Mori (Emma, Shirley) brings the nineteenth-century Silk Road to lavish life, chronicling the story of Amir Halgal, a young woman from a nomadic tribe betrothed to a twelve-year-old boy eight years her junior. Coping with cultural differences, blossoming feelings for her new husband, and expectations from both her adoptive and birth families, Amir strives to find her role as she settles into a new life and a new home in a society quick to define that role for her.

6. Kimi Ni Todoke by Karuho Shiina
Sawako Kuronuma is the perfect heroine...for a horror movie. With striking similarities to a haunting movie character--jet-black hair, sinister smile and silent demeanor--she's mistakenly called Sadako by those around her. But behind her scary façade is a very misunderstood teenager. Too shy to fit in, all she wants to do is make some friends. But when the most popular boy in class befriends her, she's sure to make more than just that--she's about to make some enemies too!

7. Nana by Ai Yazawa
Nana Komatsu is a young woman who's endured an unending string of boyfriend problems. Moving to Tokyo, she's hoping to take control of her life and put all those messy misadventures behind her. She's looking for love and she's hoping to find it in the big city. Nana Osaki, on the other hand, is cool, confident and focused. She swaggers into town and proceeds to kick down the doors to Tokyo's underground punk scene. She's got a dream and won't give up until she becomes Japan's No. 1 rock'n'roll superstar. This is the story of two 20-year-old women who share the same name. Even though they come from completely different backgrounds, they somehow meet and become best friends. The world of Nana is a world exploding with sex, music, fashion, gossip and all-night parties.

8. Library Wars by Kiiro Yumi
In the near future, the federal government creates a committee to rid society of books it deems unsuitable. The libraries vow to protect their collections, and with the help of local governments, form a military group to defend themselves--the Library Forces!
Iku Kasahara has dreamed of joining the Library Defense Force ever since one of its soldiers stepped in to protect her favorite book from being confiscated in a bookstore when she was younger. But now that she's finally a recruit, she's finding her dream job to be a bit of a nightmare. Especially since her hard-hearted drill instructor seems to have it in for her!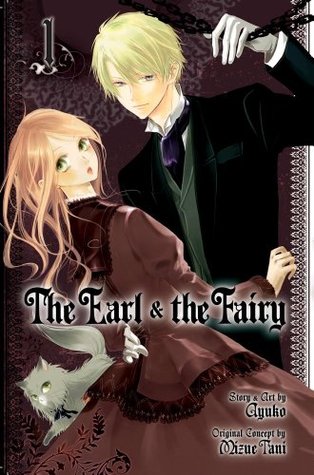 9. The Earl and the Fairy by Mizue Tani
Lydia Carlton is a fairy doctor, one of the few people with the ability to see the magical creatures who share our world. During one of her rare trips to London to visit her father, Lydia's quiet life is suddenly transformed when she is rescued from kidnappers by a mysterious young man! Edgar Ashenbert claims to be descended from the human ruler of the fairy kingdom, and he urgently needs Lydia's help to find and claim his birthright, the legendary sword of the Blue Knight Earl. Things will never be the same for Lydia as she is pulled into a dangerous quest against dark forces!
10. Death Note by Tsugumi Oba
Light Yagami is an ace student with great prospects - and he's bored out of his mind. But all that changes when he finds the Death Note, a notebook dropped by a rogue Shinigami, a death god. Any human whose name is written in the notebook dies, and now Light has vowed to use the power of the Death Note to rid the world of evil. But when criminals begin dropping dead, the authorities send the legendary detective L to track down the killer. With L hot on his heels, will Light lose sight of his noble goal... or his life?
Light tests the boundaries of the Death Note's powers as L and the police begin to close in. Luckily, Light's father is the head of the Japanese National Police Agency and leaves vital information about the case lying around the house. With access to his father's files, Light can keep one step ahead of the authorities. But who is the strange man following him, and how can Light guard against enemies whose names he doesn't know?