Sweet Little Lies (Heartbreaker Bay #1) by Jill Shalvis
Contemporary Romance
Avon -- June 28, 2016
RATING: 3.5 STARS

As captain of a San Francisco Bay tour boat, Pru can handle rough seas—the hard part is life on dry land. Pru loves her new apartment and her neighbors; problem is, she's in danger of stumbling into love with Mr. Right for Anybody But Her.

Pub owner Finn O'Riley is six-foot-plus of hard-working hottie who always makes time for his friends. When Pru becomes one of them, she discovers how amazing it feels to be on the receiving end of that deep green gaze. But when a freak accident involving darts (don't ask) leads to shirtless first aid, things rush way past the friend zone. Fast.

Pru only wants Finn to be happy; it's what she wishes for at the historic fountain that's supposed to grant her heart's desire. But wanting him for herself is a different story—because Pru's been keeping a secret that could change everything. . . .
This is my first Jill Shalvis contemporary and it definitely made me want to read more. I really liked the San Francisco setting and the way that she was able to mix the charms of big city and small town romances. Both the hero and heroine were very likable people and well-developed. I especially liked the development of Finn and how he was able to get his life in order after his father's death. I thought the romance was decently paced and it had plenty of sweet moments. Friendship is clearly going to be a theme in this series and I loved the little tidbits we got from the other residents/workers of the area. I especially can't wait for Archer and Elle to get a story! My main issue with
Sweet Little Lies
was the fact that Pru kept her Big Secret from Finn for way too long. I understood her hesitations, but the reveal happened so late in the book that the resolution felt like it was too quick. I still had a good time reading this and am excited for the rest of the series.
I received a copy of Sweet Little Lies from Avon via the Avon Addicts program in exchange for an honest review.
***********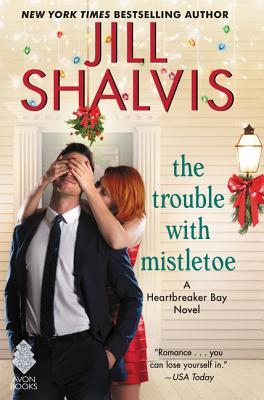 The Trouble With Mistletoe (Heartbreaker Bay #2) by Jill Shalvis
Contemporary Romance
Avon -- September 27, 2016
RATING: 4 STARS

Willa Davis is wrangling puppies when Keane Winters stalks into her pet shop with frustration in his chocolate-brown eyes and a pink bedazzled cat carrier in his hand. He needs a kitty sitter, stat. But the last thing Willa needs is to rescue a guy who doesn't even remember her ...

Saddled with his great-aunt's Feline from Hell, Keane is desperate to leave her in someone else's capable hands. But in spite of the fact that he's sure he's never seen the drop-dead-gorgeous pet shop owner before, she seems to be mad at him ...

Willa can't deny that Keane's changed since high school: he's less arrogant, for one thing—but can she trust him not to break her heart again? It's time to throw a coin in the fountain, make a Christmas wish—and let the mistletoe do its work ...
I enjoy holiday romances, but I do have a low tolerance for overly sweet stories.
The Trouble with Mistletoe
was a great read for me because it balanced the sweetness of the holidays with some dirty humor and sexy times. Like in the previous book in the series, I loved the way that the hero and heroine were developed and how they interacted with one another. I appreciated that the plot did not rely too much on Willa's grudge against Keane from high school. These were mature people who had some issues, but dealt with them in a mostly adult fashion. I continue to love the interactions between the hero/heroine and their various friends and co-workers. Jill Shalvis did an amazing job building a community within the big city and it feels very realistic. And Petunia/Pita the cat is one of the best animal characters I've read in a long time.
I received a copy of The Trouble with Mistletoe from Avon via the Avon Addicts program in exchange for an honest review.
***********
Duke of Pleasure (Maiden Lane #11) by Elizabeth Hoyt
Historical Romance
Grand Central Publishing -- November 29, 2016
RATING: 5 STARS
IN THE ARMS OF DANGER

Bold. Brave. Brutally handsome. Hugh Fitzroy, the Duke of Kyle, is the king's secret weapon. Sent to defeat the notorious Lords of Chaos, he is ambushed in a London alley—and rescued by an unlikely ally: a masked stranger with the unmistakable curves of a woman.

IN THE HEAT OF DESIRE

Cocky. Clever. Courageously independent. Alf has survived on the perilous streets of St. Giles by disguising her sex. By day she is a boy, dealing in information and secrets. By night she's the notorious Ghost of St. Giles, a masked vigilante. But as she saves Hugh from assassins, she finds herself succumbing to temptation.

ONE KISS WILL CHANGE THEIR LIVES FOREVER

When Hugh hires Alf to investigate the Lords of Chaos, her worlds collide. Once Hugh realizes that the boy and the Ghost are the same, will Alf find the courage to become the woman she needs to be—before the Lords of Chaos destroy them both?
This was just a fantastic read! Elizabeth Hoyt is a historical author whose writing style just clicks with me and I always find myself sighing with happiness after I finish one of her books. I was a little nervous about Alf finally getting her story because she has been such a presence in the series, but her journey was handled perfectly in my opinion. I loved how confident she was in her ability to live on the streets of St. Giles and how that balanced with her vulnerabilities when it came to interacting with Society. I really appreciated the fact that the hero and the story didn't try to change her into someone else. Even after her "makeover", she was still Alf. Hugh was another great Hoyt hero who was arrogant, brave, but had a soft side. I liked how devoted he was to his sons and the people around him. Hoyt is a master when it comes to class differences in romance and Alf and Hugh were no exception. And, of course, there are plenty of her patented sexy scenes to keep fans happy. Can't wait to see what happens next in the world of Maiden Lane!
I received a copy of Duke of Pleasure from via Netgalley in exchange for an honest review.