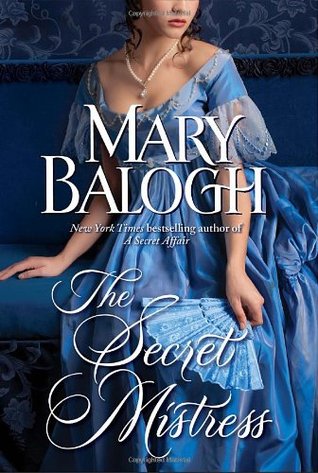 TITLE:
The Secret Mistress
AUTHOR(S):
Mary Balogh
SERIES:
Mistress Trilogy #3

GENRE:
Historical Romance
PUBLISHER:
Delacorte Press
PUBLICATION DATE:
July 2011
FORMAT:
Hardcover
SOURCE:
Purchased
LENGTH:
320 pages
DATE READ:
November 2016

READING CHALLENGES:
2016 Pick Your Genre Reading Challenge
CHARACTER ARCHETYPES:
Beta Hero
TROPES:
Opposites Attract, Unrequited Love, House Party
RATING: 4 STARS
SUMMARY:
While Lady Angeline Dudley's pedigree dictates that she must land a titled gentleman, the irrepressible beauty secretly longs for a simple, ordinary suitor. No wild rakes like the men of her family, just a kind heart and good nature. So when Edward Ailsbury, the new Earl of Heyward, rescues her with unmatched civility from the advances of a scoundrel, Angeline thinks that she has found her true love. Persuading the earl is another matter entirely.

Edward has his future neatly mapped out. He hopes to wed his steadfast companion, a woman who shares his values of loyalty, respect, and decorum. But arriving in London to take his seat in the House of Lords, he is derailed by Angeline, an exquisite bird of paradise seemingly devoted to sending his predictable life into chaos.

From the brilliant hues of her fashion to her hoydenish antics, Angeline is the last woman on earth for Edward. And yet a stolen kiss in the moonlight awakens something deep and primal within him. Naturally, being a gentleman, he does the right thing after compromising a lady: He offers marriage.

Angeline knows that Edward's proposal is born of duty, not love. But denying something so provocative and passionate is easier said than done. Deep down, Angeline believes that Edward's dedication to convention will melt behind closed doors, where sensuality and seduction play wicked games. For a proper wife by day can become a husband's secret mistress by night, when delicious desire rules.
MY THOUGHTS:
Why I Read It...
The main reason that I read this was to fulfill the
November Theme -- Historical
for the
2016 TBR Challenge
hosted by
Wendy the Super Librarian
. I read (and enjoyed) the first two Mistress books during my original Mary Balogh binge years ago. I was always intrigued by the scenes featuring the brothers' younger sister and her straitlaced husband. They seemed so different yet so in love that I knew I wanted their story. Thankfully, Balogh decided to write Angeline and Edward's romance
and I bought it as soon as it was released. Then it languished on my shelf until I dug it out this month.
What I Liked About It...
1. Angeline Dudley is a fantastic heroine. At first, she comes across as a spoiled, naive debutante, but readers quickly learn that her chattiness is used to deflect from the fact that she is lonely and has low self-esteem. She has a great sense of humor that heavily relies on self-deprecation which I enjoyed, but also found heartbreaking at times. I really loved watching Angeline become more confident in herself as the book progressed.
2. I have a huge soft spot for stoic heroes and Edward ticked all the boxes for me. He grew up in the shadows of his charming older brother and felt like he had to be the perfect child and later gentleman to be worthy of any affection. After inheriting a title upon his brother's death, he became more determined to do everything perfectly including marriage. I loved watching Edward navigate through Society with his unique point of view. I also enjoyed getting to see beyond his strait-laced exterior to the passionate man inside.
3. Angeline and Edward's romance was on the slower side despite the fact that Angeline fell for Edward the moment she saw him. Their early friendship was really sweet to see and I enjoyed reading their conversations. I liked how different they were and how those differences helped them move towards happiness. Angeline needed Edward's stability and Edward needed Angeline's fun-loving personality. They just worked so well together and I really believed in their happy ending.
4. I enjoy secondary romances, but only if they enhance the main story. The side story in
The Secret Mistress
was very sweet and worked perfectly to balance out Angeline and Edward's romance. I don't want to go into much detail about it because part of the fun was being surprised with the identity of the side couple. But, I loved every scene between them and would love to read a novella about them in the future.
5. Family is a super important theme in this book...well, actually this whole series. Angeline's brothers get their stories told in
More Than a Mistress
and
No Man's Mistress
so it was nice to read about how they acted before becoming heroes. The relationship between Angeline, Ferdinand, and Jocelyn is really well-written and a driving force for the series. I also liked the little tidbits we got about Edward's meddling, but well-meaning relatives. Every family scene felt real and worked to help develop the overall story.
What I Disliked About It...
1. The pacing at the beginning was a little slow. It did a good job of introducing readers to the characters, but I did struggle to get interested for the first 100 pages. Once the Season got started, I was all in on this romance. I just wish it had grabbed me earlier.
Would I Recommend It...

I would absolutely recommend this book to readers who like gentle, character-driven romances with likable people. Mary Balogh has a very distinct writing style and it just works for me on so many levels. I also think this story could easily be read as a stand-alone due to the fact that it is actually a prequel to the first two Mistress books despite it being labeled as number three in the trilogy.

BOOKS IN THE SERIES: