Where I feature new releases that grabbed my attention in the upcoming month. As always, release dates are subject to change. All titles link back to Goodreads.
The Danger of Desire (Sinful Suitors #3) by Sabrina Jeffries (historical romance) --
October 18th
To root out the card cheat responsible for her brother's death, Miss Delia Trevor spends her evenings dancing her way through high society balls, and her late nights disguised as a young man gambling her way through London's gaming hells. Then one night, handsome Warren Corry, the Marquess of Knightford, a notorious member of St. George's Club, recognizes her. When he threatens to reveal her secret, she's determined to keep him from ruining her plans, even if it means playing a cat-and-mouse game with the enigmatic rakehell.

Warren knows the danger of her game, and he refuses to watch her lose everything while gaining justice for her late brother. But when she starts to delve beneath his carefully crafted façade, can he keep her at arm's length while still protecting her? Or will their hot desires explode into a love that transcends the secrets of their pasts?
Why I'm Intrigued:
Heroine in Disguise, Hero with a Secret, Gambling Hells, Favorite Author
Baron (Knickerbocker Club #2) by Joanna Shupe (historical romance) --
October 25th
Born into one of New York's most respected families, William Sloane is a railroad baron who has all the right friends in all the right places. But no matter how much success he achieves, he always wants more. Having secured his place atop the city's highest echelons of society, he's now setting his sights on a political run. Nothing can distract him from his next pursuit—except, perhaps, the enchanting con artist he never saw coming . . .

Ava Jones has eked out a living the only way she knows how. As "Madame Zolikoff," she hoodwinks gullible audiences into believing she can communicate with the spirit world. But her carefully crafted persona is nearly destroyed when Will Sloane walks into her life—and lays bare her latest scheme. The charlatan is certain she can seduce the handsome millionaire into keeping her secret and using her skills for his campaign—unless he's the one who's already put a spell on her . . .
Why I'm Intrigued:
Criminal Heroine, Hero In Need of Redemption, Fascinating Setting
A Raven's Heart (Secrets & Spies #2) by K.C. Bateman (historical romance) --
October 18th
In the war against France, Heloise Hampden is a high-value asset to the Crown. She's cracked the enemy's most recent communication, and for that, someone is trying to kill her. However, it's the agent assigned to protect Heloise who poses the greatest threat to her heart: William de l'Isle, Viscount Ravenwood. Heloise has quarreled with the man they call Raven since childhood, yet always maintained a chaste distance. She's sure nothing will change, thanks to the disfiguring scar on her face. So why is she so enchanted by the sight of Raven's jet-black hair, rakish smile, and wicked green eyes?

Nothing has changed. Raven still wonders how Hell-cat Hampden's lithe body would feel pressed against his, but for the mission he must remind himself that the woman takes more pleasure in ancient languages than she does in seduction. His imprisonment six years ago broke him in a way that makes the prospect of love impossible. Still, his heart beats like mad whenever he's within ten paces of Heloise, and he'll do whatever it takes to keep her safe—even if that means taking her to Spain as an unwilling hostage. Protecting her from danger will be a challenge; protecting her from desire will be pure agony.
Why I'm Intrigued:
Scarred Heroine, Formerly Imprisoned Hero, Unrequited Love, Spies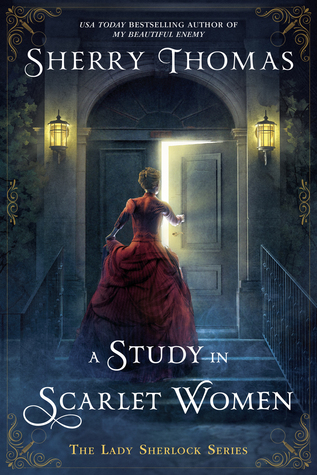 A Study in Scarlet Women (Lady Sherlock #1) by Sherry Thomas (historical mystery) --
October 18th
With her inquisitive mind, Charlotte Holmes has never felt comfortable with the demureness expected of the fairer sex in upper class society. But even she never thought that she would become a social pariah, an outcast fending for herself on the mean streets of London.

When the city is struck by a trio of unexpected deaths and suspicion falls on her sister and her father, Charlotte is desperate to find the true culprits and clear the family name. She'll have help from friends new and old—a kind-hearted widow, a police inspector, and a man who has long loved her. But in the end, it will be up to Charlotte, under the assumed name Sherlock Holmes, to challenge society's expectations and match wits against an unseen mastermind.
Why I'm Intrigued
: Historical Mystery, Heroine in Disguise, Favorite Author, First in a Series
The Earl (Devil's Duke #2) by Katharine Ashe (historical romance) --
October 25th
How does a bookish lady bring an arrogant lord to his knees? Entice him to Scotland, strip him of titles and riches, and make him prove what sort of man he truly is.

Opposites…Handsome, wealthy, and sublimely confident, Colin Gray, the new Earl of Egremoor, has vowed to unmask the rabble-rousing pamphleteer, Lady Justice, the thorn in England's paw. And he'll stop at nothing.

Attract. Smart, big-hearted, and passionately dedicated to her work, Lady Justice longs to teach her nemesis a lesson in humility. But her sister is missing, and a perilous journey with her archrival into unknown territory just might turn fierce enemies into lovers.
Why I'm Intrigued:
Bookish Heroine, Enemies to Lovers, New to Me Author
My Brown-Eyed Earl (The Wayward Wallflowers #1) by Anna Bennett (historical romance) --
October 4th
William Ryder, Earl of Castleton, is at the end of his noble rope. Not only has he broken ties with his longtime mistress, his mother has publicly announced her wish for him to marry a suitable young lady―if only to help him raise the twins left in his care. Hiring a governess should solve some of Will's problems…but when he meets the candidate in question, he finds himself in an entirely new predicament.

Miss Margaret Lacey is brainy, beautiful, and, once upon a time, Will's betrothed. But she bowed out of the engagement―and, since then, has never been the same. A tragic accident robbed her of everything, and now, at age twenty-three, her marital prospects are slim to none. Penniless but not without pride, Meg convinces the vexingly handsome Will to hire her for the job. What neither of them could have expected from this arrangement, however, is an attraction that burns stronger than ever. Are these two lost souls finally ready to be schooled in the art of love?

Why I'm Intrigued
: Governess Heroine, Second Chance At Love, First in a Series
Beard Science (Winston Brothers #3) by Penny Reid (contemporary romance) --
October 18th
Jennifer Sylvester wants one thing, and that one thing is NOT to be Tennessee's reigning Banana Cake Queen. Ever the perpetual good girl and obedient daughter, Jennifer is buckling under the weight of her social media celebrity, her mother's ambitions, and her father's puritanical mandates. Jennifer is officially desperate.

And desperate times call for Cletus Winston. Cletus Winston is a puzzle wrapped in a mystery covered in conundrum sauce, and now he's in a pickle. Despite being convinced of his own omniscience, extortion by the exalted Banana Cake Queen of Green Valley has taken him completely by surprise. So... what's a maniacal mastermind to do? Likely, the last thing you expect.

Why I'm Intrigued
: Celebrity Heroine, Romantic Comedy, Favorite Author
While the Duke Was Sleeping (Rogue Files #1) by Sophie Jordan (historical romance) --
October 25th
Shop girl Poppy Fairchurch knows it's pointless fantasizing about the Duke of Autenberry. Still, dreams can't hurt anyone . . . unlike the carriage Poppy spies bearing down upon the unsuspecting duke. After she pulls him to safety, the duke lapses into a coma and Poppy is mistaken for his fiancée. But one person isn't fooled: his arrogant and much too handsome half-brother, Struan Mackenzie. Soon Poppy isn't sure what she wants more . . . the fantasy of her duke or the reality of one smoldering Scot who challenges her at every turn.

An illegitimate second son, Struan may have built an empire and established himself as one of the wealthiest men in Britain, but he knows he will always be an outsider among the ton. Just like he knows the infuriating Poppy is a liar. There's no way the haughty Duke of Autenberry would deign to wed a working class girl. It doesn't matter how charming she is. Or tempting. Or how much Struan wants her for himself.
Why I'm Intrigued
: Class Differences, Illegitimate Hero, First in a Series
The Governess Was Wanton (Governess #2) by Julia Kelly (historical romance) --
October 10th
Mary Woodward, a young veteran governess, has one job: guiding a young debutante through her first season in high society. And up until now, keeping her focus and avoiding temptation has been easy. But never before has the father of her young charge been as devilishly handsome as the single, wealthy Earl of Asten.... Convinced to risk it all, Mary let's herself enjoy one night of magic at a masked ball in Asten's arms, but will they both regret everything when the Earl learns her true identity?

Why I'm Intrigued
: Governess Heroine, Employer/Employee Romance, Masquerade Ball