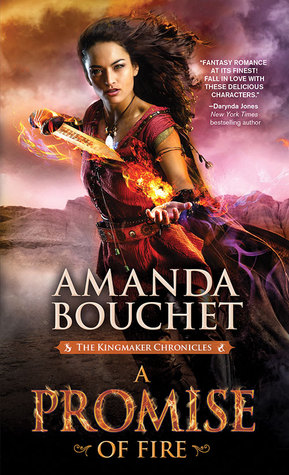 TITLE:
A Promise of Fire
AUTHOR(S):
Amanda Bouchet
SERIES:
Kingmaker Chronicles #1
GENRE:
Fantasy Romance
PUBLISHER:
Sourcebooks Casablanca
PUBLICATION DATE:
August 2, 2016
FORMAT:
Ebook
SOURCE:
Amazon
LENGTH:
448 pages
DATE READ:
August 2016
READING CHALLENGES:
2016 New To You Reading Challenge
THEMES/TROPES:
Alternate Universe, Action-Adventure, Enemies to Lovers, Road Romance, Cliffhanger
RATING: 4.5 STARS
SUMMARY:
Catalia "Cat" Fisa is a powerful clairvoyant known as the Kingmaker. This smart-mouthed soothsayer has no interest in her powers and would much rather fly under the radar, far from the clutches of her homicidal mother. But when an ambitious warlord captures her, she may not have a choice…
Griffin is intent on bringing peace to his newly conquered realm in the magic-deprived south. When he discovers Cat is the Kingmaker, he abducts her. But Cat will do everything in her power to avoid her dangerous destiny and battle her captor at every turn. Although up for the battle, Griffin would prefer for Cat to help his people willingly, and he's ready to do whatever it takes to coax her…even if that means falling in love with her.
MY THOUGHTS:
A Promise of Fire
is a book that just seemed to come out of nowhere to me. Suddenly, on August 2nd, I started seeing the name pop up all over Twitter with readers raving about it. I was intrigued and, after reading the summary, I bought it and soon started devouring it. It is rare that a book actually lives up to the hype, but I think Amanda Bouchet's debut definitely deserves all the praise it is getting.
This is the first in the Kingmaker Chronicles which takes place in a fantasy world that is reminiscent of medieval Europe with some Greek mythology thrown in for good measure. The heroine is Cat, the legendary Kingmaker clairvoyant, who has been hiding as a circus performer for years. Unfortunately, her secret is blown and she is taken captive by Griffin, a warlord whose family has recently taken control of the Sinta region. The rest of the book focuses on Cat, Griffin, and his loyal soldiers as they travel to the capital city and continue their efforts to establish the new regime.
There is so much that I adored about this book. The heroine is intelligent, powerful, sarcastic, and flawed. She is likable from the beginning and, as the author slowly reveals her past and her dreams, she becomes someone I really came to admire. Cat is determined to live life according to her rules after years of torment at the hands of another powerful leaders so she doesn't take Griffin's edicts lightly. For his part, despite the kidnapping thing, Griffin is another enjoyable character. He knows that taking Cat captive like he did is not ideal, but he is willing to do anything to insure his family's safety and stability. During the journey, he tries to prove that he is actually a decent person many times and it is easy to see when Cat (and the reader) begins to fall for him.
Cat and Griffin's romance is slow to develop, but also easy to understand. They have physical chemistry from the start and their emotional bond grows as they traverse through the countryside. I loved the banter between these two intelligent, alpha-mind people who secretly want to find someone to connect with. They are just so adorable together especially with Cat's bravado paired with Griffin's determination.
I also enjoyed all the side characters and how they helped bring the world the life. Griffin's soldiers (Carver, Kato, and Flynn) are loyal, strong, and hilarious. I appreciated how they came to care for Cat as a friend and wanted to protect her while also acknowledging her own strength. Griffin's family was a big surprise to me (and Cat). I enjoyed reading about the way that they weren't afraid to show their love for one another while also arguing like normal siblings do.
There is alot more that I could say about how much I loved this book, but I think it would spoil the fun for any future readers. Just know that, for me,
A Promise of Fire
was worth the hype and was exactly the type of addicting fantasy I had been needing. I definitely cannot wait for the sequel to be released early next year especially with the cliffhanger ending.
FAVORITE QUOTE:
"Happiness is a strange, frightening, fragile feeling when you're not used to it."
BOOKS IN THE SERIES: