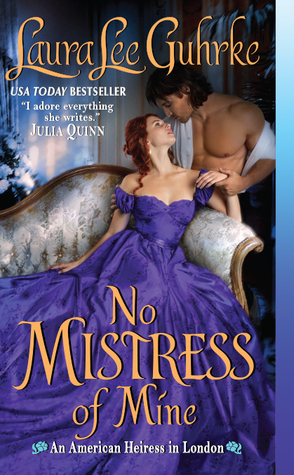 TITLE:
No Mistress of Mine
AUTHOR(S):
Laura Lee Guhrke
SERIES:
An American Heiress in London #4

GENRE:
Historical Romance -- Victorian England
PUBLISHER:
Avon
PUBLICATION DATE:
August 30, 2016
FORMAT:
eARC
SOURCE:
Publisher -- Edelweiss/Avon Addicts
LENGTH:
384 pages
DATE READ:
August 2016

READING CHALLENGES:
2016 Pick Your Genre Reading Challenge

THEMES/TROPES:
Big Secret, Class Differences, Second Chance at Love, Actress Heroine
RATING: 4 STARS

SUMMARY:
After spending his youth as one of the wildest rakes in the ton, Lord Denys Somerton has devoted the past six years to putting his past behind him. He is determined to fulfill his duties, find a suitable wife, and start a family, but that plan changes when Lola Valentine—the red-haired temptress from his past—returns to London, sparking the same irresistible desires that almost ruined his life once before.

Lola is a woman with no romantic illusions. She knew love would never be enough for a British lord and an American girl from the wrong side of the tracks. For Denys's sake, she walked away from him and the glittering life he offered. But when an unexpected inheritance brings her back to London, Lola discovers the passion between them is as hot as ever. Can they vanquish it, or will it burn out of control again and destroy them both?
MY THOUGHTS:
I adore second chance romances so I was predestined to enjoy Laura Lee Guhrke's
No Mistress of Mine
. I also liked the previous books in the American Heiress in London series and, therefore, was super happy to receive a copy through the Avon Addicts program. While this isn't my favorite LLG book ever (that would be
The Secret Desires of a Gentleman
), I found this to be engaging and romantic.
Denys has been a side character throughout the series and I was always intrigued by the hints we got about his development. Once upon a time he embarked on an affair with Lola, an American burlesque dancer with dreams of being a serious actress. Their relationship was full of passion, but ended when the play Denys financed for Lola to star in bombed and she decided to run off with another man. Six years later, Lola returns to London and surprises Denys by informing him that she is now a partner in a theater company, thanks to a surprise inheritance. Now these two former lovers have to figure out how to work together to put on a successful performance while also dealing with their past feelings.
I loved both Denys and Lola. They are full-realized characters who have grown a lot since they last see each other. Denys was once a rake who only thought of his immediate pleasures, but now he is a business whiz who has saved his family's finances and is determined to marry a proper debutante. Lola has used her years in New York improving her acting abilities and gaining the confidence that she lost. I appreciated how mature these two acted when it came to their interactions especially their obvious chemistry. It was easy to see how well they worked as a couple and it just took awhile for them to take that chance again.
Besides the growth of Denys and Lola and their romance, I enjoyed the historical details that the author provided about late Victorian London. The most intriguing aspect was the theater company and how such a place was run at this time period. There was a lot of talk about the business aspects involved as well as the power of the press in making a play a success. I also liked that this is a time where the aristocracy is dealing with the Industrial Revolution and having to be involved in more than just landowning.
No Mistress of Mine
is a fun story with likable characters and a charming romance. Readers will be able to easily relate to either Denys or Lola as well as find them easy to root for. Laura Lee Guhrke has a distinct style which effortlessly mixes the love story with historical elements, character development, and drama. As always, I look forward to reading whatever she writes next.
I received an eARC of this book from Avon via Edelweiss in exchange for an honest review.
BOOKS IN THE SERIES: