FAVORITE READ OF THE MONTH...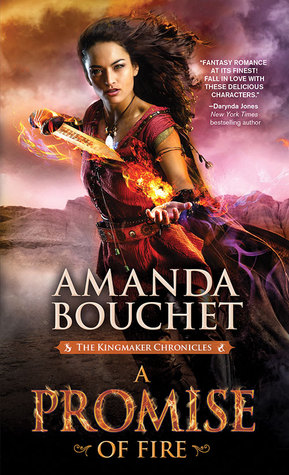 Catalia "Cat" Fisa is a powerful clairvoyant known as the Kingmaker. This smart-mouthed soothsayer has no interest in her powers and would much rather fly under the radar, far from the clutches of her homicidal mother. But when an ambitious warlord captures her, she may not have a choice…

Griffin is intent on bringing peace to his newly conquered realm in the magic-deprived south. When he discovers Cat is the Kingmaker, he abducts her. But Cat will do everything in her power to avoid her dangerous destiny and battle her captor at every turn. Although up for the battle, Griffin would prefer for Cat to help his people willingly, and he's ready to do whatever it takes to coax her…even if that means falling in love with her.
BOOKS READ...
4.5 Stars
A Promise of Fire (Kingmaker Chronicles #1) by Amanda Bouchet (fantasy romance)
4.25 Stars
Archangel's Legion (Guild Hunter #6) by Nalini Singh (urban fantasy)
If I Only Had a Duke (Disgraceful Dukes #2) by Lenora Bell (historical romance)
Something About You (FBI/U.S. Attorney #1) by Julie James (contemporary romance)
4 Stars
Harry Potter and the Cursed Child (Harry Potter #8) by J.K. Rowling, John Tiffany, Jack Thorne (fantasy)
Reforming Lord Ragsdale by Carla Kelly (historical romance)
To Charm a Naughty Countess (Matchmaker Trilogy #2) by Theresa Romain (historical romance)
Steel's Edge (The Edge #4) by Ilona Andrews (urban fantasy)
No Mistress of Mine (An American Heiress in London #4) by Laura Lee Guhrke (historical romance)
3.5 Stars
To Kiss a Thief (Runaway Desires #1) by Susanna Craig (historical romance)
Status Update (#gaymers #1) by Annabeth Albert (M/M contemporary)
Hannah and the Highlander (Untamed Highlanders #1) by Sabrina York (historical romance)
A Scot in the Dark (Scandal & Scoundrel #2) by Sarah MacLean (historical romance)
MEMES/FEATURES PUBLISHED...
Top Ten Tuesday
READING CHALLENGE UPDATES...
Goodreads Reading Challenge (128 out of 160)
TBR Challenge (8 out of 12)
Pick Your Genre Reading Challenge-Historical Romance (57 out of 75)
Pick Your Genre Reading Challenge-Contemporary Romance (15 out of 25)
Pick Your Genre Reading Challenge-Male/Male Romance (17 out of 25)
Pick Your Genre Reading Challenge-Paranormal Romance (23 out of 25)
New-To-You Reading Challenge (21 out of 25)
Oldie But Goodie Reading Challenge (5 out of 11)
Out of This World Reading Challenge (0 out of 5)
Spooks, Howls, and Fangs Reading Challenge (23 out of 40)
Read All the Books Reading Challenge (3 out of 57)
BOOKS ADDED TO MY TBR SHELF...
Purchased (Print, Digital, Audio)
Library
ARCs