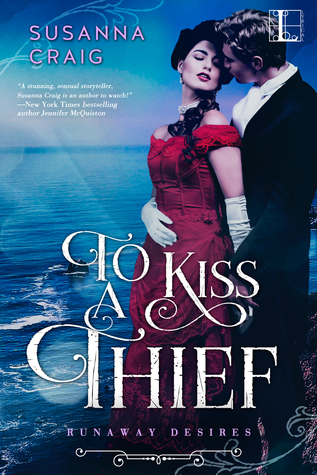 TITLE: To Kiss a Thief AUTHOR(S): Susanna Craig SERIES:

Runaway Desires #1


GENRE:

Historical Romance -- Georgian England

PUBLISHER:

Kensington Lyrical Press

PUBLICATION DATE:

August 16, 2016

FORMAT:

eARC

SOURCE:

Netgalley

LENGTH:

264 pages

DATE READ:

August 2016


READING CHALLENGES:

2016 Pick Your Genre Reading Challenge; 2016 New to You Reading Challenge


THEMES/TROPES:

Arranged Marriage, Big Secret, Reunited Couple




RATING: 3.5 STARS



SUMMARY:
Can a marriage made for money blossom into something more?

Sarah Sutliffe, Lady Fairfax, dreams of love—until she overhears her new husband proclaim his heart will never be hers. Devastated, she offers no defense when a sapphire necklace disappears during a ball and she is accused of its theft. Instead, she runs away from the scandal…and the heartbreak.

St. John, Viscount Fairfax, has sworn never to love again. How could a mousy merchant's daughter tempt him to break that vow? Three years after Sarah vanished, St. John uncovers her hiding place. Now, he's out to prove she's a thief before she steals his heart.
MY THOUGHTS:
I received an eARC of this book from Kensington Lyrical Press via Netgalley in exchange for an honest review.
To Kiss a Thief
is a decent debut that has me interested in what Susanna Craig will do next even if it was a bit flawed. It focuses on Sarah, Lady Fairfax, whose dream of a happy marriage with her new husband is dashed when she is forced to leave London after being accused of stealing a family heirloom. She tries to forget about her past life, but things get complicated when her husband goes hunting for her three years later.
I really liked Sarah. She was innocent and naive at the beginning so it was easy to see how she came to feel like she had little choice than to run away. But, it became very obvious that she gained experience in her time away and I admired the way that she took charge of her own life. I also liked the fact that she did not trust her husband when he arrived despite the fact that she had been in love with him all along. It takes a strong person to understand their weaknesses and figure out how to deal with them.
St. John was more difficult to like. I was not a fan of his at the beginning when he didn't stand up for his wife and even acted as another reason for her to leave. I also was irritated by his reasoning for trying to find Sarah after all these years. He did grow on me as he learned more about Sarah and what she went through, but I still had a hard time believing him when he proclaimed his love towards the end.
There is a lot going on in this book. The second chance romance is entertaining and easy to get sucked into even if the hero annoyed me. There is also the subplot surrounding the location of the missing necklace and how certain people within St. John and Sarah's circle cannot be trusted. And then there is the social issues of the period with a great deal of time spent on discussing abolitionism and the plight of the poor.
I thought Susanna Craig's writing was intriguing and I appreciated the fact that this book took place in a different era than the overly saturated Regency years. I also enjoyed the way that the social problems were integrated within the romance to make the world seem more alive. I do wish that the hero hadn't been so annoying and unworthy of the fantastic heroine. But, I think this author has real potential so I'm interested to see what she has for readers in
To Tempt an Heiress
which is being released at the end of the year.

BOOKS IN THE SERIES: