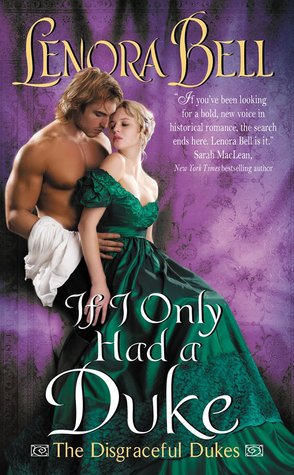 TITLE: If I Only Had a Duke AUTHOR(S): Lenora Bell SERIES:

Disgraceful Dukes #2


GENRE:

Historical Romance -- Regency England

PUBLISHER:

Avon

PUBLICATION DATE:

August 30, 2016

FORMAT:

eARC

SOURCE:

Edelweiss

LENGTH:

384 pages

DATE READ:

August 2016


READING CHALLENGES:

2016 Pick Your Genre Reading Challenge


THEMES/TROPES:

Enemies to Lovers; Big Secret; Road Romance




RATING: 4.25 STARS



SUMMARY:
After four failed seasons and a disastrous jilting, Lady Dorothea Beaumont has had more than enough of her family's scheming. She won't domesticate a duke, entangle an earl, or vie for a viscount. She will quietly exit to her aunt's Irish estate for a life of blissful freedom. Until an arrogant, sinfully handsome duke singles her out for a waltz, making Thea the most popular belle of the season.

The duke ruined her plans and he'll just have to fix them.

Dalton, Duke of Osborne, is far too heartless for debutantes or marriage—he uses dalliances and public spectacle to distract from his real purpose: finding the man who destroyed his family. When his search leads to Ireland, the last thing he needs is the determined, achingly innocent Thea, who arrives in the dead of night demanding he escort her to her aunt. His foolish agreement may prove his undoing. The road to the Emerald Isle is fraught with unforeseen dangers, but the greatest peril of all might just be discovering that he has a heart...and he's losing it to Thea.
MY THOUGHTS:
I received an eARC of this book from Avon via Edelweiss in exchange for an honest review.
I found Lenora Bell's debut,
How the Duke Was Won
, to be entertaining and had high expectations for the sequel,
If I Only Had a Duke
. I was especially to excited to read it when I learned that the heroine would be Lady Dorothea, whom the heroine of book one spent much of the story impersonating. Though Thea was only in a few scenes in the first book, she made a real impression on me and I knew her story would be fabulous...and it was!
Despite her mother's efforts, Thea has never been a success in the marriage mart. Thankfully, her real dream is to live with her aunt in Ireland and never attend a Society ball again. Things get complicated during Thea's last Season when Dalton, the sexy, but cocky Duke of Osborne, decides to dance with her. This causes Thea to become the belle of the ball...the last thing she wanted. In retaliation, Thea shows up at Dalton's house and insists that he take her to Ireland so that she can escape her unwanted beaus. This begins a crazy, entertaining road trip with two stubborn people who might just be perfect for one another if they can stop arguing long enough.
Both Dalton and Thea have their own reasons to travel to Ireland which help develop their individual personalities. Dalton has carefully cultivated a bad boy reputation in order to allow him the opportunity to search for the man that killed his brother and destroyed his childhood. I found him fascinating with how different his actual personality was to what he showed Society. He is a secretly sweet and sensitive guy who was traumatized by his brother's death and is desperate for someone to connect with.
Thea is a smart, feisty heroine who wants more from her life than just marriage and children. During a trip to Italy, she became obsessed with
Artemisia Gentileschi
, an Italian Renaissance artist, and she is determined to discover more about her. I loved reading about her passion for art and how determined she was to take charge of her future. She was very easy to root for and I was happy that she stayed consistent with how she was described in
How the Duke Was Won
.
I thought the road trip aspect was the perfect way to show Dalton and Thea falling for one another. Due to their different personalities, forced intimacy allowed them the time to talk to each other. They developed a connection early on (despite their best efforts) and this helped them to move past their early arguments. I also enjoyed the fact that they are both intelligent and aren't afraid to challenge one another. It was easy to see how they could end up as a happy couple which is really what I want in a romance.
If I Only Had a Duke
is a fun, emotional story that grabbed me from the get-go and had me smiling throughout it. It is easy to get sucked into a book that has such well-drawn characters like Dalton and Thea. There are a few moments of crazysauce in the plot, but I never felt like they took away from the love story since they worked with the overall tone. I am definitely excited to see what happens in the third Disgraceful Dukes book next summer.
BOOKS IN THE SERIES: