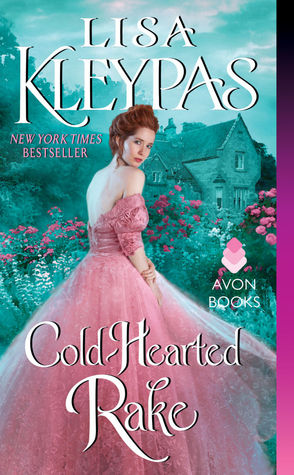 TITLE: Cold-Hearted Rake AUTHOR(S): Lisa Kleypas SERIES:

Ravenels #1


GENRE:

Historical Romance -- Victorian England

PUBLISHER:

Avon

PUBLICATION DATE:

October 27, 2015

FORMAT:

Ebook

SOURCE:

Purchased

LENGTH:

419 pages

DATE READ:

July 2016


READING CHALLENGES:

2016 Pick Your Genre Reading Challenge


THEMES/TROPES:

Inheritance, Enemies to Lovers, Bad Boy Hero, Widow Heroine




RATING: 3.5 STARS



SUMMARY:
A twist of fate . . .

Devon Ravenel, London's most wickedly charming rake, has just inherited an earldom. But his powerful new rank in society comes with unwanted responsibilities . . . and more than a few surprises. His estate is saddled with debt, and the late earl's three innocent sisters are still occupying the house . . . along with Kathleen, Lady Trenear, a beautiful young widow whose sharp wit and determination are a match for Devon's own.

A clash of wills . . .

Kathleen knows better than to trust a ruthless scoundrel like Devon. But the fiery attraction between them is impossible to deny—and from the first moment Devon holds her in his arms, he vows to do whatever it takes to possess her. As Kathleen finds herself yielding to his skillfully erotic seduction, only one question remains:

Can she keep from surrendering her heart to the most dangerous man she's ever known?
MY THOUGHTS:
My first reaction to the fact that Lisa Kleypas was back to writing historical romance was elation and relief. She is one of my all-time favorite authors and I have missed her voice terribly. I quickly pre-ordered
Cold-Hearted Rake
and waited with bated breath for the release date. Then the book showed up on my e-reader and I panicked. I was suddenly hesitant to try it because I was worried that it wouldn't meet all of my expectations. Well, nine months later, I finally took the plunge and, while this book was not nearly as good as other Kleypas historicals, I did like it enough to be excited about the future of the series.
Devon Ravenel has unexpectedly inherited an earldom and wants nothing to do with the responsibility of the title or the massive debts that come along with the it. He and his brother, West, decide to visit the country estate in order to assess how best to go about selling the property. During the visit, these two rakish gentlemen meet the late earl's widow and his three sisters. This begins a journey that has both Devon and West learning that there is much more to life than just hanging out at clubs while Devon also starts to see something special in the young, beautiful widow, Kathleen.
The characters are as developed as I have come to expect from Kleypas. There are a variety of personalities and quirks that blend well together as a cast. Devon was not born into the aristocracy, but he is still a gentleman. His childhood left some scars and he is determined not to think of anyone, but himself. Throughout the course of the book, he learns to care about others and discovers that there is a lot more to him than he (or his family) ever thought possible. Kathleen was only married to the late earl for three days and her feelings for him were not as clear as they first appear. Her true love is for the state and her sisters-in-law. She is devoted to their protection and is desperate to find a place where she can truly belong.
There is a lot of time spent on the development of West and the Ravenel sisters, Helen, Pandora, and Cassandra.
Cold-Hearted Rake
is the first in the series so things had to be set up accordingly. As I mentioned above, I thoroughly enjoyed the evoltuion of West and I think that he and the twins (especially Pandora) will have some fascinating stories coming up. Helen is very sweet and the character that I related to the most. I always admire Kleypas's ability to build communities in her series like she did with the Wallflowers and the Hathaways. The Ravenels are full of life and, I believe, have the potential to be just as memorable.
I did think that the romance between Devon and Kathleen was overshadowed by the series set-up and all the side characters. There is just a lot going on outside of the relationship. I thought the love story was fine and it was easy to see how they fell for each other. But, I didn't feel any grand relief when the declarations began. It felt underwhelming especially compared to how I expected to react. I do want to give a shout-out to the side story involving Helen and the wealthy department store owner, Rhys Winterborne. Their full romance is told in the next book, but there are some major developments introduced here. Winterborne has some redeeming to do, but I have faith in the woman who turned Viscount St. Vincent into such an icon of the genre.
Cold-Hearted Rake
is the not the best Kleypas historical, but it was nice to get a taste of her writing style again. I thought the story was entertaining and I came to care about all the characters. Now that things are set up, I am really hoping the next installments will be more romantic. Of course, even when she isn't at her best, Lisa Kleypas is still one of the best to ever write in this genre.
FAVORITE QUOTE:
"I know many scientific facts about the human heart--not the least of which is that it's far easier to make a heart stop beating entirely than to keep it from loving the wrong person."
BOOKS IN THE SERIES: