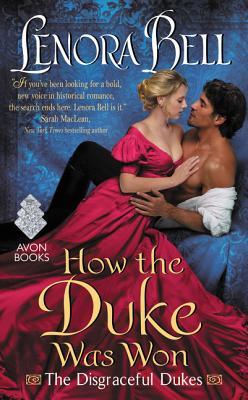 (The Disgraceful Dukes #1)

Historical Romance (Regency England)
Avon -- April 26, 2016
SUMMARY
The pleasure of your company is requested at Warbury Park. Four lovely ladies will arrive… but only one can become a duchess.

James, the scandalously uncivilized Duke of Harland, requires a bride with a spotless reputation for a strictly business arrangement. Lust is prohibited and love is out of the question. Four ladies. Three days. What could go wrong?

She is not like the others…
Charlene Beckett, the unacknowledged daughter of an earl and a courtesan, has just been offered a life-altering fortune to pose as her half-sister, Lady Dorothea, and win the duke's proposal. All she must do is:

* Be the perfect English rose [Ha!]
* Breathe, smile, and curtsy in impossibly tight gowns [blast Lady Dorothea's sylph-like figure]
* Charm and seduce a wild duke [without appearing to try]
* Keep said duke far, far from her heart [no matter how tempting]

When secrets are revealed and passion overwhelms, James must decide if the last lady he should want is really everything he needs. And Charlene must decide if the promise of a new life is worth risking everything . . . including her heart.

THEMES & TROPES
Bad Boy Hero, Heroine in Disguise, Class Differences, House Party
MY THOUGHTS
How the Duke Was Won
involves Charlene, the daughter of a courtesan being offered a large amount of money to masquerade as her half-sister, Lady Dorothea, at a house party being thrown by a duke. Charlene's goal is to get the Duke of Harland to propose to "Dorothea" so that she can gain her reward and get out of the London underworld. Of course, things get complicated when Charlene meets the duke and realizes that he is not your typical British aristocrat, but someone that she is coming to care about. I have been interested in Lenora Bell's debut for awhile and, while it wasn't perfect, it was enjoyable enough to make me want to read more of her work.
The premise is not my favorite, but the characters help make up for it. Charlene wants more out of her life than what her mother had. The opportunity to pretend to be someone else is not something she wants to do, but she is in a situation that forces her to take it. James never expected to become the duke and he doesn't want much to do with the responsibility. His decision to have a house party and invite four eligible ladies to "compete" to become his wife was not very endearing, but he did end up winning me over though it took some time. The other ladies and James's best friend were decent secondary characters who were well-developed, but never took over for the main couple.
I thought that the secret identity element of this book was handled very well. Charlene's reluctance made it much easier to deal with the deception and it was obvious that she didn't have a choice in the matter. The romance did feel very real (despite the identity issues) and it was clear how well James and Charlene connected from the very beginning. They had to overcome some obstacles to get their happy ending, but it was definitely worth it.
The plot of How the Duke Was Won was a bit contrived, but the characters and the author's writing style helped make it an entertaining reading experience. I am excited to see what Lenora Bell does with the sequel, If I Only Had a Duke, especially with Lady Dorothea taking center stage in the next book.
READING CHALLENGES
2016 Historical Romance Reading Challenge
2016 New To You Reading Challenge


BOOKS IN THE SERIES