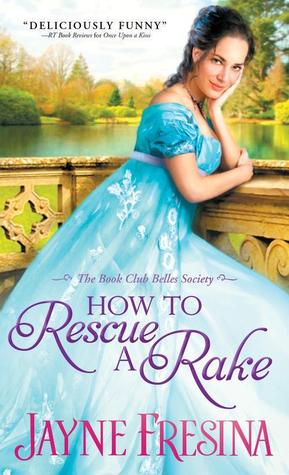 How to Rescue a Rake (Book Club Belles #3) by Jayne Fresina
Historical Romance
Sourcebooks Casablanca -- January 5, 2016
RATING: 3.5 STARS
Nathaniel Sherringham has returned to Hawcombe Prior a changed man. Gone is the reckless rake who went out on a limb to propose to Diana Makepiece three years ago. Now Nate's mysterious new wealth has the town's rumor mill spinning. To stir things up (and get Diana's attention), Nate boldly announces his plans to marry "any suitable girl" under the age of 25.
Diana, now 27 and still single, is acutely aware of Nate's return. When her mother suggests a trip to visit a cousin in Bath, Diana leaps at the chance to escape the heartbreak and regret she can't help but feel in Nate's presence...and avoid his irritating charade to find a bride.
But for Nate, Diana has always been the one. He might just have to follow her to Bath and once again lay his heart on the line to win her attention-and her heart.

I usually try to read series in order, but this one grabbed my attention because it is a retelling of my favorite Jane Austen book,
Persuasion
. Nate and Diana had a bit of a flirtation a few years ago that ended due to mysterious reasons. Then Nate returned to the village and these two different, but likable characters found themselves dealing with their past feelings and expectations for the future. I thought this book was charming and sweet. All the
Persuasion
elements were there with plenty of new characterization for the main couple. I quite liked the idea of the hero pursuing the heroine throughout the story since, very often, it is the other way around. I had a good time reading
How to Rescue a Rake
even if it wasn't the most original or scintillating story.
***********
Fate's Edge (The Edge #3) by Ilona Andrews
Urban Fantasy
Penguin -- November 29, 2011
RATING: 3.5 STARS
Audrey Callahan left behind her life in the Edge, and she's determined to stay on the straight and narrow. But when her brother gets into hot water, the former thief takes on one last heist and finds herself matching wits with a jack of all trades...

Kaldar Mar-a gambler, lawyer, thief, and spy-expects his latest assignment tracking down a stolen item to be a piece of cake, until Audrey shows up. But when the item falls into the hands of a lethal criminal, Kaldar realizes that in order to finish the job, he's going to need Audrey's help...
Fate's Edge
had the difficult job of coming after
Bayou Moon
which was one of my favorite reads of 2016 so far. It was as entertaining and engrossing like other books in this series, but I felt like it was lacking something. Kaldar was a fascinating character with his multitude of slightly left of the law talents and his devotion to his family. I also liked Audrey and her determination to do what was right despite her upbringing. I guess I just felt like the romance was too rushed and overshadowed the action subplot. And I continue to adore any scene with George and Jack!
***********
Once She Was Tempted (Honeycote #2) by Anne Barton
Historical Romance
Forever -- October 29, 2013
RATING: 4 STARS
A Portrait of a Lady
…or is it? The risqué painting owned by Benjamin Elliot, the earl of Foxburn, features a stunning beauty with sapphire eyes, golden hair, and creamy skin. Ben recognizes this particular English rose the instant he meets her—though she's wearing considerably more clothing. In person, the demure debutante is even more irresistible…
In desperate need of money for her sick mother, Daphne Honeycote had posed for two scandalous portraits. Now she must hide her secret to save the Honeycote family name. Ben's possession of one painting makes him an insufferable thorn in her side—and yet he may be her best chance at finding the canvas's companion. As she becomes drawn to the dark-tempered earl, can Daphne risk laying bare the secrets of her heart?
First of all, I loved the premise of this book. Years ago, Daphne posed for two scandalous paintings to earn money for her family. But, now that things are good financially for them, she must deal with the aftermath especially when the hero, Benjamin, happens to own one of the paintings. I am all about a cranky, but secretly sweet hero and Ben just grabbed my heart from the beginning. I loved his and Daphne's interactions. They just couldn't resist each other and I think they ended up making one another a better person. Daphne's genuine kindness paired with Ben's grumpiness very well. I did think that the plot got a bit bland towards the end, but the characters kept me reading on.
***********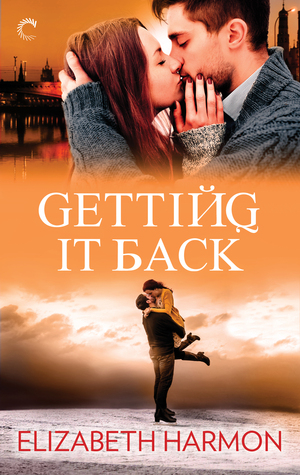 Getting It Back (Red Hot Russians #3) by Elizabeth Harmon
Contemporary Romance
Carina Press -- April 4, 2016
RATING: 3.5 STARS
In this second-chance romance, a former top men's figure skating champion is willing to risk everything for a comeback--except a new start with his long lost love.
An unexpected phone call from the man who broke her heart offers Amy Shepherd an opportunity to return to the work she loves, training elite figure skaters. Except it's just one figure skater: Him. Can she finally forgive and forget?
Figure skater Mikhail "Misha" Zaikov once had it all: medals, money and the adoration of millions. But a devastating injury put an end to his career and his romance, leaving him with nothing but regret over what could have been. His last chance to re-join the world's top skaters is now. And there's only one person who can help him: Her.
On Russia's unyielding ice, Misha must reclaim what he's lost while facing off against a talented young rival and risking further injury. But Amy soon discovers Misha's much bigger challenges lurk off the ice. And she's determined to keep Misha whole and healthy, even if doing so ends his shot at the gold.
Second chance romances can be touch and go, mostly due to the different ways that the original romance can go south. I thought
Getting It Back
was a decent example of this theme and I had a good time reading it. I loved the heroine and how capable she was at her job. I also admired her willingness to pursue her dream even with the pressure she was receiving from her family and friends. Misha was a decent enough hero. I didn't care for his past treatment of Amy, but, at least, he knew how crappy he was and apologized a lot for his actions. The romance developed slowly and I thought that worked for two people who had a past, but were afraid to jump back in again. My main issue was the pacing. The first half of the book just kept dragging on and I was bored. Thankfully, things picked up when they went to Russia and got back into the ice skating world. I just wish that had happened sooner.
I received an eARC of this book from Carina Press via Netgalley in exchange for an honest review.
***********
Only Beloved (The Survivors' Club #7) by Mary Balogh
Historical Romance
Signet -- May 3, 2016

RATING: 4 STARS
For the first time since the death of his wife, the Duke of Stanbrook is considering remarrying and finally embracing happiness for himself. With that thought comes the treasured image of a woman he met briefly a year ago and never saw again.

Dora Debbins relinquished all hope to marry when a family scandal left her in charge of her younger sister. Earning a modest living as a music teacher, she's left with only an unfulfilled dream. Then one afternoon, an unexpected visitor makes it come true.
For both George and Dora that brief first encounter was as fleeting as it was unforgettable. Now is the time for a second chance. And while even true love comes with a risk, who are two dreamers to argue with destiny?
Mary Balogh's signature style is a quiet, but still emotionally powerful romances and her Survivors' Club series has been full of great examples of that. I really applaud her for
Only Beloved
which features an older (not definitely not old) couple than one usually sees in historical romance. George has been a steady, but mysterious force throughout this series so it was great to learn more about him. I developed a big girl crush on Dora in
Only Enchanting
and I continued to like her character a ton here. I appreciated the gentleness of the romance between these two mature and lonely people who really deserved some happiness. I do wish that the mystery surrounding the death of George's ex-wife hadn't taken up so much page time. I wanted more sweet scenes with George and Dora slowly falling in love with one another. But, this was a perfectly charming conclusion to an amazing series.