I love finding commonalities between my favorite books and how that helps define me as a reader. So I decided to do a random feature where I focus on a specific theme/trope and provide examples of it.
WIDOWS IN ROMANCE


These are all romances that feature a heroine who has been married previously and whose husband has died. There are a variety of ways that authors handle these types of situations. What I find most fascinating is the way that the authors depict the earlier marriage and how that affects the heroine's views on the "new" relationship.

Sometimes the first marriage was happy and the heroine either wants to pursue love again or believes she can't find that type of love ever again. There are also times when the late marriage was unhappy which can cause issues for the heroine to deal with as a new romance appears. And then there are the marriages that were just meh and these are interesting because there is often guilt over the heroine not caring enough for the late husband even if it is unwarranted.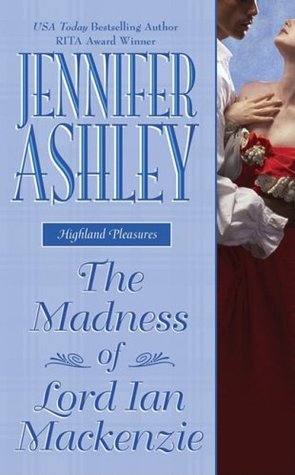 The Madness of Ian Mackenzie by Jennifer Ashley (historical romance)
The year is 1881. Meet the Mackenzie family--rich, powerful, dangerous, eccentric. A lady couldn't be seen with them without ruin. Rumors surround them--of tragic violence, of their mistresses, of their dark appetites, of scandals that set England and Scotland abuzz.

The youngest brother, Ian, known as the Mad Mackenzie, spent most of his young life in an asylum, and everyone agrees he is decidedly odd. He's also hard and handsome and has a penchant for Ming pottery and beautiful women.

Beth Ackerley, widow, has recently come into a fortune. She has decided that she wants no more drama in her life. She was raised in drama--an alcoholic father who drove them into the workhouse, a frail mother she had to nurse until her death, a fussy old lady she became constant companion to. No, she wants to take her money and find peace, to travel, to learn art, to sit back and fondly remember her brief but happy marriage to her late husband.

And then Ian Mackenzie decides he wants her.
Between the Devil and Desire by Lorraine Heath (historical romance)
London's most notorious rogue—decadent, depraved, forbidden...
The ladies of the ton won't stop whispering about deliciously wicked Jack Dodger—once a thieving street urchin, now the wealthy owner of London's most exclusive gentleman's club. There's no pleasure he hasn't enjoyed, no debauchery the handsome scoundrel won't provide for the lords who flock to his house of carnal intrigue.

London's most virtuous lady—honorable, uncorrupted, and all too human...Olivia, Duchess of Lovingdon, would never associate with such a rogue. So when Jack is named sole heir to the duke's personal possessions, the beautiful, well-bred lady is outraged. Now, Olivia is forced to share her beloved home with this despicable man.

Caught between the devil and desire...
But Olivia's icy disdain is no match for Jack's dangerous charm. His touch awakens desire. His kiss demands surrender. She will struggle to bar Jack from her heart...but her body, coveting divine release, will not let her bar him from her bed.
When He Was Wicked by Julia Quinn (historical romance)
Everything was so much simpler... when he was wicked.
In every life there is a turning point. A moment so tremendous, so sharp and breathtaking, that one knows one's life will never be the same. For Michael Stirling, London's most infamous rake, that moment came the first time he laid eyes on Francesca Bridgerton.

After a lifetime of chasing women, of smiling slyly as they chased him, of allowing himself to be caught but never permitting his heart to become engaged, he took one look at Francesca Bridgerton and fell so fast and hard into love it was a wonder he managed to remain standing. Unfortunately for Michael, however, Francesca's surname was to remain Bridgerton for only a mere thirty-six hours longer—the occasion of their meeting was, lamentably, a supper celebrating her imminent wedding to his cousin.

But that was then... Now Michael is the earl and Francesca is free, but still she thinks of him as nothing other than her dear friend and confidant. Michael dares not speak to her of his love... until one dangerous night, when she steps innocently into his arms, and passion proves stronger than even the most wicked of secrets...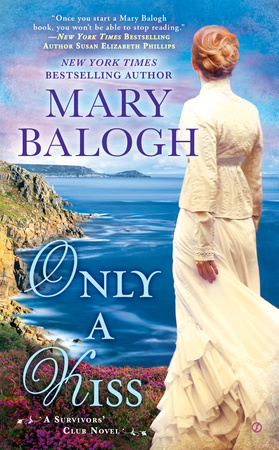 Only a Kiss by Mary Balogh (historical romance)
Since witnessing the death of her husband during the wars, Imogen, Lady Barclay, has secluded herself in the confines of Hardford Hall, their home in Cornwall. The new owner has failed to take up his inheritance, and Imogen desperately hopes he will never come to disturb her fragile peace.
Percival Hayes, Earl of Hardford, has no interest in the wilds of Cornwall, but when he impulsively decides to pay a visit to his estate there, he is shocked to discover that it is not the ruined heap he had expected. He is equally shocked to find the beautiful widow of his predecessor's son living there.
Soon Imogen awakens in Percy a passion he has never thought himself capable of feeling. But can he save her from her misery and reawaken her soul? And what will it mean for him if he succeeds?
Six Degrees of Scandal
by Caroline Linden (historical romance)
Olivia Townsend is in trouble and out of options. Pursued by a desperate man in search of a lost treasure, which she doesn't have, she's got only two things in her favor: her late husband's diary, which she was never meant to see … and the man who was her first-and-only-love. Losing him broke her heart, though she's been careful to hide it for the last ten years. But when he comes to her aid and vows to stand by her this time, no matter what, she can't help but hope things will be different this time.
James Weston has blamed himself for letting Olivia down when she needed him years ago, and he will not do it again. Fortunately, his unusual life has equipped him well to outsmart the villain chasing Olivia. Unfortunately, being so near her again threatens to expose every secret in his heart…even those that should stay hidden forever.
The Captive
by Grace Burrowes (historical romance)
He'll never be free...
Captured and tortured by the French, Christian Severn, Duke of Mercia, survives by vowing to take revenge on his tormentors. Before the duke can pursue his version of justice, Gillian, Countess of Greendale, reminds him that his small daughter has suffered much in his absence, and needs her papa desperately.
Until he surrenders his heart...
Gilly endured her difficult marriage by avoiding confrontation and keeping peace at any cost. Christian's devotion to his daughter and his kindness toward Gilly give her hope that she could enjoy a future with him, for surely he of all men shares her loathing for violence in any form. Little does Gilly know, the battle for Christian's heart is only beginning.
The Raven Prince by Elizabeth Hoyt (historical romance)
There comes a time in a lady's life...
Widowed Anna Wren is having a wretched day. After an arrogant male on horseback nearly squashes her, she arrives home to learn that she is in dire financial straits.
When she must do the unthinkable...
The Earl of Swartingham is in a quandary. Having frightened off two secretaries, Edward de Raaf needs someone who can withstand his bad temper and boorish behavior.
And find employment.
When Anna becomes the earl's secretary, it would seem thatboth their problems are solved. Then she discovers he plans to visit the most notorious brothel in London for his "manly" needs. Well! Anna sees red—and decides to assuage her "womanly" desires...with the earl as her unknowing lover.
A Lady Awakened
by Cecilia Grant (historical romance)
Newly widowed and desperate to protect her estate and beloved servants from her malevolent brother-in-law, Martha Russell conceives a daring plan. Or rather, a daring plan to conceive. After all, if she has an heir on the way, her future will be secured. Forsaking all she knows of propriety, Martha approaches her neighbor, a London exile with a wicked reputation, and offers a strictly business proposition: a month of illicit interludes . . . for a fee.
Theophilus Mirkwood ought to be insulted. Should be appalled. But how can he resist this siren in widow's weeds, whose offer is simply too outrageously tempting to decline? Determined she'll get her money's worth, Theo endeavors to awaken this shamefully neglected beauty to the pleasures of the flesh—only to find her dead set against taking any enjoyment in the scandalous bargain. Surely she can't resist him forever. But could a lady's sweet surrender open their hearts to the most unexpected arrival of all . . . love?
The Countess Conspiracy
by Courtney Milan (historical romance)
Sebastian Malheur is the most dangerous sort of rake: an educated one. When he's not scandalizing ladies in the bedchamber, he's outraging proper society with his scientific theories. He's desired, reviled, acclaimed, and despised—and he laughs through it all.
Violet Waterfield, the widowed Countess of Cambury, on the other hand, is entirely respectable, and she'd like to stay that way. But Violet has a secret that is beyond ruinous, one that ties her irrevocably to England's most infamous scoundrel: Sebastian's theories aren't his. They're hers.
So when Sebastian threatens to dissolve their years-long conspiracy, she'll do anything to save their partnership...even if it means opening her vulnerable heart to the rake who could destroy it for good.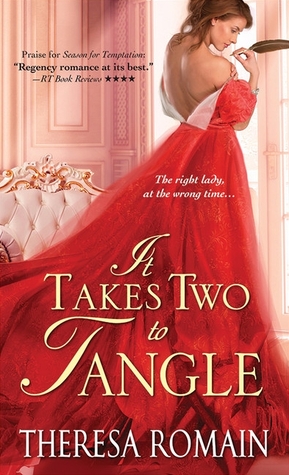 It Takes Two to Tangle
by Theresa Romain (historical romance)
Wooing the Wrong Woman…
Henry Middlebrook is back from fighting Napoleon, ready to re-enter London society where he left it. Wounded and battle weary, he decides that the right wife is all he needs. Selecting the most desirable lady in the ton, Henry turns to her best friend and companion to help him with his suit…
Is a Terrible Mistake…
Young and beautiful, war widow Frances Whittier is no stranger to social intrigue. She finds Henry Middlebrook courageous and manly, unlike the foppish aristocrats she is used to, and is inspired to exercise her considerable wit on his behalf. But she may be too clever for her own good, and Frances discovers that she has set in motion a complicated train of events that's only going to break her own heart…
Sweet Disorder
by Rose Lerner (historical romance)
Nick Dymond enjoyed the rough-and-tumble military life until a bullet to the leg sent him home to his emotionally distant, politically obsessed family. For months, he's lived alone with his depression, blockaded in his lodgings.
But with his younger brother desperate to win the local election, Nick has a new set of marching orders: dust off the legendary family charm and maneuver the beautiful Phoebe Sparks into a politically advantageous marriage.
One marriage was enough for Phoebe. Under her town's by-laws, though, she owns a vote that only a husband can cast. Much as she would love to simply ignore the unappetizing matrimonial candidate pushed at her by the handsome earl's son, she can't. Her teenage sister is pregnant, and Phoebe's last-ditch defense against her sister's ruin is her vote—and her hand.
Nick and Phoebe soon realize the only match their hearts will accept is the one society will not allow. But as election intrigue turns dark, they'll have to cast the cruelest vote of all: loyalty…or love.
Moonglow
by Kristen Callihan (historical-paranormal romance)
Once the seeds of desire are sown . . .
Finally free of her suffocating marriage, widow Daisy Ellis Craigmore is ready to embrace the pleasures of life that have long been denied her. Yet her new-found freedom is short lived. A string of unexplained murders has brought danger to Daisy's door, forcing her to turn to the most unlikely of saviors . . .
Their growing passion knows no bounds . . .
Ian Ranulf, the Marquis of Northrup, has spent lifetimes hiding his primal nature from London society. But now a vicious killer threatens to expose his secrets. Ian must step out of the shadows and protect the beautiful, fearless Daisy, who awakens in him desires he thought long dead. As their quest to unmask the villain draws them closer together, Daisy has no choice but to reveal her own startling secret, and Ian must face the undeniable truth: Losing his heart to Daisy may be the only way to save his soul.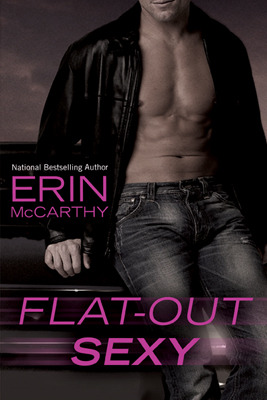 Flat-Out Sexy by Erin McCarthy (contemporary romance)
Independent single mother Tamara Briggs wanted to find a new, sexy, no-strings-attached man--just not one as young as NASCAR driver Elec Monroe. But he sure does get her heart racing. And after she's tricked into a blind date with him, Tamara gives in to her passion. Things screech to a halt, though, when he asks to meet her children. Whatever happened to wham-bam-thank-you ma'am? Suddenly Tamara has to decide how much risk she's willing to take to experience the power of true love.


Dream a Little Dream by Susan Elizabeth Phillips (contemporary romance)
Rachel Stone's bad luck has taken a turn for the worse. With an empty wallet, a car's that's spilling smoke, and a five-year-old son to support, she's come home to a town that hates her. But this determined young widow with a scandalous past has learned how to be a fighter. And she'll do anything to keep her child safe—even take on. . .
Gabe Bonner wants to be left alone, especially by the beautiful outcast who's invaded his property. She has a ton of attitude, a talent for trouble, and a child who brings back bad memories. Yet Rachel's feisty spirit might just be heaven-sent to save a tough, stubborn man.
Welcome to Salvation, North Carolina—where a man who's forgotten what tenderness means meets a woman with nothing to lose. here two endearing lovers will set off on a funny, touching journey of the heart. . .to a place where dreams just might come true.
The Single Undead Moms Club
by Molly Harper (paranormal romance)
Widow Libby Stratton arranged to be turned into a vampire after she was diagnosed with late-stage cancer. It wasn't the best idea she's ever had, but she was desperate—she's not about to leave her seven-year-old son to be raised by her rigid, overbearing in-laws.
On top of post-turning transition issues, like being ignored at PTA meetings and other mothers rejecting her son's invitations for sleepovers, Libby must deal with her father-in-law's attempts to declare her an unfit mother, her growing feelings for Wade—a tattooed redneck single dad she met while hiding in a closet at Back to School Night—and the return of her sire, who hasn't stopped thinking about brave, snarky Libby since he turned her.
LET ME KNOW IF YOU HAVE A FAVORITE EXAMPLE OF THIS THEME THAT I SHOULD CHECK OUT.