Where I feature new releases that grabbed my attention in the upcoming month. As always, release dates are subject to change. All titles link back to Goodreads.
Once Upon a Moonlit Night (Maiden Lane #10.5) by Elizabeth Hoyt
[7/5]
Historical Romance
Hippolyta Royle is running for her life. Pursued by hounds on a cold rainy night, the heiress flags down a passing carriage and throws herself at the mercy of the coach's occupant. Whoever this handsome traveler may be, he is her only hope to escape a terrible fate. But should he agree to escort her to safety, he's in for much more than he bargained for.
At first Matthew Mortimer doesn't believe Hippolyta's story, that she's a fabulously wealthy heiress who's been kidnapped. He assumes she's a beggar, an actress, or worse. But once his new travel companion washes the mud from her surprisingly lovely face, and they share a breathtaking kiss, there is no turning back.
A Duke to Remember (Season for Scandal #2) by Kelly Bowen
[7/26]
Historical Romance
Elise deVries is not what she seems. By night, the actress captivates London theatergoers with her chameleon-like ability to slip inside her characters. By day, she uses her mastery of disguise to work undercover for Chegarre & Associates, an elite agency known for its discreet handling of indelicate scandals. But when Elise is tasked with locating the missing Duke of Ashland, she finds herself center stage in a real-life drama.
Noah Ellery left the glamour of the London aristocracy to pursue a simpler life in the country. He's managed to avoid any complications or entanglements—that is, until he lays eyes on Elise and realizes there's more to this beautiful woman than meets the eye. But when Elise reveals her real identity—and her true feelings for him—the runaway duke must confront the past he left behind . . . to keep the woman he loves forever.

Where the Wild Things Bite (Half-Moon Hollow #5) by Molly Harper
[7/26]
Paranormal Romance
Delivering a rare book to a valued customer is definitely part of mild-mannered archivist Anna Winthrop's job description. You know what isn't? Protecting her precious cargo from mid-flight theft by the very pilot who is flying her to Half-Moon Hollow...while trying to appear as unappetizing as possible to the only other passenger, a vampire. Undead bookstore owner Jane Jameson could be waiting a very long time for her book. Possibly forever.
Fortunately, Anna's dashing fanged companion Finn Palmeroy helps her fend off the attack, but not before their plane crash lands in the forest hundreds of miles from civilization. Great, now she's stranded with a priceless tome and a rakish vampire whose bedtime is fast approaching. Why does everyone want this book so badly, anyway? Anna just wants to get it to Jane before Finn decides to turn her into dinner-or sweep her off her feet. Okay, the second option is really tempting. But they're not out of the woods yet...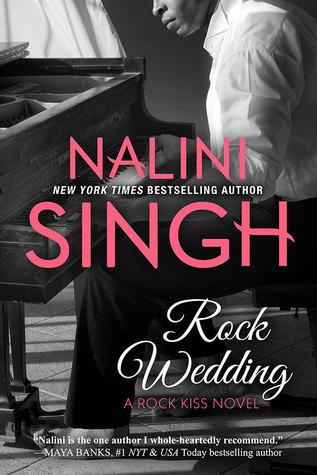 Rock Wedding (Rock Kiss #4) by Nalini Singh
[7/19]
Contemporary Romance
After a lifetime of longing for a real family, Sarah Smith thought she'd finally found her home with rock star Abe Bellamy, even if she knew Abe didn't love her the way she loved him. But their brief relationship, filled with tragedy and heartache, nearly destroyed her. Alone, emotions in turmoil, and already shaky self-esteem shattered, Sarah struggles to pick up the pieces in the wake of their divorce.
Abe knows he's to blame for the end of his marriage. Caught in a web of painful memories, he pushed away the best thing in his life – the sexy, smart woman he adores – breaking them both in the process. Then fate throws him a second chance to get things right, to prove to Sarah that she means everything to him. Abe desperately wants that second chance at love...even if he knows he doesn't deserve it.
But can he convince Sarah – now strong and independent without him – to risk her wounded heart one more time?
Why Do Dukes Fall in Love (Dukes Behaving Badly #4) by Megan Frampton
[7/26]
Historical Romance
Why do dukes fall in love?
Michael, the Duke of Hadlow, has the liberty of enjoying an indiscretion . . . or several. But when it comes time for him to take a proper bride, he ultimately realizes he wants only one woman: Edwina Cheltam. He'd hired her as his secretary, only to quickly discover she was sensuous and intelligent.
They embark on a passionate affair, and when she breaks it off, he accepts her decision as the logical one . . . but only at first. Then he decides to pursue her.
Michael is brilliant, single-minded, and utterly indifferent to being the talk of the ton. It's even said his only true friend is his dog. Edwina had begged him to marry someone appropriate–—someone aristocratic . . . someone high-born . . . someone else. But the only thing more persuasive than a duke intent on seduction is one who has fallen irrevocably in love.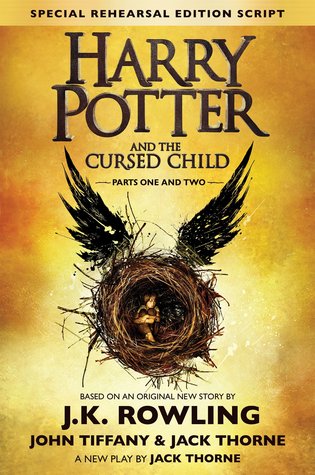 Harry Potter and the Cursed Child by JK Rowling, Jack Thorne, John Tiffany
[7/31]
YA Fantasy
It was always difficult being Harry Potter and it isn't much easier now that he is an overworked employee of the Ministry of Magic, a husband, and father of three school-age children.
While Harry grapples with a past that refuses to stay where it belongs, his youngest son Albus must struggle with the weight of a family legacy he never wanted. As past and present fuse ominously, both father and son learn the uncomfortable truth: sometimes darkness comes from unexpected places.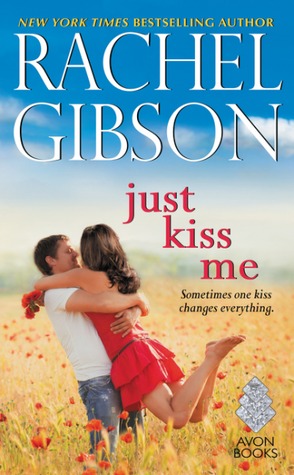 Just Kiss Me by Rachel Gibson
[7/26]
Contemporary Romance
"Hello, Ms. Vivian . . . it's been a long time."
And with those words, Vivian Leigh Rochet nearly melted. It's been years since she last saw Harrison Whitley-Shuler. She was a teenager scrubbing houses for a living. He was the gorgeous son of rich parents, not fit for the likes of her.
Vivian had vowed to get out of Charleston, become a big Hollywood star, and stick it to the snooty girls who made her cry.
She got what she wanted—and more—but why does her glamorous life seem so trivial?
Harrison got out too . . . making it all the way to Wall Street, until a heart attack forced him to trade in his cufflinks for a good set of hand tools.
Making furniture soothes his soul, but escaping the Whitley-Shuler heritage is nearly impossible. And now he's come face-to-face with the one who got away. He's not looking for love. He's not even looking for sex . . . so why is resisting her the hardest thing he's ever done?
Chasing Impossible (Pushing the Limits #5) by Katie McGarry
[7/1]
YA Contemporary
Tough and independent, 17-year-old Abby lets very few people into her inner circle. It's common knowledge in her Kentucky town that she deals drugs, but not even her closest friends know why. But when a deal goes south and Abby's suddenly in danger, she finds herself reluctantly forced to lean on daredevil Logan—a boy whose restless spirit matches her own.
Logan has his own reasons for wanting to keep Abby at arms' length. But he never expected to find in her the one person who might help him face the demons he's tried so hard to run from.
Together, Abby and Logan will have to make a decision: let their current circumstances weigh them down forever…or fight for the future they both thought was impossible.