The Ruin of Gabriel Ashleigh (Society of Gentlemen #0.5) by K.J. Charles
M/M Historical (Regency England)
Loveswept -- October 27, 2015

RATING: 3.75 STARS
The youngest son and the blackest sheep in his family, Lord Gabriel Ashleigh never imagined he could sink so low. Though he's a notoriously bad gambler, he takes on the formidable but strangely alluring Francis Webster, only to lose everything: all his money, the lovely estate he inherited from his aunt, and any hope of future happiness. So it's a shock when Webster summons him to a private game for a chance to win back his possessions. The stake? If he fails, Ash must surrender his body.
Francis has been waiting years for this moment. At Eton, Ash's elder brother harassed him relentlessly. Now, consumed by lust and rage, Francis is only too happy to exploit Ash's foolish indiscretions. But as Francis strips the magnificently built youth—first of his family assets, then his clothes—he begins to wonder whether he's been plotting revenge . . . or exquisite seduction.
I will admit that I read this prequel novella after I read the other three books. Ash and Francis are wonderful characters that always stood out in the Society of Gentlemen series so it was great to read about how they found one another. Ash is a such sweetheart that I wanted to hug him at all moments even if he didn't always make the best choices. Francis wasn't as developed, but I still liked his character. Their romance was short and sweet...the perfect way to introduce the series.
***********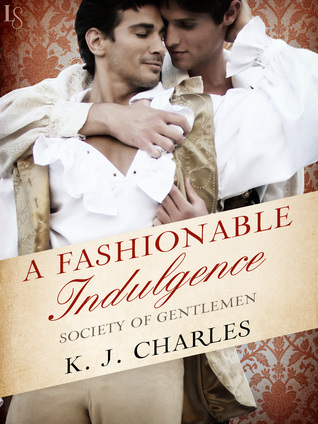 A Fashionable Indulgence (Society of Gentlemen #1) by K.J. Charles
M/M Historical (Regency England)
Loveswept -- August 11, 2015

RATING: 4 STARS
When he learns that he could be the heir to an unexpected fortune, Harry Vane rejects his past as a Radical fighting for government reform and sets about wooing his lovely cousin. But his heart is captured instead by the most beautiful, chic man he's ever met: the dandy tasked with instructing him in the manners and style of the ton. Harry's new station demands conformity—and yet the one thing he desires is a taste of the wrong pair of lips.
After witnessing firsthand the horrors of Waterloo, Julius Norreys sought refuge behind the luxurious facade of the upper crust. Now he concerns himself exclusively with the cut of his coat and the quality of his boots. And yet his protégé is so unblemished by cynicism that he inspires the first flare of genuine desire Julius has felt in years. He cannot protect Harry from the worst excesses of society. But together they can withstand the high price of passion.
What a romantic and poignant story! Harry and Julius are fascinating and complex characters who shouldn't work as a couple, but are just magical. They each have problems that have to overcome in order to achieve their happy ending which it was a pleasure to watch them do so. I especially enjoyed the portrayal of Julius and how it showed that appearances can be deceiving. I also loved the way that the author portrayed the political environment of the era and mixed that into the larger love story.
***********
A Seditious Affair (Society of Gentlemen #2) by K.J. Charles
M/M Historical (Regency England)
Loveswept -- December 15, 2015

RATING: 4.25 STARS
Silas Mason has no illusions about himself. He's not lovable, or even likable. He's an overbearing idealist, a Radical bookseller and pamphleteer who lives for revolution . . . and for Wednesday nights. Every week he meets anonymously with the same man, in whom Silas has discovered the ideal meld of intellectual companionship and absolute obedience to his sexual commands. But unbeknownst to Silas, his closest friend is also his greatest enemy, with the power to see him hanged—or spare his life.
A loyal, well-born gentleman official, Dominic Frey is torn apart by his affair with Silas. By the light of day, he cannot fathom the intoxicating lust that drives him to meet with the Radical week after week. In the bedroom, everything else falls away. Their needs match, and they are united by sympathy for each other's deepest vulnerabilities. But when Silas's politics earn him a death sentence, desire clashes with duty, and Dominic finds himself doing everything he can to save the man who stole his heart.
A Seditious Affair features a couple that really had me wondering how they would get their happy ending. Silas ad Dominic are the epitome of an opposites attract romance due to their class differences and their political alliances. But, when they are together, they are just so electric and really help one another become a better person. I appreciated the way that politics were used as a background to the love story especially since it gave it plenty of conflict.
***********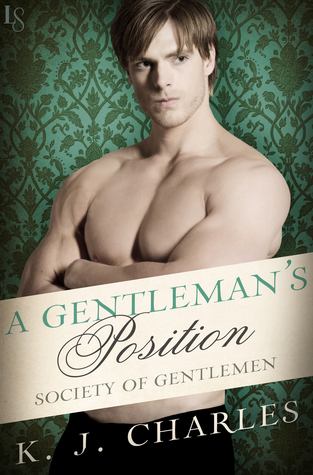 A Gentleman's Position (Society of Gentlemen #3) by K.J. Charles
M/M Historical (Regency England)
Loveswept -- April 5, 2016

RATING: 4.25 STARS
Among his eccentric though strictly principled group of friends, Lord Richard Vane is the confidant on whom everyone depends for advice, moral rectitude, and discreet assistance. Yet when Richard has a problem, he turns to his valet, a fixer of unparalleled genius—and the object of Richard's deepest desires. If there is one rule a gentleman must follow, it is never to dally with servants. But when David is close enough to touch, the rules of class collide with the basest sort of animal instinct: overpowering lust.
For David Cyprian, burglary and blackmail are as much in a day's work as bootblacking—anything for the man he's devoted to. But the one thing he wants for himself is the one thing Richard refuses to give: his heart. With the tension between them growing to be unbearable, David's seemingly incorruptible master has left him no choice. Putting his finely honed skills of seduction and manipulation to good use, he will convince Richard to forget all about his well-meaning objections and give in to sweet, sinful temptation.
The perfect conclusion to the series with the enigmatic valet Cyprian and his grumpy employer finally taking center stage. I am a sucker for a good employee/employer romance and K.J. Charles really delivered. The physical attraction is clearly there for both guys, but their biggest conflict is figuring out how they can be part of each other's lives. Richard worries constantly about his position forcing David to do his bidding while David wants Richard to respect him enough to trust his decision-making. The other Society of Gentlemen couples also have prominent roles in this book as their ongoing feud with Ash's brother finally comes to a satisfying ending.