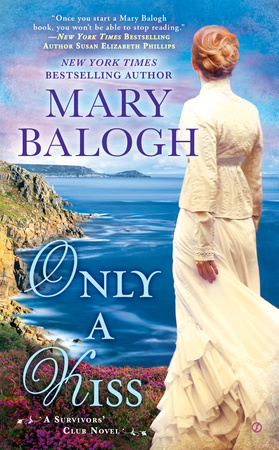 (The Survivors' Club #6)

Historical Romance (Regency England)
Signet -- September 1, 2015
SUMMARY
Since witnessing the death of her husband during the wars, Imogen, Lady Barclay, has secluded herself in the confines of Hardford Hall, their home in Cornwall. The new owner has failed to take up his inheritance, and Imogen desperately hopes he will never come to disturb her fragile peace.

Percival Hayes, Earl of Hardford, has no interest in the wilds of Cornwall, but when he impulsively decides to pay a visit to his estate there, he is shocked to discover that it is not the ruined heap he had expected. He is equally shocked to find the beautiful widow of his predecessor's son living there.

Soon Imogen awakens in Percy a passion he has never thought himself capable of feeling. But can he save her from her misery and reawaken her soul? And what will it mean for him if he succeeds?

THEMES & TROPES
Opposites Attract, Inheritance, Tormented Heroine
MY THOUGHTS
In
Only a Kiss
, the focus shifts to the only female member of the Survivors' Club. Imogen is the widowed Viscountess Barclay and she has become a recluse ever since her husband's death while they were overseas. This lifestyle is made easier by the fact that the new owner of her husband's family estate has not been there in years. But, of course, Percival eventually does get it into his head to visit Hardford Hall and Imogen's life is thrown into chaos from the moment he arrives.
Imogen, as a heroine, is just fascinating to me. For most of the series, she has been this stoic, frigid side character who rarely has any personality to her. This book does a wonderful job of diving deeper into her character and why she reacted to her husband's death the way that she did. The first few interactions between Percival and Imogen allow readers to see hints of the type of woman she was before she became a widow which makes her much more likable. It is rare in a romance (especially a historical) where the heroine is the tormented, reclusive character and I thought Mary Balogh handled her development very well.
Percival is interesting as well. He has led a charmed life and is very aware of that fact. The catalyst for his character journey is when he gets drunk on his birthday and decides (on a whim) to visit Hardford Hall which he believes to be a desolate ruin. When he arrives and realizes that there is a lot going on in Cornwall, he finds himself in the strange position of having a purpose in life which he apparently needed. I loved Percival's vivaciousness and kind nature even though he did try to play the bored rake at first. His development was not as striking as Imogen's, but he still learned that there is more to him than good looks and breeding.
It definitely took time for the romance to develop between Imogen and Percival. Their personalities clashed at first, but constantly interaction forced them to re-evaluate their earlier impressions. I liked how Percival's needling forced Imogen to break out of her self-imposed shell. For her part, Imogen's plight gave Percival a new perspective on life and how he could improve Hardford Hall. Like with most Mary Balogh books, the romance was slow-burning, but sweet and satisfying. I especially appreciated the mature way that these two communicated about what they wanted from one another until their relationship got to a point where they clearly needed more than just a bed partner.
There is a secondary plot in
Only a Kiss
involving a smuggling ring surrounding Hardford Hall. This brings about a sense of danger to the whole book and also provides balance to the romance. I quite liked the fact that the smuggling had such far reaching effects on the characters even dating back to when Imogen's husband was alive. The revelation of who was actually running the ring was pretty obvious to me, but I still found the way that the mystery developed to be entertaining.
This was another successful Survivors' Club book with the bonus aspect of the gender role switching when it came to the tormented recluse. It was very easy to root for Imogen and Percival and I thoroughly enjoyed watching them find happiness with each other. I can't wait to read
Only Beloved
which acts as the conclusion to the series and will feature the stately Duke of Stanbrook whom I have long adored as a secondary character.
FAVORITE QUOTE
"Living is not merely a matter of staying alive, is it? It is what you do with your life and the fact of your survival that counts."
READING CHALLENGES