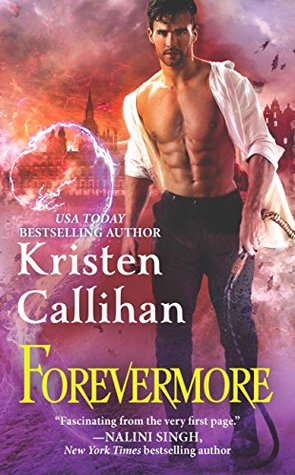 (Darkest London #7)

Historical-Paranormal Romance (Victorian England)
Forever -- June 28, 2016
SUMMARY
Miss Layla Starling, the young, beautiful, and extremely wealthy heiress, is the talk of London. Until now, she's managed to evade the marriage noose. Despite the fact that she is unfortunately American, she's received a staggering number of offers. And turned down every one. St. John Evernight does not want to admit the relief he feels every time he hears that she has rejected one of her suitors. Which is unfair of him. Layla deserves to be happy. But he can not offer her happiness. He will never be normal, never be anything but a freak in her world. So St. John resolves to keep his distance, until he is recruited by the Society for the Suppression of Supernaturals to guard Layla. For she is in grave danger, and he is about to learn the full extent of his powers.

THEMES & TROPES
Alternate Universe, Fated Mates, Second Chance At Love, Tortured Hero
MY THOUGHTS
I received an eARC of this book from Forever Publishing via Netgalley in exchange for an honest review.
Forevermore
is the last book in the Darkest London series and, while not my favorite, it is a satisfying conclusion to a fascinating group of stories. While it is possible to skip the other installments, I highly recommend that interested readers check the series out in order. Kristen Callihan has created a fascinating, but complicated world that could be confusing if one is not prepared.
St. John is the long-lost brother of the Ellis sisters who got their stories told in
Firelight, Moonglow
, and
Winterblaze
. His existence caused quite a stir for these supernaturally-inclined ladies which was complicated further when it was revealed that he was working for the evil fae queen, Mab. Now he is shunned by his sisters while also dealing with new abilities and new responsibilities.
His reclusive existence is threatened when he is assigned to watch over Layla Starling, a woman who is slowly evolving into something the world isn't ready to deal with at the moment. What makes this situation even more heartbreaking for St. John is the fact that he has been in love with Layla since he was young. For her part, Layla knows that something is happening to her and she feels like St. John is the person who can help her through the change. She also knows that he is the man for her and she will stop at nothing to make him understand that.
I thought having Layla and St. John as the last primary couple worked well for this series. Their positions in this world are important and help bring about a great deal of change. As characters, I found both of them to be likable and interesting. St. John is a tortured soul who has made bad choices and is trying to make amends for them. I appreciated his devotion to his new role and thought it showed what a decent person he was. Layla is intelligent, determined, and just naive enough to be trusting without being stupid. I really admired her devotion to St. John especially when it came to standing up for him in front of his family.
Speaking of St. John's family, I just adored seeing the return of Miranda, Archer, Daisy, Ian, Poppy, and Winston. These sisters are not perfect, but they are very real characters who are devoted to one another. I also liked seeing how their relationships have evolved since I adore Archer, Ian, and Winston. Family is clearly a big theme in this series and I was rooting for the Ellis/Evernights to finally trust each other enough to become one.
There is a ton of action in
Forevermore
which is par for the course for this series. The mystery surrounding Layla's evolution and whether that is connected to the demon that is threatening London was well-done. I liked how this book looked back at the previous installments to provide details and tidbits about the characters and the world. The big finale was suspenseful, violent, and had me on the edge of my seat while reading it.
My only quibble with this book was that I did feel like Layla and St. John's romance was underdeveloped. It helped that they had feelings for one another from a previous encounter, but I finished the book feeling like I wanted more. Also, I could have done without some of St. John's "I'm not good enough" speeches.
I am always hesitant when a favorite series comes to an end because I don't want it to be over and I am worried that the conclusion won't meet my expectations.
Forevermore
does a great job of finishing out the overarching storylines and gives readers a good final look at some beloved characters. I look forward to reading whatever Kristen Callihan decides to do next!
FAVORITE QUOTE
"Because you, St. John Evernight, are mine. Whether you will it or not. Your heart and soul have been mine to keep since I climbed up that bloody tree to drive you mad. Mine to protect. And if you are bloody broken, then I bloody well will be here to help you put the pieces back together."
READING CHALLENGES
2016 Historical Romance Reading Challenge
2016 Spooks, Howls, and Fangs Reading Challenge