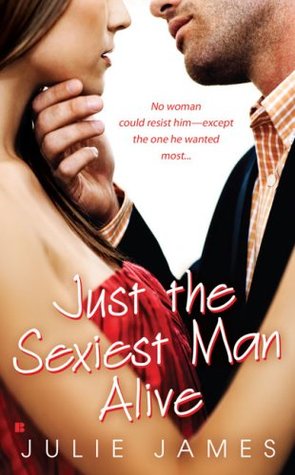 Narrated by Karen White
Contemporary Romance
Berkley Sensation -- October 2008
SUMMARY
No woman could resist him—except the one he wanted most...

Cool, Calm, Collected...
Nothing fazes Taylor Donovan. In the courtroom she never lets the opposition see her sweat. In her personal life, she never lets any man rattle her—not even her cheating ex-fiancé. So when she's assigned to coach People's "Sexiest Man Alive" for his role in his next big legal thriller, she refuses to fall for the Hollywood heartthrob's charms. Even if he is the Jason Andrews.

Confident, Famous, Irresistible...
Jason Andrews is used to having women fall at his feet. When Taylor Donovan gives him the cold shoulder, he's thrown for a loop. She's unlike any other woman he's ever met: uninterested in the limelight, seemingly immune to his advances, and shockingly capable of saying no to him. She's the perfect challenge. And the more she rejects him, the more he begins to realize she may just be his perfect match.

THEMES & TROPES
Actor Hero, Lawyer Heroine, Opposites Attract
MY THOUGHTS
I have been wanting to try a Julie James contemporary for a long time so, when the audiobook for
Just the Sexiest Man Alive
went on sale, I snatched it up. I have heard amazing things about this author for her humor and her capable heroines. And that is exactly what I got with this book.
Taylor Donovan is a successful Chicago lawyer who is temporarily reassigned to Los Angeles to help her firm battle a high-profile sexual harassment suit. She is definitely a woman with a plan which does include getting involved with a famous movie star like Jason Andrews, no matter how sexy he is. Unfortunately, she doesn't get much say in the matter when she is ordered to be a consultant for Jason on the legal thriller he is getting ready to shoot. This scenario starts a hilarious romance between two people who couldn't be more opposite, but end up finding exactly what they need with each other.
I adored everything about Taylor. She is smart, ambitious, good at her job, and unapologetic about her determination. The author does a fabulous job of showing how capable Taylor is as a lawyer and that makes her come alive to me. I also liked the way that her vulnerabilities were portrayed with little fuss, but still plenty of respect.
"Frank, this case is a publicity stunt and a shakedown. My clients did nothing illegal, and you and I both know I'll have no problem proving that to a jury. So there's no reason to discuss your ridiculous settlement offer any further. Call me when somebody sees a penis."

Jason was more difficult to like at the beginning. He is the epitome of the spoiled rich actor type. But, it becomes clear that there must be something more to him deep inside and it takes his interactions with Taylor for that to start to show. I thought it was interesting how my opinions about Jason changed as Taylor's did. Julie James does a good job of slowly revealing the many aspects of his personality and letting readers fall in love with him as Taylor does.
"I'm a big believer in first impressions," he finally said. "Tell me what your first thought was when Jason walked into the courtroom."
Taylor took a sip of her drink and grinned. This one was easy. "I vowed to hate him forever."
Jeremy's brown eyes twinkled at this. "That's exactly what I said nineteen years ago, five minutes after he first walked into our dorm room."
The relationship between Taylor and Jason is a great example of slow burning. Jason is immediately attracted to Taylor, but doesn't know what to do with a woman who rebuffs him like she does. For her part, Taylor finds Jason intriguing yet isn't willing to risk her career for a man who is plastered on magazines as going through women like candy. Their work relationship forces them to spend a lot of one on one time together which provided me with plenty of laughs and them with opportunities to see beyond each other's public facade. I will admit that I could have done without Jason's attempts to make Taylor jealous because they were unnecessary and petty, but he did make up for them by the end.
I also loved the way that the author built the world around Taylor and Jason. This was mostly aided by the well-developed side characters. I especially enjoyed Jeremy, Jason's best friend, who saw the immediate connection between Taylor and Jason and helped move them along. I would not be sad to see him get a romance sometime in the future. Taylor's best friends were only in the story for a few chapters, but their impact was felt. It was clear how close they were to Taylor and that they were willing to do anything to make her happy. I found the character of Scott Casey, a Hollywood rival to Jason, to be fascinatingly irritating, if that makes sense. He was a good parallel to Jason especially as the relationship with Taylor developed.
As an audiobook,
Just the Sexiest Man Alive
was a great reading experience. Karen White was a great narrator and did well with the wide range of characters she needed to portray. She also really seemed to get the humor. I definitely want to read more of Julie James's work and I think I will be listening to as many of them as I can.
FAVORITE QUOTE
"Life isn't always about logic and reasons—sometimes you just have to close your eyes and jump. Particularly when it comes to relationships."
READING CHALLENGES
2016 Contemporary Romance Reading Challenge
2016 New To You Reading Challenge