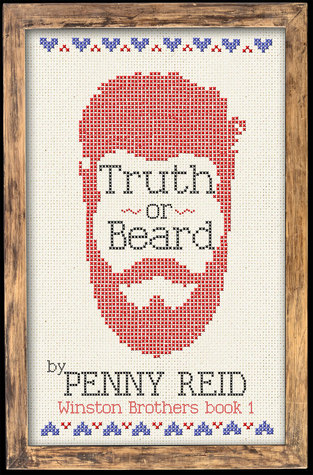 (Winston Brothers #1)

Contemporary Romance
Caped Publishing -- July 21, 2015
SUMMARY
Beards, brothers, and bikers! Oh my!

Identical twins Beau and Duane Winston might share the same devastatingly handsome face, but where Beau is outgoing and sociable, Duane is broody and reserved. This is why Jessica James, recent college graduate and perpetual level-headed good girl, has been in naïve and unhealthy infatuation with Beau Winston for most of her life.

His friendly smiles make her tongue-tied and weak-kneed, and she's never been able to move beyond her childhood crush. Whereas Duane and Jessica have always been adversaries. She can't stand him, and she's pretty sure he can't stand the sight of her…

But after a case of mistaken identity, Jessica finds herself in a massive confusion kerfuffle. Jessica James has spent her whole life paralyzed by the fantasy of Beau and her assumptions of Duane's disdain; therefore she's unprepared for the reality that is Duane's insatiable interest, as well as his hot hands and hot mouth and hotter looks. Not helping Jessica's muddled mind and good girl sensibilities, Duane seems to have gotten himself in trouble with the local biker gang, the Iron Order.

Certainly, Beau's magic spell is broken. Yet when Jessica finds herself drawn to the man who was always her adversary, now more dangerous than ever, how much of her level-head heart is she willing to risk?

THEMES & TROPES
Unrequited Love, Small Town Setting, Teacher Heroine
MY THOUGHTS
I read this book for the 2016 TBR Challenge -- June -- Favorite Trope. The challenge is hosted by Wendy the Super Librarian
.
My all-time favorite trope is unrequited love. I love the idea of pining for someone for a long time and finally getting the chance to embark on a relationship with that person. I am also intrigued by the notion of idealizing someone from afar and what happens when they start to get to know their true personality. I am also trying to read more contemporary romances this year so, for this month's challenge, I chose
Truth or Beard
, book one in Penny Reid's Winston Brothers series. This series is a spin-off to her popular Knitting in the City series.
The six handsome Winston brothers were first introduced to readers in
Beauty and the Mustache
, but this book can easily be read as a stand-alone.
Truth or Beard
focuses on Duane Winston, one of the quieter brothers who spends his days working as a car mechanic and his nights off-road racing. Duane has had a crush on Jessica James since they were kids, but never pursued her due to feeling unworthy and also the fact that Jessica was crushing on his twin brother, Beau. Now, Jessica is back in town and Duane decides it is time to let his feelings known.
I just adored Duane. He is sweet, funny, and very protective of his family. I liked his devotion to Jessica and how he was willing to do anything to make her happy without making me feel like he was being taken advantage of. Jessica was an equally entertaining and likable character. She is hilarious like most of Penny Reid's heroines, but never crosses the line into quirky for the sake of quirk. I enjoyed her ambition and determination to pursue a plan. It was nice to see her re-evaluate those long-terms goals and adjust them to get what she really wanted. I also have a soft spot for characters who are teachers and I loved the fact that she was a math instructor.
Family is a major element of this book and will be a prominent theme throughout the series. The Winston siblings recently lost their mother so they are going through an adjustment period that showcases their strength and devotion to one another. I am looking forward to all the brothers getting their story, but am particularly interested in learning more about Cletus and Billy. Jessica's family also plays a big role in the story. Her parents are well-developed and it is easy to see how she became such a fabulous person. I wasn't sure about her brother due to his unflattering portrayal in
Beauty and the Mustache
, but the author fleshed him out more and I think he could be a decent hero in the making.
The plot of
Truth or Beard
mostly follows Duane and Jessica going through a temporary courtship that is quickly becoming something much more. I enjoyed the little dates they went on and the way that these moments showed them getting to know one another. My favorite was when Duane took Jessica racing and she had to battle her worry over his safety and the adrenaline rush she got watching him. That scene also helped her to see a hidden aspect of Duane's personality which was great. There is also a side story involving a local biker gang and their attempts to blackmail the Winston brothers. This plot got a bit complicated towards the end and there was a big confrontation scene that I thought didn't go with the rest of the book. But, things worked out in the end and I was left very satisfied.
I have enjoyed all of Penny Reid's contemporaries and
Truth or Beard
is no exception. Her writing is easygoing, funny, and surprisingly poignant at times. I think this would be a great introduction to her work especially with the characterization of those sexy, bearded brothers. I look forward to reading more in the series.
FAVORITE QUOTE
I was always running after her, but this time I wasn't going to let her get away.
READING CHALLENGES
2016 TBR Challenge
2016 Contemporary Romance Reading Challenge


BOOKS IN THE SERIES