A list of new releases that grabbed my attention for the coming month. As always, release dates are subject to change. All titles link back to Goodreads.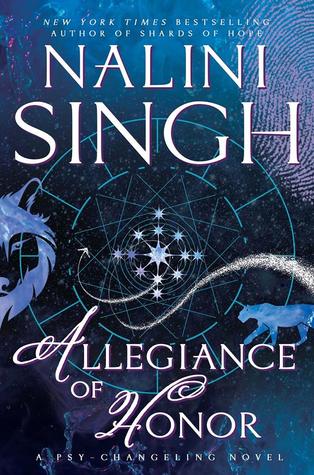 Allegiance of Honor (Psy-Changeling #15) by Nalini Singh (6/14)
Paranormal Romance
The Psy-Changeling world has undergone a staggering transformation and now stands at a crossroads. The Trinity Accord promises a new era of cooperation between disparate races and groups. It is a beacon of hope held together by many hands: Old enemies. New allies. Wary loners.
But a century of distrust and suspicion can't be so easily forgotten and threatens to shatter Trinity from within at any moment. As rival members vie for dominance, chaos and evil gather in the shadows and a kidnapped woman's cry for help washes up in San Francisco, while the Consortium turns its murderous gaze toward a child who is the embodiment of change, of love, of piercing hope: A child who is both Psy…and changeling.
To find the lost, protect the vulnerable—and save Trinity—no one can stand alone. This is a time of loyalty across divisions, of bonds woven into the heart and the soul, of heroes known and unknown standing back to back and holding the line. But is an allegiance of honor even possible with traitors lurking in their midst?
Big Vamp on Campus (Half-Moon Hollow #5.5) by Molly Harper (6/7)
Paranormal Romance
You've asked for years when Ophelia and Jamie would get their own story and now it's here! How will Ophelia adjust to living in a dorm room now that she has been banished from the Council and forced to matriculate at college with Jamie? Communal showers! Horrible, pretentious roommates! Humans who try to be FRIENDS! The horror!
Forevermore (Darkest London #7) by Kristen Callihan (6/28)
Historical/Paranormal Romance
Miss Layla Starling, the young, beautiful, and extremely wealthy heiress, is the talk of London. Until now, she's managed to evade the marriage noose. Despite the fact that she is unfortunately American, she's received a staggering number of offers. And turned down every one.
St. John Evernight does not want to admit the relief he feels every time he hears that she has rejected one of her suitors. Which is unfair of him. Layla deserves to be happy. But he can not offer her happiness. He will never be normal, never be anything but a freak in her world. So St. John resolves to keep his distance, until he is recruited by the Society for the Suppression of Supernaturals to guard Layla. For she is in grave danger, and he is about to learn the full extent of his powers.
Bittersweet (True North #1) by Sarina Bowen (6/14)
Contemporary Romance
If you can't stand the heat, get out of the orchard.
The last person Griffin Shipley expects to find stuck in a ditch on his Vermont country road is his ex-hookup. Five years ago they'd shared a couple of steamy nights together. But that was a lifetime ago.At twenty-seven, Griff is now the accidental patriarch of his family farm. Even his enormous shoulders feel the strain of supporting his mother, three siblings and a dotty grandfather. He doesn't have time for the sorority girl who's shown up expecting to buy his harvest at half price.
Vermont was never in Audrey Kidder's travel plans. Neither was Griff Shipley. But she needs a second chance with the restaurant conglomerate employing her. Okay—a fifth chance. And no self-righteous lumbersexual farmer will stand in her way. They're adversaries. They want entirely different things from life. Too bad their sexual chemistry is as hot as Audrey's top secret enchilada sauce, and then some.
Idol (VIP #1) by Kristen Callihan (6/7)
Contemporary Romance
Libby
I found Killian drunk and sprawled out on my lawn like some lost prince. With the face of a god and the arrogance to match, the pest won't leave. Sexy, charming, and just a little bit dirty, he's slowly wearing me down, making me crave more.
He could be mine if I dare to claim him. Problem is, the world thinks he's theirs. How do you keep an idol when everyone is intent on taking him away?
Killian
As lead singer for the biggest rock band in the world, I lived a life of dreams. It all fell apart with one fateful decision. Now everything is in shambles.
Until Liberty. She's grouchy, a recluse—and kind of cute. Scratch that. When I get my hands on her, she is scorching hot and more addictive than all the fans who've screamed my name.
The world is clamoring for me to get back on stage, but I'm not willing to leave her. I've got to find away to coax the hermit from her shell and keep her with me. Because, with Libby, everything has changed. Everything.
Beauty and the Highland Beast (A Highland Fairy Tale #1) by Lecia Cornwall (6/21)
Historical Romance
Powerful and dangerous highlander Dair Sinclair was once the favored son of his clan, The Sinclairs of Carraig Brigh. With Dair at the helm, Sinclair ships circled the globe bringing home incredible fortune. Until one deadly mission when Daire is captured, tortured and is unable to save his young cousin. He returns home breaking under the weight of his guilt and becomes known as the Madman of Carraig Brigh.
When a pagan healer predicts that only a virgin bride can heal his son's body and mind, Daire's father sets off to find the perfect wife for his son. At the castle of the fearsome McLeods, he meets lovely and kind Fia MacLeod.
Although Daire does his best to frighten Fia, she sees the man underneath the damage and uses her charm and special gifts to heal his mind and heart. Will Daire let Fia love him or is he cursed with madness forever?
Chasing Lady Amelia (Cavendish #2) by Maya Rodale (6/28)
Historical Romance
Terribly ImproperLady Amelia is fed up with being a proper lady and wishes to explore London, so one night she escapes . . . and finds herself in the company of one Alistair Finlay-Jones. He's been ordered by his uncle to wed one of the American girls. How lucky, then, that one of them stumbles right into his arms!
Totally ScandalousAlistair and Amelia have one perfect day to explore London, from Astley's Amphitheater to Vauxhall Gardens. Inevitably they end up falling in love and making love. If anyone finds out, she will be ruined, but he will win everything he's ever wanted.
Very RomanticWhen Amelia finds out Alistair has been ordered to marry her, he must woo her and win back the angry American girl. But with the threat of scandals, plural, looming . . . will he ever catch up to the woman he loves?
Damned If You Do by Marie Sexton (6/14)
Paranormal Romance -- M/M
Soul acquisition is a drag, but if Abaddon doesn't catch up on his quota, he could be demoted to scooping poop for the Hounds of Hell. With a deadline hanging over him, he heads for the Bible Belt, looking for the perfect combination of sweetness and challenge.
Seth is a blind musician, part of a traveling tent revival. He's cute, mystically talented, and quotes the Bible at every turn. His soul is pure enough to fill Abaddon's quota for months to come, and Abaddon is determined to claim it.
The problem? There's the revival foreman who watches Abaddon's every move. Then there's the mystery of Seth's many unusual talents. Lastly, there's Abaddon himself. He's beginning to like Seth a bit too much. Maybe Seth deserves something better than damnation.
But Hell's agenda isn't negotiable, and time is running out. If Abaddon doesn't play his cards right, he could condemn both of them to the worst fate of all—an eternity apart.
Once a Soldier (Rogues Redeemed #1) by Mary Jo Putney (6/28)
Historical Romance
As heir to a title and great wealth, Will Masterson should have stayed home and tended his responsibilities. Instead he went to war. Now, after perilous years fighting the French, he intends his current mission to be his last. But all his plans are forgotten when he arrives in the small mountain stronghold of San Gabriel and meets her.

Knowing herself to be too tall, strong, and unconventional to appeal to a man, Athena Markham has always gloried in her independence. But for the first time in her life, she finds a man who might be her match.

Two of a kind, too brave for their own good, Athena and Will vow to do whatever it takes to vanquish San Gabriel's enemies. For neither will back down from death, and only together can they find happiness and a love deeper than any they'd dared imagine...