I love finding commonalities between my favorite books and how that helps define me as a reader. So I decided to do a random feature where I focus on a specific theme/trope and provide a few examples of it.
These are all stories that feature neighbors falling in love. There are two main versions of this theme that I've seen: 1) a protagonist moves in next door near the beginning so things start from scratch and 2) the two protagonists have been neighbors for awhile so have some type of existing relationship.
What Happens in London
by Julia Quinn (historical romance)
When Olivia Bevelstoke is told that her new neighbor may have killed his fiancee, she doesn't believe it for a second, but, still, how can she help spying on him, just to be sure? So she stakes out a spot near her bedroom window, cleverly concealed by curtains, watches, and waits ... and discovers a most intriguing man, who is definitely up to something.
Sir Harry Valentine works for the boring branch of the War Office, translating documents vital to national security. He's not a spy, but he's had all the training, and when a gorgeous blonde begins to watch him from her window, he is instantly suspicious. But just when he decides that she's nothing more than an annoyingly nosy debutante, he discovers that she might be engaged to a foreign prince, who might be plotting against England. And when Harry is roped into spying on Olivia, he discovers that he might be falling for her himself ...
Dancing at Midnight
by Julia Quinn (historical romance)
Lady Arabella Blydon has beauty and a brain, and she's tired of men who can see only one without the other.
When a suitor tells Arabella he's willing to overlook her appalling bluestocking tendencies on account of her looks and fortune, she decides to take a break from the Marriage Mart. During an extended stay in the country, she never expects to meet Lord John Blackwood, a wounded war hero who intrigues her like no other man.
Lord John has lived through the worst horrors of war… but nothing could have been as terrifying to his tormented heart as Lady Arabella. She is intoxicating, infuriating… and she makes him want to live again. Suddenly he's writing bad poetry and climbing trees in the pitch-dark night… just so he can dance with her as the clock strikes midnight. And even though he knows he can never be the sort of man she deserves, he can't help wanting her. But when the harsh light of day replaces the magic of midnight, can this tormented soul learn to love again?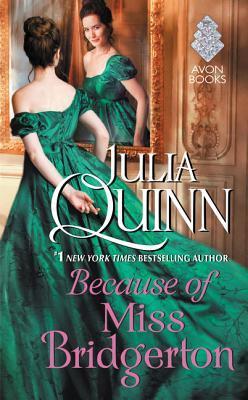 Because of Miss Bridgerton
by Julia Quinn (historical romance)
Sometimes you find love in the most unexpected of places...This is not one of those times.
Everyone expects Billie Bridgerton to marry one of the Rokesby brothers. The two families have been neighbors for centuries, and as a child the tomboyish Billie ran wild with Edward and Andrew. Either one would make a perfect husband... someday.
Sometimes you fall in love with exactly the person you think you should...
Or not.
There is only one Rokesby Billie absolutely cannot tolerate, and that is George. He may be the eldest and heir to the earldom, but he's arrogant, annoying, and she's absolutely certain he detests her. Which is perfectly convenient, as she can't stand the sight of him, either.
But sometimes fate has a wicked sense of humor...
Because when Billie and George are quite literally thrown together, a whole new sort of sparks begins to fly. And when these lifelong adversaries finally kiss, they just might discover that the one person they can't abide is the one person they can't live without...
A Matter of Class by Mary Balogh (historical romance)
Reginald Mason is wealthy, refined, and, by all accounts, a gentleman. However, he is not a gentleman by title, a factor that pains him and his father within the Regency society that upholds station over all else. That is, until an opportunity for social advancement arises, namely, Lady Annabelle Ashton. daughter of the Earl of Havercroft, a neighbor and enemy of the Mason family.
Annabelle finds herself disgraced by a scandal, one that has left her branded as damaged goods. Besmirched by shame, the earl is only too happy to marry Annabelle off to anyone willing to have her. Though Reginald Mason, Senior, wishes to use Annabelle to propel his family up the social ladder, his son does not wish to marry her, preferring instead to live the wild, single life he is accustomed to. With this, Reginald Senior serves his son an ultimatum: marry Annabelle, or make do without family funds.
Having no choice, Reginald consents, and enters into a hostile engagement in which the prospective bride and groom are openly antagonistic, each one resenting the other for their current state of affairs while their respective fathers revel in their suffering.
A Lady Awakened
by Cecilia Grant (historical romance)
Newly widowed and desperate to protect her estate and beloved servants from her malevolent brother-in-law, Martha Russell conceives a daring plan. Or rather, a daring plan to conceive. After all, if she has an heir on the way, her future will be secured. Forsaking all she knows of propriety, Martha approaches her neighbor, a London exile with a wicked reputation, and offers a strictly business proposition: a month of illicit interludes . . . for a fee.
Theophilus Mirkwood ought to be insulted. Should be appalled. But how can he resist this siren in widow's weeds, whose offer is simply too outrageously tempting to decline? Determined she'll get her money's worth, Theo endeavors to awaken this shamefully neglected beauty to the pleasures of the flesh—only to find her dead set against taking any enjoyment in the scandalous bargain. Surely she can't resist him forever. But could a lady's sweet surrender open their hearts to the most unexpected arrival of all . . . love?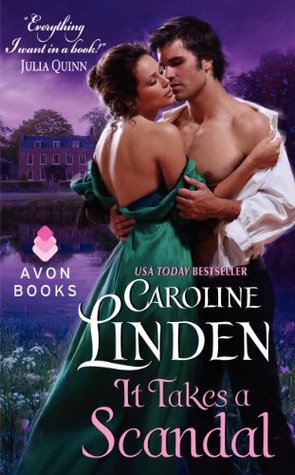 It Takes a Scandal
by Caroline Linden (historical romance)
Abigail Weston has everything: beauty, wit, and one of the largest dowries in England. Her parents hope she'll wed an earl. Abigail hopes for a man who wants her desperately and passionately. But the money seems to blind every man she meets—except one.
Sebastian Vane has nothing. He came home from war with a shattered leg to find his father mad and his inheritance gone. He's not a fit suitor for anyone, let alone an heiress. But Abigail lights up his world like a comet, bright and beautiful and able to see him instead of his ruined reputation. And it might end happily ever after...
...Until Benedict Lennox begins courting Abigail. Ben is everything Sebastian isn't—wealthy, charming, heir to an earl. Sebastian won't give up the only girl he's ever loved without a fight, but Abigail must choose between the penniless gentleman who moves her heart, and the suitor who is everything her parents want.
Talk Sweetly to Me
by Courtney Milan (historical romance)
Nobody knows who Miss Rose Sweetly is, and she prefers it that way. She's a shy, mathematically-minded shopkeeper's daughter who dreams of the stars. Women like her only ever come to attention through scandal. She'll take obscurity, thank you very much.
All of England knows who Stephen Shaughnessy is. He's an infamous advice columnist and a known rake. When he moves into the house next door to Rose, she discovers that he's also wickedly funny, devilishly flirtatious, and heart-stoppingly handsome. But when he takes an interest in her mathematical work, she realizes that Mr. Shaughnessy isn't just a scandal waiting to happen. He's waiting to happen to her…and if she's not careful, she'll give in to certain ruination.
The Lord Next Door by Gayle Callen (historical romance)
To rescue her family from financial ruin, lovely Victoria Shelby has no choice but to marry. Her options for a bridegroom are limited...until she remembers the shy servant boy next door. Then she discovers that her childhood friend is actually Viscount Thurlow—ruthless businessman, future earl, and a man whose family is shrouded in scandal!

After two rejected marriage proposals, David Thurlow needs a wife who will give him an heir, someone who will not only overlook his past but also be above reproach. Victoria is the ideal candidate—quiet, unassuming, and in desperate need of funds. But even as she strives to be the perfect wife, her calm demeanor masks a shocking secret...one that is overshadowed by David's slow, heated lessons in the art of seduction that threaten to transform a "convenient" marriage into a torrid and passionate affair.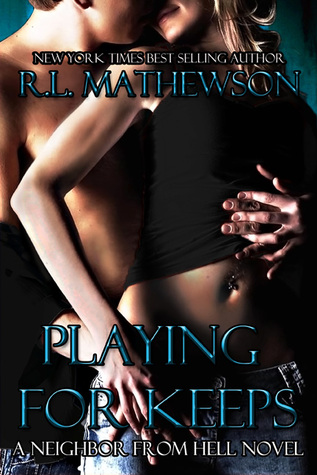 Playing for Keeps by R.L. Mathewson (contemporary romance)
Done with being the world's biggest pushover, Haley decides that things are going to change starting with the aggravating neighbor who has too much charm and not enough restraint. What she didn't expect was to be sucked into his world, but Haley has a game plan and she won't let herself forget just what the bad boy next door is capable of.

The last thing Jason expected was for his little shy neighbor to go Rambo on him over some ruined flowers. After he decides to take her under his wing he can't help but notice that she fits very nicely in his life. Now the only thing left is to convince her that this is anything but a game.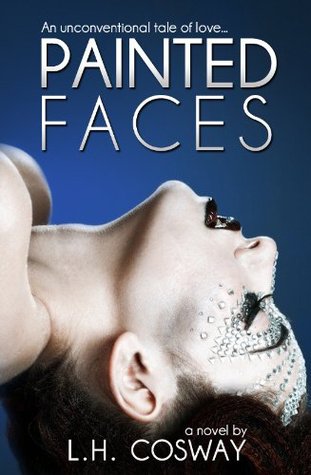 Painted Faces by L.H. Cosway (contemporary romance)
Come forth with an open mind, for an unconventional tale of love...
Dublin native Freda Wilson considers herself to be an acquired taste. She has a habit of making offensive jokes and speaking her mind too often. She doesn't have the best track record with first impressions, which is why she gets a surprise when her new neighbour Nicholas takes a shine to her.
Nicholas is darkly handsome, funny and magnetic, and Freda feels like her black and white existence is plunged into a rainbow of colour when she's around him. When he walks into a room he lights it up, with his quick wit and charisma. He is a travelling cabaret performer, but Freda doesn't know exactly what that entails until the curtains pull back on his opening night.
She is gob-smacked and entirely intrigued to see him take to the stage in drag. Later on, Nicholas asks her if she would like to become his show assistant. Excited by the idea, she jumps at the chance. Soon she finds herself immersed in a world of wigs, make-up and high heels, surrounded by pretty men and the temptation of falling for her incredibly beautiful employer.
And One Last Thing
by Molly Harper (contemporary romance)
"If Singletree's only florist didn't deliver her posies half-drunk, I might still be married to that floor-licking, scum-sucking, receptionist-nailing hack-accountant, Mike Terwilliger."
Lacey Terwilliger's shock and humiliation over her husband's philandering prompt her to add some bonus material to Mike's company newsletter: stunning Technicolor descriptions of the special brand of "administrative support" his receptionist gives him.
The detailed mass e-mail to Mike's family, friends, and clients blows up in her face, and before one can say "instant urban legend," Lacey has become the pariah of her small Kentucky town, a media punch line, and the defendant in Mike's defamation lawsuit.
Her seemingly perfect life up in flames, Lacey retreats to her family's lakeside cabin, only to encounter an aggravating neighbor named Monroe. A hunky crime novelist with a low tolerance for drama, Monroe is not thrilled about a newly divorced woman moving in next door. But with time, beer, and a screen door to the nose, a cautious friendship develops into something infinitely more satisfying.

Lacey has to make a decision about her long-term living arrangements, though. Should she take a job writing caustic divorce newsletters for paying clients, or move on with her own life, pursuing more literary aspirations? Can she find happiness with a man who tells her what he thinks and not what she wants to hear? And will she ever be able to resist saying one . . . last . . . thing?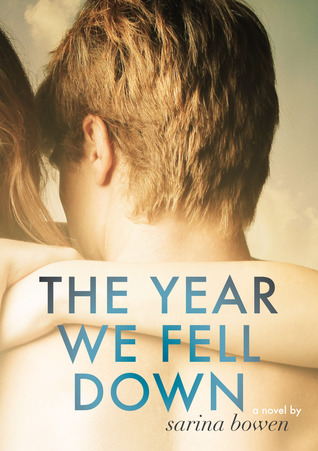 The Year We Fell Down
by Sarina Bowen (NA contemporary)
She expected to start Harkness College as a varsity ice hockey player. But a serious accident means that Corey Callahan will start school in a wheelchair instead. Across the hall, in the other handicapped-accessible dorm room, lives the too-delicious-to-be real Adam Hartley, another would-be hockey star with his leg broken in two places. He's way out of Corey's league. Also, he's taken.
Nevertheless, an unlikely alliance blooms between Corey and Hartley in the "gimp ghetto" of McHerrin Hall. Over tequila, perilously balanced dining hall trays, and video games, the two cope with disappointments that nobody else understands.
They're just friends, of course, until one night when things fall apart. Or fall together. All Corey knows is that she's falling. Hard.
But will Hartley set aside his trophy girl to love someone as broken as Corey? If he won't, she will need to find the courage to make a life for herself at Harkness — one which does not revolve around the sport she can no longer play, or the brown-eyed boy who's afraid to love her back.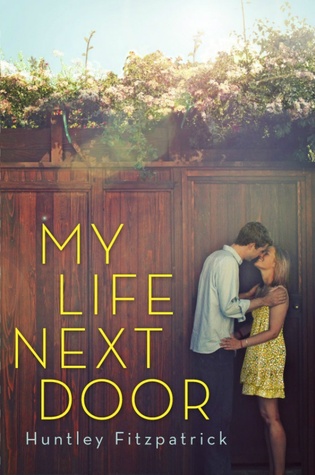 My Life Next Door by Huntley Fitzpatrick (YA contemporary)
The Garretts are everything the Reeds are not. Loud, messy, affectionate. And every day from her rooftop perch, Samantha Reed wishes she was one of them . . . until one summer evening, Jase Garrett climbs up next to her and changes everything.
As the two fall fiercely for each other, stumbling through the awkwardness and awesomeness of first love, Jase's family embraces Samantha - even as she keeps him a secret from her own. Then something unthinkable happens, and the bottom drops out of Samantha's world. She's suddenly faced with an impossible decision. Which perfect family will save her? Or is it time she saved herself?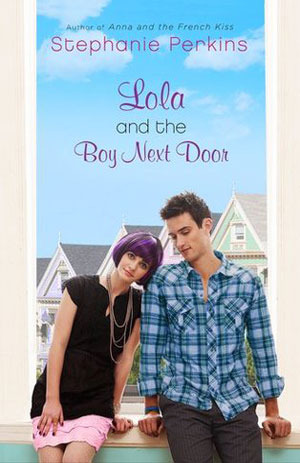 Lola and the Boy Next Door
by Stephanie Perkins (YA contemporary)
Lola Nolan is a budding costume designer, and for her, the more outrageous, sparkly, and fun the outfit, the better. And everything is pretty perfect in her life (right down to her hot rocker boyfriend) until the Bell twins, Calliope and Cricket, return to the neighborhood. When Cricket, a gifted inventor, steps out from his twin sister's shadow and back into Lola's life, she must finally reconcile a lifetime of feelings for the boy next door.


What Happened to Goodbye
by Sarah Dessen (YA contemporary)
Since her parents' bitter divorce, McLean and her dad, a restaurant consultant, have been on the move-four towns in two years. Estranged from her mother and her mother's new family, McLean has followed her dad in leaving the unhappy past behind. And each new place gives her a chance to try out a new persona: from cheerleader to drama diva. But now, for the first time, McLean discovers a desire to stay in one place and just be herself, whoever that is. Perhaps Dave, the guy next door, can help her find out.


One Small Thing
by Piper Vaughn and M.J. O'Shea (M/M contemporary)
"Daddy" is not a title Rue Murray wanted, but he never thought he'd have sex with a woman either. Now he's the unwitting father of a newborn named Alice. Between bartending and cosmetology school, Rue doesn't have time for babies, but he can't give her up. What Rue needs is a babysitter, and he's running out of options. He's on the verge of quitting school to watch Alice himself when he remembers his reclusive new neighbor, Erik.
Erik Van Nuys is a sci-fi novelist with anxiety issues to spare. He doesn't like people in general, and he likes babies even less. Still, with his royalties dwindling, he could use the extra cash. Reluctantly, he takes on the role of manny—and even more reluctantly, he finds himself falling for Alice and her flamboyant father.
Rue and Erik are as different as two people can be, and Alice is the unlikeliest of babies, but Rue has never been happier than when Alice and Erik are by his side. At least, not until he receives an offer that puts all his dreams within reach and he's forced to choose: the future he's always wanted, or the family he thought he never did.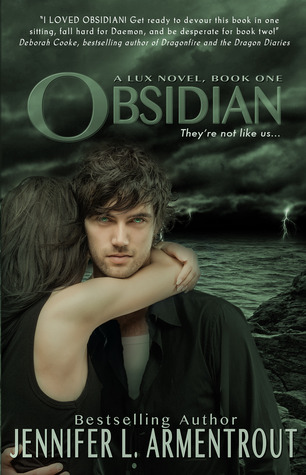 Obsidian
by Jennifer L. Armentrout (YA science fiction)
Starting over sucks.
When we moved to West Virginia right before my senior year, I'd pretty much resigned myself to thick accents, dodgy internet access, and a whole lot of boring… until I spotted my hot neighbor, with his looming height and eerie green eyes. Things were looking up.
And then he opened his mouth.
Daemon is infuriating. Arrogant. Stab-worthy. We do not get along. At all. But when a stranger attacks me and Daemon literally freezes time with a wave of his hand, well, something… unexpected happens.

The hot alien living next door marks me.
You heard me. Alien. Turns out Daemon and his sister have a galaxy of enemies wanting to steal their abilities, and Daemon's touch has me lit up like the Vegas Strip. The only way I'm getting out of this alive is by sticking close to Daemon until my alien mojo fades.
If I don't kill him first, that is.
LET ME KNOW IF YOU HAVE A FAVORITE EXAMPLE OF THIS THEME THAT I SHOULD CHECK OUT.