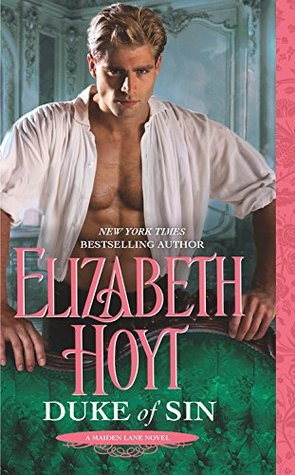 (Maiden Lane #10)

Historical Romance (Georgian England)
Grand Central Publishing -- May 31, 2016
SUMMARY
A MAN OF SIN

Devastatingly handsome. Vain. Unscrupulous. Valentine Napier, the Duke of Montgomery, is the man London whispers about in boudoirs and back alleys. A notorious rake and blackmailer, Montgomery has returned from exile, intent on seeking revenge on those who have wronged him. But what he finds in his own bedroom may lay waste to all his plans.

A WOMAN OF HONOR

Born a bastard, housekeeper Bridget Crumb is clever, bold, and fiercely loyal. When her aristocratic mother becomes the target of extortion, Bridget joins the Duke of Montgomery's household to search for the incriminating evidence-and uncovers something far more dangerous.

A SECRET THAT THREATENS TO DESTROY THEM BOTH

Astonished by the deceptively prim-and surprisingly witty-domestic spy in his chambers, Montgomery is intrigued. And try as she might, Bridget can't resist the slyly charming duke. Now as the two begin their treacherous game of cat and mouse, they soon realize that they both have secrets-and neither may be as nefarious-or as innocent-as they appear . . .
THEMES AND TROPES
Reformed Villain, Bad Boy, Class Differences, Opposites Attract, Employer/Employee Romance
MY THOUGHTS
I received an eARC of this book from Grand Central Publishing via Netgalley in exchange for an honest review.
The reformed villain trope is one that I enjoy, but it is difficult to find one that is done right. Character development is key in these stories as the author must, first, establish the person in question as a villain through their actions...often in previous books in a series. Then, once they take center stage, they must provide opportunities for the character to show that they have "reformed" while not acting like a completely different person.
Valentine, Duke of Montgomery, was established as a villainous character in the Maiden Lane series after trying to kidnap Lady Phoebe in
Dearest Rogue.
Despite his immoral actions, I (and many other readers) were intrigued by him and wanted to know more about him. I wasn't sure if he was redeemable and these hesitations existed even when I started
Duke of Sin
. But, I am happy to say that Elizabeth Hoyt portrays his transformation wonderfully as well as giving us one of the best heroines of the series so far in Bridget.
Bridget Crumb is the illegitimate daughter of a lady and has been charged with trying to remove items that are causing her mother to be blackmailed by Valentine. In order to accomplish her goal, Bridget positions herself as his housekeeper so that she may have full run of his household. What she does not expect is for him to return from exile and begins causing chaos once again. She also doesn't expect to start interacting with him on a more intimate level that threatens her sanity and her heart.
There is so much that I loved about this book. Both Valentine and Bridget are fully developed characters who have flaws and virtues that are shown through their actions. Like with most bad boys in romance, Valentine has a dark past that affects his choices and he has chosen to use his power to always be in control of himself and as many people as possible. He finds, in Bridget, a woman who is not intimidated by his manipulative nature and can match him toe to toe when it comes to games of wit. Her greatest virtue is her determination even when she finds herself in a tight spot which makes her admirable to Valentine and the reader.
Besides the love story between Valentine and Bridget, there are a few subplots which provide obstacles to their happiness. There is the matter of Valentine's blackmail attempts of Bridget's mother whose identity will be familiar to long-time readers of the series. Bridget also finds herself embroiled in an even darker situation when shadows from Valentine's past reappear and fix their eyes on her. These past villains have been mentioned in the last few installments and I enjoyed watching them finally get their comeuppance at Valentine and Bridget's hands.
Duke of Sin
is part of a long-running series so, as expected, there are many cameos with previous protagonists. But, I think Elizabeth Hoyt handles these reappearances with a deft hand. Each returning character is involved for a reason and it is never just to provide readers with a detailed explanation of their happy ending. I particularly enjoyed the way that Eve, Valentine's sister from
Sweetest Scoundrel
, and the Huntington family from
Wicked Intentions
were utilized to further the story. And, of course, I have to mention the entertaining scenes between Alf, Valentine's errand runner, and the Duke of Kyle who will be featured in the next Maiden Lane book,
Duke of Pleasure
.
I was nervous about this book, but it has ended up being one of my favorites of the series so far. Valentine is reformed by the end though he retains the elements that make his character so intriguing. He is still very recognizable as the manipulative blackmailer in earlier installments just with a softer edge thanks to Bridget. She managed to wiggle her way into his heart and knows how to keep him honest, but still himself. I think this book could be read as a stand-alone though I think the fun of Valentine's character journey may be lost a bit without at least reading
Dearest Rogue
and
Sweetest Scoundrel
first.
READING CHALLENGES
2016 Historical Romance Reading Challenge