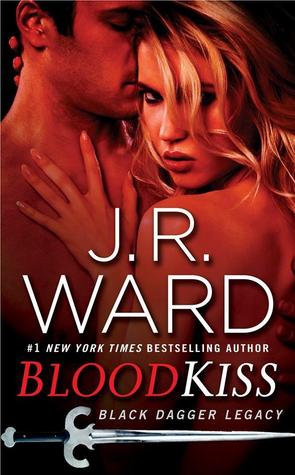 (Black Dagger Legacy #1)

Paranormal Romance


Penguin/Random House -- December 1, 2015
SUMMARY
Paradise, blooded daughter of the king's First Advisor, is ready to break free from the restrictive life of an aristocratic female. Her strategy? Join the Black Dagger Brotherhood's training center program and learn to fight for herself, think for herself…be herself. It's a good plan, until everything goes wrong. The schooling is unfathomably difficult, the other recruits feel more like enemies than allies, and it's very clear that the Brother in charge, Butch O'Neal, a.k.a. the Dhestroyer, is having serious problems in
his own life.

And that's before she falls in love with a fellow classmate. Craeg, a common civilian, is nothing her father would ever want for her, but everything she could ask for in a male. As an act of violence threatens to tear apart the entire program, and the erotic pull between them grows irresistible, Paradise is tested in ways she never anticipated—and left wondering whether she's strong enough to claim her own power…on the field, and off.
THEMES & TROPES
Fated Mates, Class Differences
READING CHALLENGES
2016 Pick Your Genre Reading Challenge
2016 Spooks, Howls, and Fangs Reading Challenge
MY THOUGHTS
The Black Dagger Brotherhood series was one of the first paranormal romance series I discovered and I quickly became obsessed with it. Then I started to lose interest in the multiple storylines and the shift away from romance. For the past year or so I have gone back and forth on whether to give up on it. And, then, I found out about the Black Dagger Legacy series which is a spin-off of the original series which shifts the focus to the romance
. Blood Kiss
is the first in this new series and, despite some development issues, I found it engaging enough to look forward to future installments.
There are two main romance storylines in this book. First, there is the already established BDB couple of Butch and Marissa whose story began in
Lover Revealed
. In
Blood Kiss
, they are dealing with some obstacles in their relationship, specifically, Butch's overprotective nature when it comes to Marissa. I adored their first book and really liked the way that their relationship was shown growing and changing here.
The "new" love story in
Blood Kiss
is between Paradise and Craeg. Paradise is the daughter of King Wrath's top adviser while Craeg is the son of a commoner. They are both part of a new training class for the Brotherhood and have very different reasons for wanting to improve. Craeg wants to show everyone that blood doesn't determine warrior nature while Paradise wants to prove that aristocratic ladies can be just as strong as the men. I thought their romance was sweet, but underdeveloped. It seemed to move fast and I wanted more to really appreciate the declarations at the end.
Readers are also introduced to other members of the training class which will probably get their own stories in future Black Dagger Legacy books. I liked the little tidbits we got about each trainee and I look forward to learning more about them especially the mysterious bad boy, Axe. This book included appearances from characters in the BDB and I enjoyed seeing them especially Lassiter and Vishous. Even though I haven't read the past few BDB books, I was easily able to jump back into the overarching storylines and wasn't very confused.
I was hesitant to try this series, but I am glad that I gave it a chance. The new characters are very interesting and I enjoyed seeing the romance become the focus again. Also, the pacing seemed smoother and I felt like there wasn't as much rambling around as in the other series. I am looking forward to the release of
Blood Vow
later this year and I may even give the BDB series another try.
FAVORITE QUOTE
"I'm losing air over here, you know," Lassiter bitched. "My inflatable is deflating." V cursed. "That's because it doesn't want to be around you any more than we do."
BOOKS IN THE SERIES