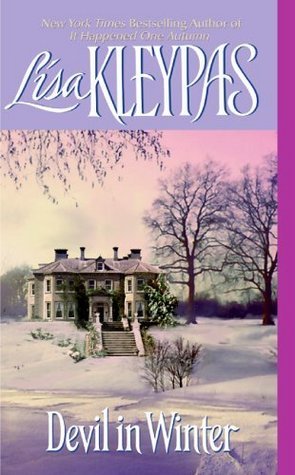 (Wallflowers #3)

For Ages 18+ (Language, Sensuality)
Historical Romance -- Victorian England


Avon -- February 2006
SUMMARY
Easily the shyest Wallflower, Evangeline Jenner stands to become the wealthiest, once her inheritance comes due. Because she must first escape the clutches of her unscrupulous relatives, Evie has approached the rake Viscount St. Vincent with a most outrageous proposition: marriage!

Sebastian's reputation is so dangerous that thirty seconds alone with him will ruin any maiden's good name. Still, this bewitching chit appeared, unchaperoned, on his doorstep to offer her hand. Certainly an aristocrat with a fine eye for beauty could do far worse.

But Evie's proposal comes with a condition: no lovemaking after their wedding night. She will never become just another of the dashing libertine's callously discarded broken hearts—which means Sebastian will simply have to work harder at his seductions... or perhaps surrender his own heart for the very first time in the name of true love.
THEMES AND TROPES
Reformed Villain, Wallflower, Gretna Green, Gambling Hell, Marriage of Convenience
READING CHALLENGES
2016 Pick Your Genre Reading Challenge
2016 Oldie But Goodie Reading Challenge
MY THOUGHTS
This is the third or fourth time that I have re-read
Devil in Winter
and I was inspired to experience it again when Brianna from
Always Books
discovered it for the first time. Plus April was the month of Historical Romance 101 so it felt right to re-read one of my all-time favorite historical romances.
The plot of
Devil in Winter
is pretty well known nowadays. Evie Jenner is trying to escape an unwanted marriage arranged by her horrible relatives. The only way she thinks she can get out of her situation is to convince the dangerous Viscount St. Vincent to accepting her hand in marriage. Her trump card is that she knows he is desperate for funds and she has a large inheritance coming her way. St. Vincent accepts her proposal and these two embark on a journey that has these two opposites realizing how perfect they actually are for each other.
Sebastian, Lord St. Vincent, is a very popular romance hero and for good reason. He is the perfect example of the reformed villain trope. I just loved how much he was shown to grow through his interactions with Evie and his involvement in the gambling club. But, as much as I loved Sebastian, for me the true star of this book was Evie. She really gains confidence throughout her experiences while still retaining the sweetness readers came to associate with her in earlier books in the series.
Their romance is wonderfully written and full of many amazing scenes. Some of my particular favorites include the frigid carriage ride to Gretna Green, the wedding night that made Sebastian realize there might be much more to shy Evie than he thought, and the moments after an amazing character growth moment for Sebastian. I also have to give this book props for introducing readers to the sexy, mysterious Cam Rohan who later gets his own story in
Mine Till Midnight
.
I could go on and on about how much I love this book, but that would probably get really boring. There is a reason that
Devil in Winter
appears on so many top romance lists. The characters jump off the page, their love story is dramatic and sweet, and Lisa Kleypas's writing is lyrical and engaging. If you haven't given this a try, I highly recommend you remedy that as soon as possible.
FAVORITE QUOTE
"A man's vanity is more fragile that you might think. It's easy for us to mistake shyness for coldness, and silence for indifference."
BOOKS IN THE SERIES