Hamilton: The Revolution by Jeremy McCarter and Lin-Manuel Miranda
Nonfiction
Grand Central Publishing -- April 12, 2016
RATING: 5 STARS
Lin-Manuel Miranda's groundbreaking musical Hamilton is as revolutionary as its subject, the poor kid from the Caribbean who fought the British, defended the Constitution, and helped to found the United States. Fusing hip-hop, pop, R&B, and the best traditions of theater, this once-in-a-generation show broadens the sound of Broadway, reveals the storytelling power of rap, and claims our country's origins for a diverse new generation.
HAMILTON: THE REVOLUTION gives readers an unprecedented view of both revolutions, from the only two writers able to provide it. Miranda, along with Jeremy McCarter, a cultural critic and theater artist who was involved in the project from its earliest stages--"since before this was even a show," according to Miranda--traces its development from an improbable perfor­mance at the White House to its landmark opening night on Broadway six years later. In addition, Miranda has written more than 200 funny, revealing footnotes for his award-winning libretto, the full text of which is published here.
Their account features photos by the renowned Frank Ockenfels and veteran Broadway photographer, Joan Marcus; exclusive looks at notebooks and emails; interviews with Questlove, Stephen Sond­heim, leading political commentators, and more than 50 people involved with the production; and multiple appearances by Presi­dent Obama himself. The book does more than tell the surprising story of how a Broadway musical became a national phenomenon: It demonstrates that America has always been renewed by the brash upstarts and brilliant outsiders, the men and women who don't throw away their shot.
Like many people, I am obsessed with the musical
Hamilton
. I listen to the soundtrack all the time and am very close to having to completely memorized. I also have a thing for narratives about how things are made especially works of art. So, this account of the creation and implementation of the musical is right up my alley. It was just fascinating for a process nerd like me to see it transition from a random idea to a full-blown pop culture phenomenon. I also adored the lyric annotations from Lin-Manuel Miranda which ranged from funny to poignant to just plain weird. If you are a fan of this show at all, I highly recommend
Hamilton: The Revolution
.
***********
Diary of an Accidental Wallflower (Seduction Diaries #1) by Jennifer McQuiston
Historical Romance
Avon -- February 24, 2015

RATING: 4 STARS
Pretty and popular, Miss Clare Westmore knows exactly what (or rather, who) she wants: the next Duke of Harrington. But when she twists her ankle on the eve of the Season's most touted event, Clare is left standing in the wallflower line watching her best friend dance away with her duke.
Dr. Daniel Merial is tempted to deliver more than a diagnosis to London's most unlikely wallflower, but he doesn't have time for distractions, even one so delectable. Besides, she's clearly got her sights on more promising prey. So why can't he stop thinking about her?
All Clare wants to do is return to the dance floor. But as her former friends try to knock her permanently out of place, she realizes with horror she is falling for her doctor instead of her duke. When her ankle finally heals and she faces her old life again, will she throw herself back into the game?
Or will her time in the wallflower line have given her a glimpse of who she was really meant to be?
This was an adorable and surprisingly poignant read. Clare is part of a Regency-era "mean girl" clique though her true personality doesn't really go with their philosophy. Daniel is a doctor who does not feel comfortable in a fancy ballroom, but is determined to make sure Clare does not injure herself further. They have immediate chemistry when they first meet though it is their interactions while Clare is recovering that really develop the relationship. I loved the way that Clare was able to let her true self shine around Daniel and that the author gave a legitimate reason for her earlier actions. I am always interested in historical romance heroes who work for a living and Daniel was a great example of that archetype. I also enjoyed the tidbits about Clare's siblings who will be focused on in the rest of the trilogy.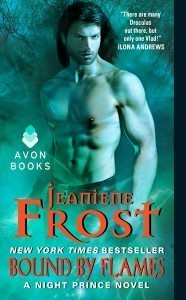 Bound By Flames (Night Prince #3) by Jeaniene Frost
Urban Fantasy/Paranormal Romance
Avon -- January 27, 2015
RATING: 3.5 STARS
Leila's years on the carnie circuit were certainly an education. What she didn't learn: how to be a vampire, or how to be married to the most famous vampire of them all. Adjusting to both has Leila teetering on a knife edge between passion and peril, and now the real danger is about to begin…

Vlad must battle with a centuries-old enemy whose reach stretches across continents and whose strength equals his own. It isn't like Vlad to feel fear, but he does…for Leila, because his enemy knows she is Vlad's greatest weakness. As friend and foe alike align against him—and his overprotectiveness drives Leila away—Vlad's love for his new bride could be the very thing that dooms them both…
I had high expectations for this book because I love Jeaniene Frost's writing and I always want more Vlad in my life.
Bound by Flames
takes place shortly after Vlad and Leila's wedding and forces the newlyweds to deal with some relationship issues while also dealing with outside threats. Leila has really grown as a character and this book lets her shine. She is a fascinating mix of strength and vulnerability who has not lost her humanity even after being transformed into a vampire. My biggest issue with this book (sadly) was Vlad. I don't mind an overprotective, alpha hero, but he crossed the line into asshole territory quite a few times. His fear of losing Leila took over his personality and turned him into a character I didn't care much for. There was an decent amount of groveling towards the end, but I don't think it was enough though I am still going to read the series conclusion when it is released.
***********
Z (Demonica #11.7) by Larissa Ione
Paranormal Romance
Evil Eye Concepts -- April 26, 2016

RATING: 3.25 STARS
Zhubaal, fallen angel assistant to the Grim Reaper, has spent decades searching for the angel he loved and lost nearly a century ago. Not even her death can keep him from trying to find her, not when he knows she's been given a second chance at life in a new body. But as time passes, he's losing hope, and he wonders how much longer he can hold to the oath he swore to her so long ago…
As an emim, the wingless offspring of two fallen angels, Vex has always felt like a second-class citizen. But if she manages to secure a deal with the Grim Reaper — by any means necessary — she will have earned her place in the world. The only obstacle in the way of her plan is a sexy hardass called Z, who seems determined to thwart her at every turn. Soon it becomes clear that they have a powerful connection rooted in the past…but can any vow stand the test of time?
This is another novella in the expansive and detailed Demonica world that features angels, demons, vampires, and a multitude of other supernatural creatures. Zhubaal has been a prominent figure in the stories that take place in the underworld and this story allows him to find the woman he has been looking for after centuries apart. I absolutely loved Vex and wanted to best for her. This author really excels at providing strong heroines who don't take crap from anyone. Zhubaal was decent, but I did get annoyed with his issues and the anger that he sometimes took out on Vex. I will admit that I am not the biggest fan of fated mates stories though this series has had quite a few that I have enjoyed. I just had trouble truly believing that these two could be happy together forever. I think Ione is really good at novellas, but this is an incidence where I think the love story would have benefited from more pages to develop naturally.
Historical Romance
Lyrical Press -- May 10, 2016


RATING: 3.25 STARS
Newlywed Sarah Rose Hood should be blissfully happy. After all, she is married to her beloved, handsome James, who's provided her with a lovely home, servants, and all the new dresses and books she could wish for. She cannot help but love him—and fear him, just a bit. For Sarah is unused to the attentions of gentlemen, and suddenly living so intimately with a man fills her with anxiety—and also a puzzling longing. Fortunately, her kind, experienced husband plans to awaken Sarah to the joy of giving—and receiving—pleasure, turning her unease to delicious desire, and forging a true union of body and soul…
This was a perfectly decent novella about a married couple trying to deal with issues in the bedroom. I thought both characters were likable and I wanted them to be happy. I did find Sarah to be too naive at times though I understood what the author was doing with her character. I did expect, based on the topic, for the bedroom scenes to be steamier. I also would like to have seen more character development. But, this was an entertaining "slice of life" story that was a quick and easy read.
I received an eARC of this book from Lyrical Press/Kensington via Netgalley in exchange for an honest review.