This is a feature where I focus on a specific theme (or trope) that I have found in my years as a voracious reader/blogger. I love finding commonalities between my favorite books and how that helps define me as a reader.

Please note this is not meant to be a comprehensive list. I am just picking a few examples of this trope. So, if you have a favorite example of this theme, let me know about it in the comments. I'm always on the lookout for more books to be added to my wishlist.
ACTORS IN ROMANCE
These are all romances that feature protagonists who are in the acting profession. What I found so fun about these stories is the way that the celebrity aspect is handled especially when it comes to something as private as love.

The Hunter by Kerrigan Byrne
(I gave it 4.5 stars)
Historical Romance -- Victorian England
A scandalous proposal...
As one of London't most elite hunters, Christopher Argent never misses his mark and always gets his man. But when his latest target turns out to be a woman—the popular, and stunningly beautiful, actress Millie LeCour—it turns his whole world upside-down. Overwhelmed by the heat that simmers between them, Christopher can't complete his mission. On the contrary, he'll do anything to save Millie's life—even if it means risking his own...
A dangerous passion...
When she learns what Christopher was hired to do, Millie is torn between the fear in her heart and the fire in her soul. Putting herself in this dangerous man's arms may be her only path to safety—but giving in to her desire may be the deadliest mistake she's ever made. With both of their lives in jeopardy, Millie and Christopher must learn to trust the real feelings they're hiding—to find the true love they're looking for...
Darling Beast by Elizabeth Hoyt
(I gave it 4 stars)
Historical Romance -- Georgian England
A MAN CONDEMNED . . .
Falsely accused of murder and mute from a near-fatal beating, Apollo Greaves, Viscount Kilbourne has escaped from Bedlam. With the Crown's soldiers at his heels, he finds refuge in the ruins of a pleasure garden, toiling as a simple gardener. But when a vivacious young woman moves in, he's quickly driven to distraction . . .

A DESPERATE WOMAN . . .
London's premier actress, Lily Stump, is down on her luck when she's forced to move into a scorched theatre with her maid and small son. But she and her tiny family aren't the only inhabitants—a silent, hulking beast of a man also calls the charred ruins home. Yet when she catches him reading her plays, Lily realizes there's more to this man than meets the eye.
OUT OF ASH, DESIRE FLARES
Though scorching passion draws them together, Apollo knows that Lily is keeping secrets. When his past catches up with him, he's forced to make a choice: his love for Lily . . . or the explosive truth that will set him free.
Somewhere I'll Find You by Lisa Kleypas
(I gave it 3.5 stars)
Historical Romance -- Victorian England
All London is at Julia Wentworth's feet—and anything she desires is hers for the asking. But the glamorous leading lady guards a shocking secret: a mystery husband whom she does not know, dares not mention ... and cannot love.
For years Damon Savage has been searching for the stranger his parents wed him to without his consent, hoping to legally free himself from matrimony's invisible chains. And he is astonished to discover his "bride" is none other than the exquisite lady he'd hoped to make his mistress! But though his wife by law, Julia will never truly be Damon's—until he conquers her fears, his formidable rivals ... and her proud, passionate, and independent heart.
Because You're Mine by Lisa Kleypas
(I gave it 3.5 stars)
Historical Romance -- Victorian England
Lady Madeline Matthews would rather shame herself than sacrifice her freedom—which is why, to avoid a marriage to an aging, lecherous lord, she seeks out the company of Logan Scott. A torrid affair with the notorious womanizer would surely condemn her in the eyes of good society.
Though a legend in the bedchamber, Logan is, in truth, an intensely private man tormented by past betrayals. Now a forward little minx is disrupting his life with her vibrant charm and unspoiled beauty, a high-spirited enchantress completely at sea in London's sophisticated whirl. But when what begins with a kiss threatens to blossom into something more rapturous and real, will Logan and Madeline have the courage to drop the masks they hide behind in the name of love?
Act Like It by Lucy Parker
(I gave it 4.25 stars)
Contemporary Romance
Richard Troy used to be the hottest actor in London, but the only thing firing up lately is his temper. We all love to love a bad boy, but Richard's antics have made him Enemy Number One, breaking the hearts of fans across the city.
Have the tides turned? Has English rose Lainie Graham made him into a new man?
Sources say the mismatched pair has been spotted at multiple events, arm in arm and hip to hip. From fits of jealousy to longing looks and heated whispers, onlookers are stunned by this blooming romance.
Could the rumors be right? Could this unlikely romance be the real thing? Or are these gifted stage actors playing us all?
Rock Redemption by Nalini Singh
(I gave it 4.25 stars)
Contemporary Romance
Kit Devigny could have loved rock guitarist Noah St. John. Their friendship burned with the promise of intense passion and searing tenderness…until the night Noah deliberately shattered her heart.

Noah knows he destroyed something precious the night he chose to betray Kit, but he'd rather she hate him than learn his darkest secret. All he has left is his music. It's his saving grace, but it doesn't silence the voices that keep him up at night. Chasing oblivion through endless one-night-stands, he earns a few hours' sleep and his bad boy reputation.

When a media error sees Noah and Kit dubbed the new "it" couple, Kit discovers her chance at the role of a lifetime hinges on riding the media wave. Wanting—needing—to give Kit this, even if he can't give her everything, Noah agrees to play the adoring boyfriend. Only the illusion is suddenly too real, too painful, too beautiful…and it may be too late for the redemption of Noah St. John.
Glitter Baby by Susan Elizabeth Phillips
(I gave it 3.5 stars)
Contemporary Romance
Fleur Savagar is the most beautiful woman in the world . . . to everyone but herself. With her oversized hands and paddle-boat feet, her streaky blond hair and funny green eyes, she lives a life filled with secrets that began before she was born. That was when her bewitching mother left home to find James Dean and met Errol Flynn instead. Now Fleur has to grow up quickly, and life won't make that easy.
Jake Koranda is both New York's most brilliant playwright and Hollywood's hottest actor. Difficult, talented, and tormented, he has no patience for international glamour girls, not even ones with beautiful bodies and smart-aleck mouths. But there's more to the Glitter Baby than shine, and Fleur's tougher than Jake expects. Even with the odds stacked against her, she's fiercely determined to discover the woman she's destined to be.
An ugly duckling who can't believe she's turned into a swan . . . A tough-guy movie star with a haunted past . . . In a land of broken dreams, can two unlikely lovers trust their hearts?
All Through the Night by Suzanne Brockmann
(I gave it 5 stars)
Contemporary Romance -- Male/Male
It's Christmastime in Boston, and this year the silver bells will be wedding bells as FBI agent Jules Cassidy ties the knot with the man of his dreams, Hollywood heartthrob Robin Chadwick.
The pair plan a quiet, intimate ceremony, to be witnessed by family and close friends from the FBI, SEAL Team Sixteen, and Troubleshooters, Incorporated, including Sam Starrett and Alyssa Locke. But the holiday season brings more to the happy couple than they expect.
A waterfall coming through their kitchen ceiling, a bat colony in the attic, old family tensions . . . even an international incident can't dampen their spirits. But add to that a parade of unexpected guests, including a reporter looking for a scoop, an ex-lover hell-bent on causing trouble, and a dangerous stalker, and suddenly the wedding is poised to unravel in chaos.
But nothing will stop Jules and Robin from getting their happy ending, because along with a guest list featuring the most elite counterterrorism force in the world, they have their own secret weapon—true love.
Nothing But Trouble by Rachel Gibson
(I gave it 4 stars)
Contemporary Romance
Trouble...
Chelsea Ross' acting career has been a total bust. The closest she ever came to stardom was her brilliant performance as "Pretty Dead Girl #1." But leaving Hollywood to become the personal assistant to a famous hockey player could be her stupidest career move ever.
More Trouble...
Injured superstar Mark Bressler's glory days are over. The bad-boy ex-jock could at least be civil to the pint-sized, pink-haired bombshell who the Seattle Chinooks hired to be his P.A. If Chelsea didn't need the money, she'd be running from the world's biggest jerk as fast as her feet could carry her.
Big Trouble!
Chelsea can deal with Mark's rotten attitude and dark moods. The problem is those biceps and that red-hot bod! And when the bad boy starts to put the moves on her, Chelsea knows it's time she banished him to the penalty box...if only she could resist the kind of trouble he has in mind.
Starstruck by L.A. Witt
(I gave it 4 stars)
Contemporary Romance -- Male/Male
Retired action star Levi Pritchard has made a quiet life for himself in the sleepy logging town of Bluewater Bay, Washington. But then Hollywood comes to film the wildly popular television series Wolf's Landing, and Bluewater Bay isn't so sleepy anymore. His retirement doesn't stick, either, because he's offered a part on the show-exactly the kind of complex role he'd always wanted, one that would prove him more than a glorified stuntman. The only catch? He has to stay in the closet-no matter how attractive he finds his costar.
Carter Samuels is the critically acclaimed male lead on Wolf's Landing. And now, the man who inspired him to take up acting-and made him realize he's gay-is joining the cast, and sparks fly between them instantly. But Carter is out and proud and determined to stay true to himself.
Remaining just friends is the only thing to do, as both the studio and Levi's disapproving, dysfunctional family keep reminding them. Except their friendship deepens by the day, tempting them with what they can't have but both desperately need.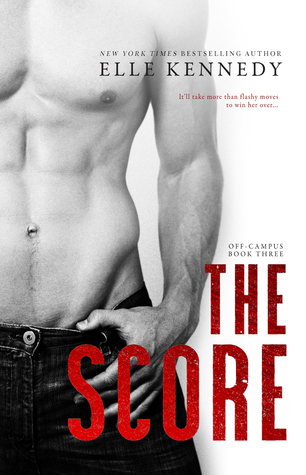 The Score by Elle Kennedy
(I gave it 4 stars)
Contemporary Romance -- New Adult
He knows how to score, on and off the ice...
Allie Hayes is in crisis mode. With graduation looming, she still doesn't have the first clue about what she's going to do after college. To make matters worse, she's nursing a broken heart thanks to the end of her longtime relationship. Wild rebound sex is definitely not the solution to her problems, but gorgeous hockey star Dean Di-Laurentis is impossible to resist. Just once, though, because even if her future is uncertain, it sure as heck won't include the king of one-night stands.

It'll take more than flashy moves to win her over...
Dean always gets what he wants. Girls, grades, girls, recognition, girls…he's a ladies man, all right, and he's yet to meet a woman who's immune to his charms. Until Allie. For one night, the feisty blonde rocked his entire world—and now she wants to be friends? Nope. It's not over until he says it's over. Dean is in full-on pursuit, but when life-rocking changes strike, he starts to wonder if maybe it's time to stop focusing on scoring…and shoot for love.
The Fifteenth Minute by Sarina Bowen
(I gave it 4.25 stars)
Contemporary Romance -- New Adult
Freshman Lianne Challice is known to millions of fans as Princess Vindi. But sometimes a silver screen sorceress just wants to hang up her wand, tell her manager to shove it, and become a normal college student. Too bad that's harder than it looks.

She's never lived a normal life. She hasn't been to school since kindergarten. And getting close to anyone is just too risky — the last boy she kissed sold the story to a British tabloid.

But she can't resist trying to get close to Daniel "DJ" Trevi, the hot, broody guy who spins tunes for hockey games in the arena. Something's haunting his dark eyes, and she needs to know more.

DJ's genius is for expressing the mood of the crowd with a ten second song snippet. With just a click and a fade, he can spread hope, pathos or elation among six thousand screaming fans.

Too bad his college career is about to experience the same quick fade-out as one of his songs. He can't get close to Lianne, and he can't tell her why. And the fact that she seems to like him at all? Incredible.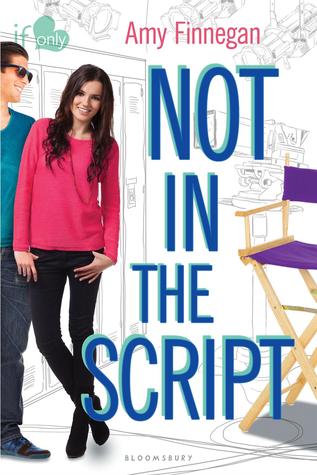 Not in the Script by Amy Finnegan
(I gave it 3 stars)
Young Adult -- Contemporary
Millions of people witnessed Emma Taylor's first kiss—a kiss that needed twelve takes and four camera angles to get right. After spending nearly all of her teen years performing on cue, Emma wonders if any part of her life is real anymore . . . particularly her relationships.
Jake Elliott's face is on magazine ads around the world, but his lucrative modeling deals were a poor substitute for what he had to leave behind. Now acting is offering Jake everything he wants: close proximity to home; an opportunity to finally start school; and plenty of time with the smart and irresistible Emma Taylor . . . if she would just give him a chance.
When Jake takes Emma behind the scenes of his real life, she begins to see how genuine he is, but on-set relationships always end badly. Don't they? Toss in Hollywood's most notorious heartthrob and a resident diva who may or may not be as evil as she seems, and the production of Coyote Hills heats up in unexpected—and romantic—ways.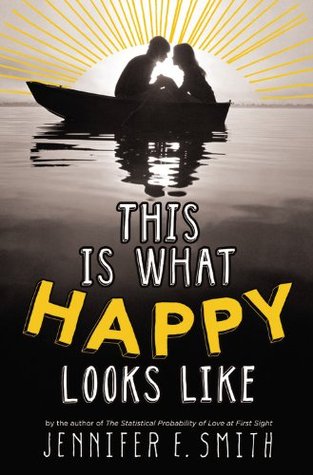 This Is What Happy Looks Like by Jennifer E. Smith
(I gave it 4 stars)
Young Adult -- Contemporary
If fate sent you an email, would you answer?
When teenage movie star Graham Larkin accidentally sends small town girl Ellie O'Neill an email about his pet pig, the two seventeen-year-olds strike up a witty and unforgettable correspondence, discussing everything under the sun, except for their names or backgrounds.

Then Graham finds out that Ellie's Maine hometown is the perfect location for his latest film, and he decides to take their relationship from online to in-person. But can a star as famous as Graham really start a relationship with an ordinary girl like Ellie? And why does Ellie want to avoid the media's spotlight at all costs?
Teen Idol by Meg Cabot
(I gave it 4 stars)
Young Adult -- Contemporary
High school junior Jenny Greenley is so good at keeping secrets that she's the school newspaper's anonymous advice columnist. She's so good at it that, when hotter-than-hot Hollywood star Luke Striker comes to her small town to research a role, Jenny is the one in charge of keeping his identity under wraps. But Luke doesn't make it easy, and soon everyone—the town, the paparazzi, and the tabloids alike—know his secret...and Jenny is caught right in the middle of all the chaos.