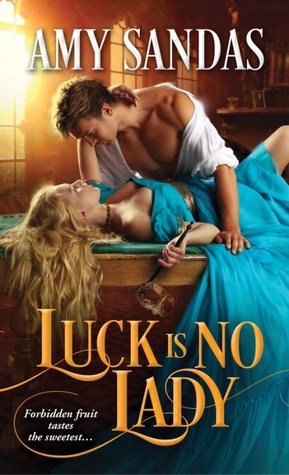 (Fallen Ladies #1)

For Ages 18+ (Language, Sensuality)
Historical Romance -- Regency England


Sourcebooks -- April 5, 2016
eARC, 352 pages
Read in March 2016
Received from Netgalley
Goodreads
--
Author Website
--
Publisher Website
RATING: 4 STARS
SUMMARY
Gently bred Emma Chadwick always assumed she'd live and die the daughter of a gentleman. But when her father's death reveals a world of staggering debt and dangerous moneylenders, she must risk her good name and put her talent for mathematics to use, taking a position as bookkeeper at London's most notorious gambling hell. Surrounded by vice and corruption on all sides, it is imperative no one discovers Emma's shameful secret or her reputation-and her life-will be ruined.

But Roderick Bentley, the hell's sinfully wealthy owner, awakens a hunger Emma cannot deny. Drawn deep into an underworld of high stakes gambling and reckless overindulgence, she soon discovers that in order to win the love of a ruthless scoundrel, she will have to play the game...and give in to the pleasure of falling from grace.
THEMES AND TROPES
Self-Made Hero, Wallflower Heroine, Cross-Class Romance
READING CHALLENGES
2016 Pick Your Genre Reading Challenge
2016 New To You Reading Challenge
MY THOUGHTS
I received an eARC of this book from Sourcebooks via Netgalley in exchange for a honest review.

Luck Is No Lady is a fun and passionate romance that is a great start to a new series by a new to me author . It focuses on Emma, a lady who needs to use her skill with numbers to gain a position at a scandalous gambling club. Her family finances are in dire straits and her secret job is the only thing keeping her and her sisters from ruin. What she doesn't expect is to be attracted to her new boss, Roderick Bentley.

What I liked the most about this book was the depiction of the two protagonists. Emma is very admirable with her ability to take charge and figure out a way out of the difficult situation her father put her family in. I am always interested in portrayals of genius in historical romance and I thought Emma's skills were well-depicted and realistic due to her position. At first glance, I thought Roderick would be a classic bad boy hero, but he was so much more. He actually ended up being quite a sweetheart and I felt for his struggles as an illegitimate child who managed to make a success of his life. He did have a bit of a chip on his shoulder, but I thought that was understandable.

Emma and Roderick's relationship was slow burning, but fascinating. They first met at a ball and transitioned to co-workers and then something much more. Employer/employee romances are often intriguing to me due to the possibility of drama and how the author handles the power dynamic. I thought it was portrayed very well here and I never felt like Emma was being coerced. It was more Roderick who was being seduced which was fun. It is always easy to root for likable characters to get their happy ending and that is what I found in this book.

Readers are also introduced to Emma's sisters who I'm sure will be the other heroines in the book. I didn't feel like I really got to know them well enough to make judgments on their character, but one of them does end up in a situation that I think will be very interesting to re-visit. I also liked the setting of the gambling club and the way that the other employees were depicted. This particular setting is popular in historical romance and I almost always find it fascinating. The author definitely did her research and I felt like the club ended up being a character all on its own.

I had a really good time reading Luck Is No Lady and will be checking out more of Amy Sandas's work especially the later books in this series. Her writing style is very easy to follow and interesting while her characters are well-developed and fully realized.


BOOKS IN THE SERIES