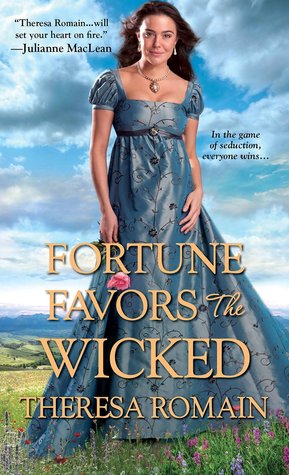 (Royal Rewards #1)

For Ages 18+ (Language, Sensuality)
Historical Romance -- Regency England


Zebra -- March 29, 2016
SUMMARY
As a lieutenant in the Royal Navy, Benedict Frost had the respect of every man on board—and the adoration of the women in every port. When injury ends his naval career, the silver-tongued libertine can hardly stomach the boredom. Not after everything—and everyone—he's experienced. Good thing a new adventure has just fallen into his lap…

When courtesan Charlotte Perry learns the Royal Mint is offering a reward for finding a cache of stolen gold coins, she seizes the chance to build a new life for herself. As the treasure hunt begins, she realizes her tenacity is matched only by Benedict's—and that sometimes adversaries can make the best allies. But when the search for treasure becomes a discovery of pleasure, they'll be forced to decide if they can sacrifice the lives they've always dreamed of for a love they've never known…
THEMES AND TROPES
Action/Adventure, Blind Hero, Courtesan Heroine
READING CHALLENGES
2016 Pick Your Genre Reading Challenge
MY THOUGHTS
I received an eARC of this book from Zebra via Netgalley in exchange for an honest review.

Fortune Favors the Wicked is a fun, action-adventure romance with two mature and likable protagonists who get involved in a treasure hunt that will change their lives forever. Theresa Romain is an author that I just discovered late in 2015 and I have already come to expect unique, entertaining historical romances from her. And that is definitely the case with this first book in the Royal Rewards series.

Benedict Frost is a former naval officer who was blinded by a tropical disease. As a proud man, he continued to travel the world while keeping account of his experiences, but, while trying to get his work published as a memoir, he discovers that he needs to fund that effort himself since many people believe the account to be fictional. He learns about a monetary award for the return of stolen coins from the Royal Mint and believes he has come up with a solution to his problem. Charlotte Perry is the daughter of a country vicar who has returned to her family's home after years of living in London as a courtesan. After escaping an overbearing patron, she has decided that she wants to start a new, scandal-free life and, like Benedict, thinks the treasure hunt is exactly what she needs to accomplish that goal.

Charlotte and Benedict, at first glance, seem like they would be complete opposites with the stalwart military man and the ex-courtesan. But, it quickly becomes obvious that they are kindred spirits who discover this fact while helping one another on their quest for the coins. I loved the way the author helped divulge key points about their personalities throughout the treasure hunt. Both of them are very proud and their ultimate goal is to gain independence and security. I liked how Charlotte was not truly ashamed of her life as a courtesan though she also knew the difficulties it presented to others. Benedict is a charmer who doesn't let his disability take over his life and also has a progressive view of his fellow man.

As a couple, I thought what made these two stand out was their ability to communicate. Each of them has secrets, but they don't let them hang over their budding relationship. No irritating misunderstandings being used as internal conflict here! Due to Benedict's situation, the physical element of the romance is altered and their emotional attraction is focused on more. It was also great to read a couple that knew how to joke around and support one another even though they are dealing with some difficult situations.

The plot of Fortune Favors the Wicked is pretty packed. Besides the love story, readers get to experience a treasure hunt, a connected murder mystery, a stalker, and plenty of family drama for both Benedict and Charlotte. I really appreciated the role that family played in this story too. The main reason why Benedict wants to publish his work is to gain financial security for both he and his younger sister while Charlotte is trying to figure out her place in her family after returning from London especially in the eyes of her young niece.

My overall impression of this book was that it was engaging and thought-provoking at the same time. I couldn't stop reading it and I also found myself thinking about it for quite a bit of time after completion. Theresa Romain knows how to write smart, delightful romances and I can't wait to see Benedict's sister get her story next.


BOOKS IN THE SERIES