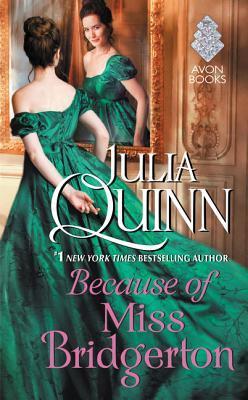 (Rokesbys #1)

For Ages 18+ (Language, Sensuality)
Historical Romance -- Georgian England


Avon -- March 29, 2016
SUMMARY
Sometimes you find love in the most unexpected of places...

This is not one of those times.

Everyone expects Billie Bridgerton to marry one of the Rokesby brothers. The two families have been neighbors for centuries, and as a child the tomboyish Billie ran wild with Edward and Andrew. Either one would make a perfect husband... someday.

Sometimes you fall in love with exactly the person you think you should...

Or not.

There is only one Rokesby Billie absolutely cannot tolerate, and that is George. He may be the eldest and heir to the earldom, but he's arrogant, annoying, and she's absolutely certain he detests her. Which is perfectly convenient, as she can't stand the sight of him, either.

But sometimes fate has a wicked sense of humor...

Because when Billie and George are quite literally thrown together, a whole new sort of sparks begins to fly. And when these lifelong adversaries finally kiss, they just might discover that the one person they can't abide is the one person they can't live without...
THEMES AND TROPES
Opposites Attract, Beta Hero, Family Drama, Romantic Comedy
READING CHALLENGES
2016 Pick Your Genre Reading Challenge
MY THOUGHTS
I received an eARC of this book from Avon via Edelweiss in exchange for an honest review.
As regular readers of my blog know, Julia Quinn has a special place in my heart because
The Duke and I
is the book that sealed my obsession with historical romance. Since then, I have read every single book that she's written and enjoyed them...for the most part. But, nothing has ever been able to beat my love of her Bridgerton series so I was ecstatic to learn that she is returning to that family and writing prequel novels.
Because of Miss Bridgerton
is the first of this new series and focuses on Billie Bridgerton, aunt to the famous Bridgerton siblings. She is an unusual woman for her position due to her inclination to spend her time working on her family's estate rather than prancing around in society. Billie does understand that she will need to marry one day and has always believed it would be one of the younger sons of the neighboring Rokesby family. What she doesn't expect is to start developing feelings for the Rokesby heir, George, who couldn't be more different than herself.
I really liked the way that Julia Quinn developed both Billie and George. Billie is different and she is aware of that. I found her to be someone who isn't ashamed of her character, but knows that others may look down on it and isn't comfortable being put in that situation. My favorite part of her was her determination to do right by those she cares about which included George far sooner than she is probably willing to admit.
George is a type of romance hero that I love reading about. He is responsible, stoic, and very aware of the importance of his position. George has never felt comfortable with Billie's exuberance, but it takes time for him to realize why. I also enjoyed the fact that Quinn explored George's feelings on not being allowed to fight for England during the American Revolutionary War because of his role as heir.
George and Billie's romance is a slow-burning and sweet one where two people who have known each other forever suddenly discover that the person they have been waiting for has been there the whole time. This is a plot that I thoroughly enjoy for the wonder that the characters showcase as they begin to realize their true feelings and also for the internal drama of being hesitant to take that final step away from acquaintanceship/friendship. Like in many Quinn historicals, there are plenty of humorous situations that help emphasize how well-matched her couples are. My particular favorite was the Pall Mall match which has echoes of the original (though chronologically later) game in
The Viscount Who Loved Me
. There is even a cameo from the Mallet of Death!
If I had to point out one quibble about
Because of Miss Bridgerton
, it would have to be the very small subplot towards the end of the book. I won't go into too many details because of spoilers, but it involves George's desire to help the British cause in the colonies in anyway he can. I appreciated the continuation of this part of his personality, but the plot point felt very out of the blue and I didn't think it was developed enough. It is obvious that there will be repercussions of that situation in later books, but I was not a big fan of the way it was introduced.
Because of Miss Bridgerton
is a delightful, engaging romance from one of the genre's best. I thoroughly enjoyed my time reading it and am looking forward to more of the series. I will say that it is not quite up the standard of the original Bridgerton books, but I know that is asking a lot of an author. I think it is definitely worth the time for Quinn/Bridgerton fans to check out and there are quite a few fun tidbits thrown in for long-time readers.