HISTORICAL ROMANCE 101 is a celebration of the genre that will be occurring throughout the month of April. My blog along with On a Book Bender, Addicted to Romance, and Quinn's Book Nook will be writing on a variety of topics every Monday and Friday in April.
READALONG -- "INDIGO" BY BEVERLY JENKINS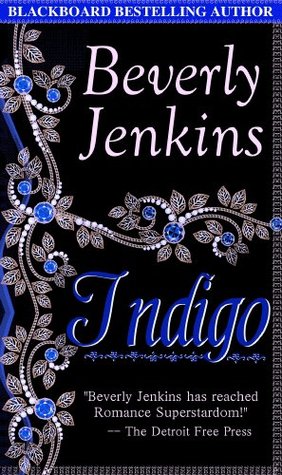 As a child Hester Wyatt escaped slavery, but now the dark skinned beauty is a dedicated member of Michigan's Underground railroad, offering other runaways a chance at the freedom she has learned to love. When one of her fellow conductors brings her an injured man to hide, Hester doesn't hesitate even after she is told about the price on his head. The man in question is the great conductor known as the "Black Daniel" a vital member of the North's Underground railroad network, but Hester finds him so rude and arrogant, she begins to question her vow to hide him.
When the injured and beaten Galen Vachon, aka, the Black Daniel awakens in Hester's cellar, he is unprepared for the feisty young conductor providing his care. As a member of one of the wealthiest free Black families in New Orleans, Galen has turned his back on the lavish living he is accustomed to in order to provide freedom to those enslaved in the south. However, as he heals he cannot turn his back on Hester Wyatt. Her innocence fills him like a breath of fresh air and he is determined to make her his, but traitors have to be found, slave catchers have to be routed and Hester's refusal to trust her own heart have to be overcome before she and Galen can find the freedom only love can bring.
INTRODUCTION
1. Have you ever read a book by Beverly Jenkins?
This is my second Beverly Jenkins experience. Early this year, I read (and adored) her newest release,
Forbidden
. You can find my 4.5 star review
here
.
2. What were your expectations before reading Indigo?
I had high expectations from my earlier experience with Jenkins's writing and the amazing reviews I've read from other readers plus I know it is considered a classic.
3. Was there anything you were hesitant about?
I was a little worried about how depressing the Underground Railroad aspect would be. I don't mind darker themes in historical romance, but I do read them as a means of escape.
CHARACTERS
4. How would you describe the heroine in three words? The hero?
I would describe Hester as intelligent, loyal, and a survivor. I would describe Galen as determined,
5. Was there anything you didn't care for in their characters?
I loved everything about Hester. I liked Galen, but didn't like the high-handed way he handled his relationship with Hester at times.
6. Did you feel like they both grew as people?
Hester gained more confidence in herself and became more willing to take credit for the amazing works she did while Galen learned to think about other people. I liked how they both dealt with the unorthodox aspect of their courtship in their own individual way.
7. What did you think of their individual character journeys?
Both of them were well-developed and consistent with their personalities. Hester's journey was my favorite because I loved her the most while Galen's was the most needed. I felt like he had to do some growing up in order to be "worthy" of Hester and I think Beverly Jenkins accomplished that.
8. Did any secondary characters stand out to you (good or bad)?
My favorite side character was Galen's best friend, Raymond, who gets his own romance in
Through the Storm
which I want to read right now! I loved to hate Hester's fiance, Foster, though I did feel bad for him towards the end. I was fascinated by Galen's grandmother who was a bigger than life sub-villain.
ROMANCE
9. What did you think of the first meeting between Hester and Galen?
I think the first scene was interesting because Galen is put in a vulnerable position where he has to rely on someone else which he isn't used to and he doesn't react well. Hester showed her strength and determination in these moments which made me fall in love with her.
10. Were you able to root for their happy ending easily?
Yes since I liked both of them and thought they were good for one another. Galen provided Hester with stability and someone who cherished her which she hadn't had in a long time. Hester inspired Galen to be less reckless and more calculated in his work. She also forced him to look at what he really wanted out of life.
11. What was your favorite romantic interaction between them?
I loved the bathtub reunion scene. It had a nice balance between sweetness and sexiness that I enjoyed. I liked the tenderness that Galen showed, but also the secretly feisty nature of Hester.
12. Do you think their happy ending felt realistic?
I definitely believed in Hester and Galen's happily ever after. They had to go through a lot to get there and I think they were stronger for it.
PLOT
13. What did you think of the pacing of the story?
The beginning was suspenseful with the constant danger of Galen being discovered. I did think the middle dragged a bit especially in the scenes where they were separated for a decent amount of time. But, the ending was action-packed and really helped tie everything together.
14. Did you feel like the romance was helped or hindered by the subplots? Why?
I think it was helped by the various side stories. While I thought Galen and Hester were great together, the type of love story that they had wasn't something that I was unfamiliar with. But, when paired with the danger of the Underground Railroad work and the drama between their different social upbringings, it felt more alive and unique.
15. How would you describe the tone of this book?
There were definitely dark moments in
Indigo
which I expected. But, I was happily surprised by the humor and the hope that shown through even in the darkest times.
SETTING
16. Had you ever read a romance about the Underground Railroad before? How did this affect your experience with the book?
This was my first Underground Railroad romance and I thought it really made it stand out. There is always a need for conflict in a romance and this was ready-made.
17. How do you think the author handled the historical details? Were they just wallpaper or did they make the story come alive?
Beverly Jenkins is known for providing amazing historical detail in her romances and that is definitely the case here. She clearly did her research and put a ton of it in here. I felt like I was in the room with Hester and Galen at times. I also found myself turning pages faster and faster during the most suspenseful scenes because of the detail provided.
18. Did this book make you want to learn more about this setting?
Absolutely! My knowledge of the Underground Railroad came from the little bit I got in school and it is obvious that social studies books were only able to scratch the surface. I also want to know more about the story that ended up inspiring this romance where a free black man fell in love with a slave and ended up putting himself in slavery in order to be with here.
MISCELLANEOUS
19. What surprised you most about your reading experience with Indigo?
What surprised me the most was how the history came alive for me. I knew from my experience with
Forbidden
that Beverly Jenkins was skilled at this part, but I just became completely engrossed in this world and what the characters were trying to accomplish.
20. Any favorite quotes you would like to share?
"May you be as moonsick as this someday and may I be around to laugh with the same enjoyment."
--
A fun interaction between Galen and Raymond that only good friends can have.
"
Yes, they are, which is why it's important to seek out humor and beauty whenever possible. If we don't, we'll all be buried beneath the weight of the misery."
--A great summary of the tone of this book and why it works so well.
21. Will you read more books by Beverly Jenkins in the future?
Definitely! I have one of her more recent releases on my e-reader that I have moved up in the queue. I also plan on reading Raymond story,
Through the Storm
, as soon as it comes in through my library.
Have you read Indigo before? Do you want to now? Any Beverly Jenkins or Underground Railroad recommendations you would like to give me?
There will be five winners: one grand prize winner, two runner-ups, two second runner-ups.
Winners will receive one or more historical romance novels. See below for specifics.
One entry per day per person throughout April.
You must be 18+ to enter.
Winners must live in the U.S.
The same rafflecopter is being used on all Historical Romance 101 blogs. You can only enter once a day regardless of which blog you visit to enter. Good luck!
a Rafflecopter giveaway