This is part of a feature where I focus on a specific theme (or trope) that I have found in my years as a voracious reader/blogger. I love finding commonalities between my favorite books and how that helps define me as a reader.

Please note this is not meant to be a comprehensive list. I am just picking a few examples of this trope. So, if you have a favorite example of this theme, let me know about it in the comments. I'm always on the lookout for more books to be added to my wishlist.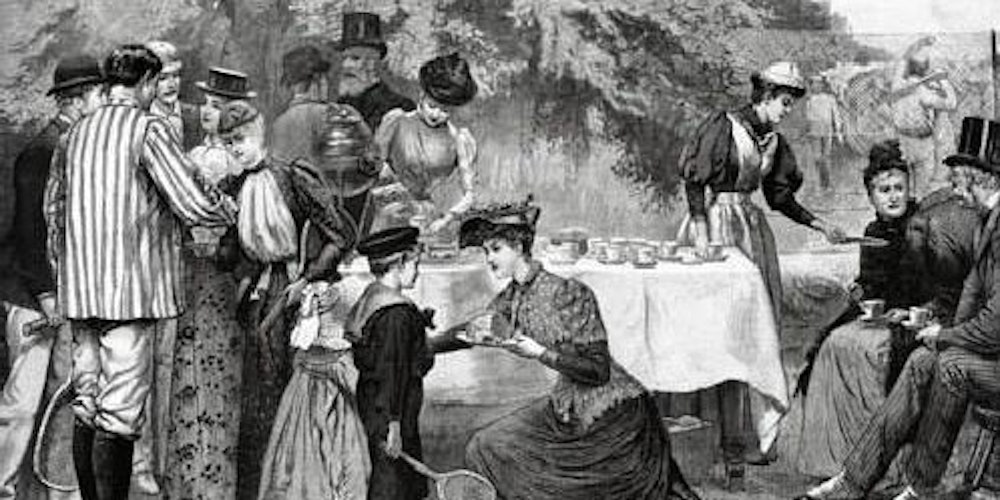 HOUSE PARTIES
I love historical romance and one element that I always enjoy in them is the house party. These are gatherings that often occur at country estates and usually last a long time (days or weeks). I find their inclusion in historicals to be fun because of the forced interactions as well as the different types of entertainment the hosts come up with. Many house parties also occur around the holidays or events such as weddings.
The Viscount Who Loved Me by Julia Quinn [5 stars]
Historical Romance -- Regency England
1814 promises to be another eventful season, but not, this author believes, for Anthony Bridgerton, London's most elusive bachelor, who has shown no indication that he plans to marry. And in truth, why should he? When it comes to playing the consummate rake, nobody does it better...—Lady Whistledown's Society Papers, April 1814
But this time, the gossip columnists have it wrong. Anthony Bridgerton hasn't just decided to marry—he's even chosen a wife! The only obstacle is his intended's older sister, Kate Sheffield—the most meddlesome woman ever to grace a London ballroom. The spirited schemer is driving Anthony mad with her determination to stop the betrothal, but when he closes his eyes at night, Kate is the woman haunting his increasingly erotic dreams...
Contrary to popular belief, Kate is quite sure that reformed rakes do not make the best husbands—and Anthony Bridgerton is the most wicked rogue of them all. Kate is determined to protect her sister—but she fears her own heart is vulnerable. And when Anthony's lips touch hers, she's suddenly afraid she might not be able to resist the reprehensible rake herself...
A Gentleman Undone by Cecilia Grant [5 stars]
Historical Romance -- Regency England
Lydia Slaughter understands the games men play—both in and out of the bedroom. Not afraid to bend the rules to suit her needs, she fleeces Will Blackshear outright. The Waterloo hero had his own daring agenda for the gaming tables of London's gentlemen's clubs. But now he antes up for a wager of wits and desire with Lydia, the streetwise temptress who keeps him at arm's length.
A kept woman in desperate straits, Lydia has a sharp mind and a head for numbers. She gambles on the sly, hoping to win enough to claim her independence. An alliance with Will at the tables may be a winning proposition for them both. But the arrangement involves dicey odds with rising stakes, sweetened with unspoken promise of fleshly delights. And any sleight of hand could find their hearts betting on something neither can afford to risk: love.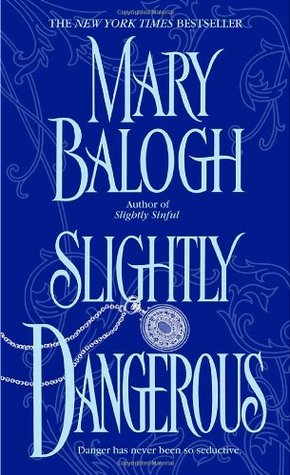 Slightly Dangerous by Mary Balogh [5 stars]
Historical Romance -- Regency England
All of London is abuzz over the imminent arrival of Wulfric Bedwyn, the reclusive, cold-as-ice Duke of Bewcastle, at the most glittering social event of the season. Some whisper of a tragic love affair. Others say he is so aloof and passionless that not even the greatest beauty could capture his attention.

But on this dazzling afternoon, one woman did catch the duke's eye—and she was the only female in the room who wasn't even trying. Christine Derrick is intrigued by the handsome duke…all the more so when he invites her to become his mistress.

What red-blooded woman wouldn't enjoy a tumble in the bedsheets with a consummate lover—with no strings and no questions asked. An infuriating lady with very definite views on men, morals, and marriage, Christine confounds Wulfric at every turn. Yet even as the lone wolf of the Bedwyn clan vows to seduce her any way he can, something strange and wonderful is happening. Now for a man who thought he'd never lose his heart, nothing less than love will do.
A Summer to Remember by Mary Balogh [5 stars]
Historical Romance -- Regency England
Kit Butler is cool, dangerous, one of London's mostinfamous bachelors—marriage is the last thing on his mind. But Kit's family has other plans. Desperate to thwart his father's matchmaking, Kit needs a bride...fast. Enter Miss Lauren Edgeworth.
A year after being abandoned at the altar, Lauren has determined that marriage is not for her. When these two fiercely independent souls meet, sparks fly—and a deal is hatched. Lauren will masquerade as Kit's intended if he agrees to provide a passionate, adventurous, unforgettable summer. When summer ends, she will break off the engagement, rendering herself unmarriageable and leaving them both free.
Everything is going perfectly—until Kit does the unthinkable: He begins to fall in love. A summer to remember is not enough for him. But how can he convince Lauren to be his...for better, for worse, for the rest of their lives?
Duchess By Night by Eloisa James [4 stars]
Historical Romance -- Georgian England
Harriet, Duchess of Berrow, is tired of her title and the responsibilities that come along with it. Enough with proper tea parties and elegant balls; what Harriet really wants is to attend an outrageous soiree where she can unleash her wildest whims and desires. But to attend such an event—especially if the event in question is Lord Justinian Strange's rollicking fete, filled with noble rogues and rotters, risqué ladies and illicit lovers—would be certain scandal. That's why she must disguise herself . . .
Looking forward to a night of uninhibited pleasure, Lord Strange is shocked to discover that beneath the clothes of a no-good rake is the most beautiful woman in the room. Why is a woman like her risking her reputation at his notorious affair? And can he possibly entice her to stay . . . forever?
It Happened One Autumn by Lisa Kleypas [4.5 stars]
Historical Romance -- Victorian England
It happened at the ball...
Where beautiful but bold Lillian Bowman quickly learned that her independent American ways weren't entirely "the thing." And the most disapproving of all was insufferable, snobbish, and impossible Marcus, Lord Westcliff, London's most eligible aristocrat.
It happened in the garden...
When Marcus shockingly—and dangerously—swept her into his arms. Lillian was overcome with a consuming passion for a man she didn't even like. Time stood still; it was as if no one else existed... thank goodness they weren't caught very nearly in the act!
It happened one autumn...
Marcus was a man in charge of his own emotions, a bedrock of stability. But with Lillian, every touch was exquisite torture, every kiss an enticement for more. Yet how could he consider taking a woman so blatantly unsuitable... as his bride?
The Many Sins of Lord Cameron by Jennifer Ashley [4.25 stars]
Historical Romance -- Victorian England
Cameron Mackenzie is a man who loves only horses and women—in that order—or so his mistresses say. Ainsley Douglas is a woman with a strong sense of justice and the desire to help others—even if that means sneaking around a rakish man's bedchamber.
Which is exactly where Cam finds her—six years after he caught her the first time. Only then, she convinced Cam she was seeking a liaison, but couldn't go through with it because of her husband. Now a widow, she's on a mission to retrieve letters that could prove embarrassing to the queen. Cam has no interest in Ainsley's subterfuge, but he vows to finish what they started those many years ago. One game, one kiss at a time, he plans to seduce her. And what starts out as a lusty diversion may break Cam's own rules—and heal the scars of a dark and damaging past...
At the Bride Hunt Ball by Olivia Parker [3.5 stars]
Historical Romance -- Regency England
To Snare a Bride . . .
To Gabriel Devine, Duke of Wolverest, the bonds of marriage are nothing more than shackles. But if he's to remain a lifelong bachelor, that leaves only his younger brother to carry on the family name. Inviting the ton's most eligible ladies to an elegant ball, Gabriel is certain any one of them would be all too eager to become the next duchess and provide an heir—leaving Gabriel to continue his ecstatic pursuit of pleasure.
To Catch a Rogue . . .
Her social-climbing stepmother would give anything to have Madelyn Haywood betrothed to a future duke. But Madelyn believes the brothers Devine to be nothing more than heartless rogues—especially Gabriel, whose rakish reputation precedes him. He is nothing more than a slave to passion, and she will not be conquered by his caresses—and yet his wicked ways tempt her so . . .
The Lady Most Likely by Julia Quinn, Eloisa James, and Connie Brockway [4 stars]
Historical Romance -- Regency England
Hugh Dunne, the Earl of Briarly, needs a wife—so his sister hands him a list of the very best young ladies on the market. And then, because he refuses to tear himself away from the stables where he trains Arabian racehorses, she invites all those ladies to a house party, along with some other bachelors, of course. So who will Hugh choose? The Botticelli-esque, enchanting Gwendolyn? The outspoken, delightful Katherine? If he doesn't work fast, he'll lose those ladies to his closest friends, and then where will he look for a wife? Perhaps, just perhaps, toward a lady who's not on a market at all, and would require a great deal of persuading...
Duke of Midnight by Elizabeth Hoyt [4.5 stars]
Historical Romance -- Georgian England
WHEN A MASKED MAN . . .
Twenty years ago Maximus Batten witnessed the brutal murders of his parents. Now the autocratic Duke of Wakefield, he spends his days ruling Parliament. But by night, disguised as the Ghost of St. Giles, he prowls the grim alleys of St. Giles, ever on the hunt for the murderer. One night he finds a fiery woman who meets him toe-to-toe—and won't back down . . .

MEETS HIS MATCH . . .
Artemis Greaves toils as a lady's companion, but hiding beneath the plain brown serge of her dress is the heart of a huntress. When the Ghost of St. Giles rescues her from footpads, she recognizes a kindred spirit-and is intrigued. She's even more intrigued when she realizes who exactly the notorious Ghost is by day . . .

DESIRE IGNITES A DANGEROUS PASSION
Artemis makes a bold move: she demands that Maximus use his influence to free her imprisoned brother-or she will expose him as the Ghost. But blackmailing a powerful duke isn't without risks. Now that she has the tiger by the tail, can she withstand his ire-or the temptation of his embrace?
Too Wicked to Kiss by Erica Ridley [4 stars]
Historical Romance -- Regency England
His Touch Holds Her Captive...
From the ravens circling its spires to the gargoyles adorning its roof, Blackberry Manor looms ominously over its rambling grounds. And behind its doors, amid the flickering shadows and secret passageways, danger lies in wait...
To His Every Dark Desire...
Evangeline Pemberton has been invited to a party at the sprawling estate of reclusive Gavin Lioncroft, who is rumored to have murdered his parents. Initially, Gavin's towering presence and brusque manner instill fear in Evangeline...until his rakish features and seductive attentions profoundly arouse her.
But when a guest is murdered, Evangeline is torn. Could the man to whom she is so powerfully drawn, also be a ruthless killer?
A Lady Never Surrenders by Sabrina Jeffries [4.5 stars]
Historical Romance -- Regency England
Lady Celia Sharpe has always been wary of marriage…but now her future depends on it.
With two months left to find a husband and fulfill her grandmother's ultimatum, Celia sets her sights on three eligible bachelors. Becoming betrothed to one of these wealthy, high-ranking men will surely prove her capable of getting married, so hopefully the wedding itself won't be necessary for Celia to receive her inheritance. Step two of her audacious plan is hiring the dark and dangerously compelling Bow Street Runner, Jackson Pinter, to investigate the three men she's chosen.
With Lady Celia bedeviling Jackson's days and nights, the last thing he wants is to help her find a husband. And when she recalls shadowed memories that lead his investigation into her parents' mysterious deaths in a new direction, putting her in danger, Jackson realizes the only man he wants Celia to marry is himself!
His at Night by Sherry Thomas [4.5 stars]
Historical Romance -- Victorian England
Love is hottest in the darkness before dawn.
Elissande Edgerton is a desperate woman, a virtual prisoner in the home of her tyrannical uncle. Only through marriage can she claim the freedom she craves. But how to catch the perfect man?
Lord Vere is used to baiting irresistible traps. As a secret agent for the government, he's tracked down some of the most devious criminals in London, all the while maintaining his cover as one of Society's most harmless—and idiotic—bachelors. But nothing can prepare him for the scandal of being ensnared by Elissande.
Forced into a marriage of convenience, Elissande and Vere are each about to discover that they're not the only one with a hidden agenda. With seduction their only weapon—and a dark secret from the past endangering both their lives—can they learn to trust each other even as they surrender to a passion that won't be denied?