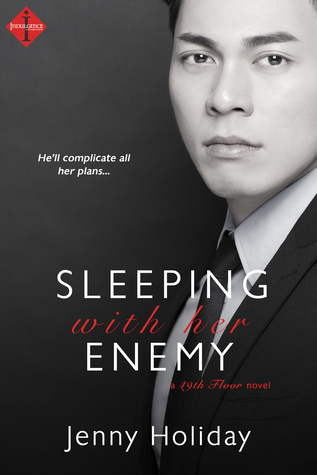 (49th Floor #2)

For Ages 18+ (Language, Sensuality)
Contemporary Romance


Entangled -- February 23, 2015
SUMMARY
Amy Morrison is supposed to be at her wedding. But when her husband-to-be jilts her at the altar, a distraught Amy runs to the only place she feels safe—her office. Besides, everyone who works on her floor is at her wedding...except him. Dax Harris. Playboy, executive, and Amy's official office enemy.

While he and Amy don't see eye-to-eye on the best of days, Dax can't help but feel badly when he sees Amy mid-meltdown. Next thing he knows, he's gotten her good and drunk, and they're making out like two teenagers. And since neither of them want anything serious, why shouldn't they be frenemies-with-benefits? Because there is no possible way they could ever fall for each other...
THEMES AND TROPES
Billionaire Hero, Jilted Bride, Enemies to Lovers, Office Romance
READING CHALLENGES
2016 Pick Your Genre Reading Challenge
2016 New To Me Reading Challenge
MY THOUGHTS
Sleeping With Her Enemy
is my first Jenny Holiday novel and will not be my last. It tells the story of Amy whose fiancee breaks up with her on their wedding day. In order to deal with the situation, she goes to the place that she feels most comfortable...her office in downtown Toronto. What she doesn't expect is to run into her work nemesis, Dax, and she also doesn't expect him to help her on the worst day of her life and become someone she can't imagine living without.
I was surprised at how much I enjoyed this story. Contemporary romance is not usually my genre of choice, but I just couldn't resist the "enemies to lovers" theme that the blurb mentioned. Amy and Dax are both really interesting and likable characters. They are hard workers who are successful in their respective fields. I adore capable characters in my romance novels! Amy's relationship with her ex-boyfriend was part of her grand plan and she is forced to evaluate why she had such strict routine set for her life while Dax must deal with some issues from his past related to serious romantic relationships.
As a couple, I thought Dax and Amy were great together. I'm not sure that I believed they were really office enemies before the disastrous wedding day. There are some examples of snarky comments between them, but I had a hard time imagining them as being truly mean to one another which was okay...just not what I was expecting based on the title and the summary. That being said, I thought the development of their relationship was really well-done. They spent a lot of time together outside of the office and I could see them slowly falling for one another. It also doesn't hurt that the snark quickly turned to banter and some insane chemistry.
I definitely plan on reading more of Jenny Holiday's books especially the rest of this series. Despite the fact that I jumped into the middle of the trilogy, I never felt lost or confused. So I definitely think it can be read as a stand-alone. I did enjoy the little tidbits I got about Jack and Cassie who were the couple from the first book as well as Marcus who features in book three. If you are in the mood for a cute contemporary with capable, realistic characters, I recommend
Sleeping With Her Enemy
. It was a delightful reading experience!
FAVORITE QUOTE
"I mean, who meets the love of her life the day she gets left at the altar?"
BOOKS IN THE SERIES