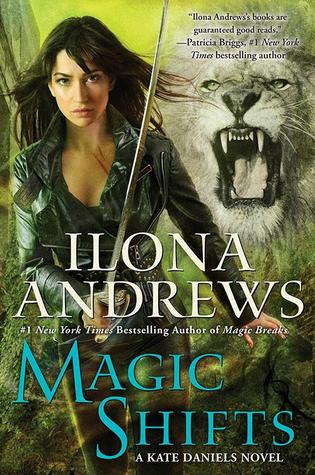 (Kate Daniels #8)

For Ages 18+ (Language, Violence, Sensuality)
Urban Fantasy


Ace -- August 4, 2015
SUMMARY
After breaking from life with the Pack, mercenary Kate Daniels and her mate—former Beast Lord Curran Lennart—are adjusting to a very different pace. While they're thrilled to escape all the infighting, Curran misses the constant challenges of leading the shapeshifters.

So when the Pack offers him its stake in the Mercenary Guild, Curran seizes the opportunity—too bad the Guild wants nothing to do with him and Kate. Luckily, as a veteran merc, Kate can take over any of the Guild's unfinished jobs in order to bring in money and build their reputation. But what Kate and Curran don't realize is that the odd jobs they've been working are all connected.

An ancient enemy has arisen, and Kate and Curran are the only ones who can stop it—before it takes their city apart piece by piece…
THEMES AND TROPES
Alpha Hero, Alpha Heroine, Established Couple, Magic/Sorcery
READING CHALLENGES
2016 Pick Your Genre Reading Challenge
2016 Spooks, Howls, and Fangs Reading Challenge
MY THOUGHTS
Warning! This review contains spoilers for earlier books in the Kate Daniels series

I probably sound like a broken record player with this series by now, but wow! These authors truly know how to grab a reader's attention and keep it until the very last page. Magic Shifts is the eighth book in the series and the world is so perfectly created that all readers have to do is sit back and enjoy.
This installment was interesting for many reasons. In the last book, Curran gave up his position as the Beast Lord and left the Pack. Now Kate and Curran must adjust to their new life outside of the Pack while still dealing with Kate's accidental claiming of Atlanta. They also have a mystery on their hands when a Pack member disappears and they are hired by his girlfriend to find him. This, of course, becomes a situation which is much more complicated than they originally thought and they discover that their lives and the lives of those they care for are in even greater danger than ever.
I loved getting to see this fabulous couple and how they are enjoying their newfound freedom. They are at a point in their relationship where they are happy and know that they will be there for each other, no matter what. They also haven't lost their trademark flirtations which provided plenty of humor to balance out the drama.
"Did you just grab my butt?" I whispered. "What?" "Curran!" "Yes?" I could hear controlled laughter in his voice. Unbelievable. I sped up. "We're tracking ghouls and you're grabbing my butt." "I always make sure to pay attention to important things."
I also liked seeing the continued growth of Kate and Curran's characters with their newest situation. Kate did not plan on claiming Atlanta, but, now that she has, she is determined to keep it safe from her father, Roland. What I thought was the most fascinating part of Kate's journey in Magic Shifts was her realization that she is vulnerable and that she has to be more circumspect when it comes to jumping into action. Curran, for his part, is trying to get his feet under him while interacting with the world outside of the Pack. He knows he can't just sit around all day and takes steps to gain employment for himself...with some entertaining results.
The larger cast of characters is just as wonderful as always. I have a huge soft spot for Derek so I was happy to see him maintain his importance in Kate's story. Julie's character is also growing on me and I can tell there are secrets she is hiding which will probably come up huge in later books. And I am interested to see how Jim and Dali do as the Pack leaders.
There is much more I can say about Magic Shifts, but most of it would be squealing and fangirling so I'll just stop right here. This series is so amazing and I continue to be impressed with its scope and its heart. I can't wait until later this year for the next installment.