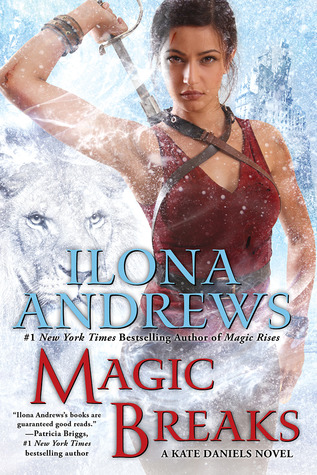 (Kate Daniels #7)

For Ages 18+ (Language, Violence)
Urban Fantasy


Ace Hardcover -- July 29, 2014
SUMMARY
No matter how much the paranormal politics of Atlanta change, one thing always remains the same: if there's trouble, Kate Daniels will be in the middle of it…

As the mate of the Beast Lord, Curran, former mercenary Kate Daniels has more responsibilities than it seems possible to juggle. Not only is she still struggling to keep her investigative business afloat, she must now deal with the affairs of the pack, including preparing her people for attack from Roland, a cruel ancient being with god-like powers. Since Kate's connection to Roland has come out into the open, no one is safe—especially those closest to Kate.

As Roland's long shadow looms ever nearer, Kate is called to attend the Conclave, a gathering of the leaders from the various supernatural factions in Atlanta. When one of the Masters of the Dead is found murdered there, apparently at the hands of a shapeshifter, Kate is given only twenty-four hours to hunt down the killer. And this time, if she fails, she'll find herself embroiled in a war which could destroy everything she holds dear…
THEMES AND TROPES
Alpha Hero, Alpha Heroine, Established Couple, Magic/Sorcery
READING CHALLENGES
2016 Pick Your Genre Reading Challenge
MY THOUGHTS
Warning! This review contains spoilers for earlier books in the Kate Daniels series.
This was just amazing! The writing duo behind the Ilona Andrews name really know what they are doing with this series. At this point, everything works and all readers have to do is sit back and enjoy the ride.
Magic Breaks
takes place shortly after the dramatic events of
Magic Rises
with Kate, Curran, and the rest of the Pack still reeling. Unfortunately, they don't get much peace since Roland's warlord, Hugh, is back and is trying to start a war between the Pack and the People. This all happens while Curran is on a diplomatic hunt in the woods a few states over and Kate is now left to figure out a way to prevent the war.
Like in other books in this series, once the action starts, it does not stop. Kate and her crew are thrown into a variety of situations that requires their brawn and their brain to get through. I continue to love the way that Kate is written. She has grown a lot since the first book and I can still see that there is still so much left for her to learn. One of my favorite aspects of her character is her innate goodness which is at odds with her background and her power. She cares deeply about those closest to her and is willing to do anything to keep them safe including confronting Roland for the first time.
There isn't a ton of development on the Kate/Curran romance front, but that is okay because of how much there was in the previous book. They are separated for most of this book and it was interesting to see how much of a partnership they really have developed. Both of them are strong enough to be independent, but they recognize that they are at their best together.
I also enjoyed getting to see more of this fabulous world that the series has built. There is a lot of page time developed to learning more about Ghastek and the People's place in Atlanta. He still isn't my favorite side character, but I appreciate him more now and think he could be a good ally for Kate in the future.
Magic Breaks
also provides more Pack politics by focusing on the dysfunctional Wolf Clan. This is all leading up to a twist in the entire series storyline that had me completely stunned and convinced me to go right ahead to the next book.
I just can't say enough about how much I love this series. Every installment is tightly written, action-packed, funny, and romantic in a way that works for me. Kate and Curran are amazing characters and I enjoy every minute I get to spend with them. On to
Magic Shifts!
FAVORITE QUOTE
"Maybe I should add some graffiti to spice it up. For a good time call the Consort. Beast Lord eats your food and turns into a lion in his sleep. Mahon has hemorrhoids. Boudas do it better. Warning, paranoid attack jaguar on the prowl…"