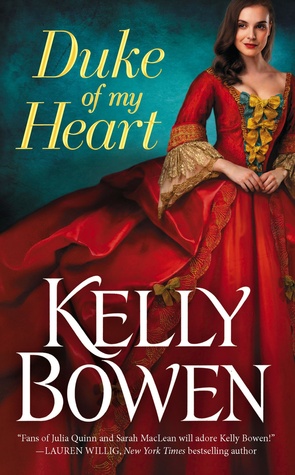 (Season for Scandal #1)

For Ages 18+ (Language, Sensuality)
Historical Romance -- Regency England


Forever -- January 26, 2016
SUMMARY
Captain Maximus Harcourt, the unconventional tenth Duke of Alderidge, can deal with tropical storms, raging seas, and the fiercest of pirates. But he's returned home from his latest voyage to find a naked earl—quite inconveniently deceased—tied to his missing sister's bed. And he has only one place to turn. Now he's at the mercy of the captivating Miss Ivory Moore of Chegarre & Associates, known throughout London for smoothing over the most dire of scandals.

Miss Moore treats the crisis as though it were no more serious than a cup of spilt tea on an expensive rug. As though this sort of thing happened on the job every day. Max has never in all his life met a woman with such nerve. Her dark eyes are too wide, her mouth is too full, her cheekbones too sharp. Yet together, she's somehow...flawless. It's just like his love for her, imperfect, unexpected—yet absolutely true.
THEMES AND TROPES
Action-Adventure, Widowed Heroine, Employer/Employee Romance
READING CHALLENGES
2016 Pick Your Genre Reading Challenge
MY THOUGHTS
Duke of My Heart
is the third Kelly Bowen historical I've read and it was just as great as the other two. This is the beginning of Bowen's newest series and, after enjoying this installment, I am looking forward to the rest of the books.

Things get going quickly in this book when the sister of the Duke of Alderidge is discovered to be missing during a ball and a naked earl is found dead while tied to her bed. This is usually an event that would ruin a family, but, thankfully, Ivory Moore comes to the rescue. She is known as the person who can help keep the ton's secrets hidden and solve almost any crisis imaginable. Her initial overview of the situation is interrupted by the arrival of the duke. The rest of the book involves these two working together to find the duke's sister and keep the family name clean while also dealing with their obvious attraction.

Kelly Bowen excels at providing fascinating and well-developed characters and that is the case in this book as well. Max never expected to be the duke and he does not react well to his position. He is much more relaxed captaining a ship so he leaves the running of his estate and the raising of his sister to a relative. His sister's disappearance fills him with guilt and he has to learn how to deal with responsibility of his title. I liked watching the journey that his character went on to feeling comfortable as the duke and as a big brother.

While Max was interesting, I thought the true star of Duke of My Heart was Ivory. She is a person with a fascinating life and is the very definition of a capable heroine. She has had to work very hard to get where she is and she doesn't take crap from anybody. I liked the way that this was handled within the historical setting. Ivory never felt like she was a modern woman in 19th century England and I appreciated that care.

I thought the romance between Ivory and Max was beautifully developed. They go from adversaries to friends to lovers in a very natural way. I liked the way that the situation they were in helped them get to know one another and forced them to face the fact that they could work as a couple. It is always touchy when there is a mystery to balance with the romance and I thought it was handled well. I was able to figure out the "big bad" early on, but I still enjoyed seeing the evolution of the mystery and how it helped develop the romance.

All in all, Kelly Bowen did a great job of providing readers with interesting characters being put in a difficult situation. The pacing was decent and I only felt like things got slow towards the middle. I am looking forward to more in this series especially if Max's sister gets a story in the future.


BOOKS IN THE SERIES