One of my favorite podcasts is NPR's Pop Culture Happy Hour and my favorite segment on that show is the closing, "What is Making Me Happy". I just love the idea of focusing on the good in a world that sometimes feels very negative. So, I am going to try to bring some more happiness to my blog by focusing on a few things every week that have made me smile or laugh.
1. My
Theme Thursday
feature is now
Themes & Tropes
and will be a monthly feature rather than weekly. I have had a difficult time coming up with a new theme every week so I am going to try making it less regular. I still love doing this feature, but don't want to burn out on it. And, as a reminder, I do put links to all the theme/trope lists I do on the
Themes & Tropes page
.
2. I do not currently own a dog, but I do love them and I also like seeing how they were depicted in history. So I really enjoyed the Toast's article,
Dogs I Would Like To Own In Art, Even Though They Are Probably Dead Now.
I especially enjoyed the writer's commentary on the adorableness of the animals.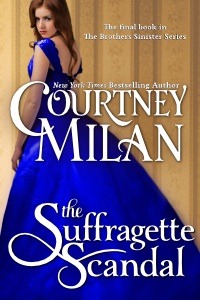 3. Historical romance is my all-time favorite genre and one thing I love to read about is heroines who aren't afraid to break the rules of their society. The Booklist Reader has a fabulous list of
23 Romances for Rule Breakers
that focuses completely on these fascinating women. I know my wishlist grew exponentially reading this feature.
4. I am very sad that
Agent Carter
is done for the season and I am hoping that it will get picked up again. I just adore the character of Peggy and want to see more of her adventures (and, of course, her killer fashion sense). In honor of this delightful little show, the Mary Sue's
Lipsticks, Feelings, and Vulnerability in Marvel's Agent Carter
provides a fascinating look at how Peggy's lip color offers insight into her current mood. There are also some fun facts about the history of lipstick in there.
5. Last Friday, author
Sarah MacLean
celebrated reaching a page count goal by providing readers with 100 romance novel recommendations on her Twitter page. And, because she is a glorious person, she gathered all those recs up and put them on the following
Storify page.
I have read many of these, but there are some that I had never heard of.
6. And, finally, don't forget to vote in the 2016
Fug Madness
and
DABWAHA
bracket challenges!