This is part of a feature where I focus on a specific theme (or trope) that I have found in my years as a voracious reader/blogger. I love finding commonalities between my favorite books and how that helps define me as a reader.

Please note this is not meant to be a comprehensive list. I am just picking a few examples of this trope. So, if you have a favorite example of this theme, let me know about it in the comments. I'm always on the lookout for more books to be added to my wishlist.
SECOND CHANCES AT LOVE
These are all stories featuring characters who were in love (or at least on their way there) in the past. They are now reunited and are given another chance to fall for each other. For the purposes of this list, I am not including couples that were married or are in a troubled married. Previously engaged couples are included.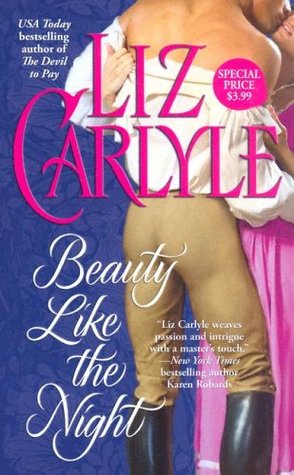 Beauty Like the Night by Liz Carlyle [4 stars]
Historical Romance -- Regency England
The daughter of London's wickedest widow, Helene de Severs has struggled to overcome her heritage. Renowned within Europe's emerging psychiatric field, Helene has a gift for healing children. When fate sends her back to England, the country she left in disgrace, Helene is confident she has learned to govern her own reckless emotions.
Ruthlessly, Treyhern has dragged his notorious family from the brink of ruin. But a disastrous marriage has left him with a traumatized child, and his rebellious brother is just one step ahead of the bailiffs. When his dissolute father drops dead while debauching the governess, Treyhern's infamous temper is truly tested.
But the forceful earl means to straighten everyone out - as soon as he has hired a reputable governess. Yet the moment she steps from his carriage, Treyhern's cold reserve is melted by a rush of desire he had long thought dead. With her elegant clothing and mountain of luggage, the woman is not who he expected. Or is she? Sometimes the workings of the mind are as dangerous as those of the heart. And soon, danger is truly everywhere...
Again the Magic by Lisa Kleypas [4 stars]
Historical Romance -- Victorian England
Lady Aline Marsden was brought up for one reason: to make an advantageous marriage to a member of her own class. Instead, she willingly gave her innocence to John McKenna, a servant on her father's estate. Their passionate transgression was unforgivable—John was sent away, and Aline was left to live in the countryside…an exile from London society.
Now McKenna has made his fortune, and he has returned—more boldly handsome and more mesmerizing than before. His ruthless plan is to take revenge on the woman who shattered his dreams of love. But the magic between them burns as bright as ever. And now he must decide whether to let vengeance take its toll…or risk everything for his first, and only, love.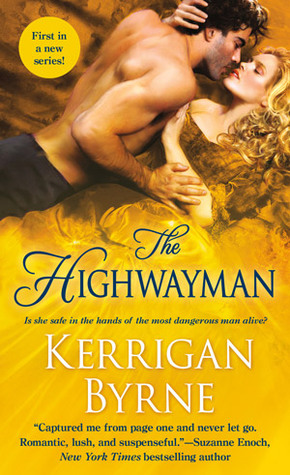 The Highwayman by Kerrigan Byrne [4.5 stars]
Historical Romance -- Victorian England
STEALING BEAUTYDorian Blackwell, the Blackheart of Ben More, is a ruthless villain. Scarred and hard-hearted, Dorian is one of London's wealthiest, most influential men who will stop at nothing to wreak vengeance on those who've wronged him…and will fight to the death to seize what he wants. The lovely, still innocent widow Farah Leigh Mackenzie is no exception—and soon Dorian whisks the beautiful lass away to his sanctuary in the wild Highlands…
COURTING DESIREBut Farah is no one's puppet. She possesses a powerful secret—one that threatens her very life. When being held captive by Dorian proves to be the only way to keep Farah safe from those who would see her dead, Dorian makes Farah a scandalous proposition: marry him for protection in exchange for using her secret to help him exact revenge on his enemies. But what the Blackheart of Ben More never could have imagined is that Farah has terms of her own, igniting a tempestuous desire that consumes them both. Could it be that the woman he captured is the only one who can touch the black heart he'd long thought dead? 
Everything and the Moon by Julia Quinn [4 stars]
Historical Romance -- Regency England
Seven years ago she broke his heart...
When Robert Kemble stumbles across Victoria Lyndon in hedgerow maze, he can't believe his eyes. The girl who'd torn him in two, who let him plan on elopement and then left him standing by the side of the road, was suddenly within arm's reach, and even though his fury still knew no bounds, she was impossible to resist...
Seven years ago he left her all but ruined...
Victoria's father had told her an earl would never marry a vicar's daughter, and he was right. Robert had promised her marriage, then danced off to London while she suffered the shame of a foiled elopement. But even though Victoria doesn't particularly enjoy her new life as a governess, when Robert offers her a job of a different sort—his mistress—she refuses, unable to sacrifice her honor, even for him.
But Robert won't take no for an answer, and he vows to make her his, through any means possible. Can these star-crossed lovers learn to trust again? And is love really sweeter the second time around?
A Rogue By Any Other Name by Sarah MacLean [4 stars]
Historical Romance -- Regency England
A decade ago, the Marquess of Bourne was cast from society with nothing but his title. Now a partner in London's most exclusive gaming hell, the cold, ruthless Bourne will do whatever it takes to regain his inheritance—including marrying perfect, proper Lady Penelope Marbury.
A broken engagement and years of disappointing courtships have left Penelope with little interest in a quiet, comfortable marriage, and a longing for something more. How lucky that her new husband has access to such unexplored pleasures.
Bourne may be a prince of London's underworld, but he vows to keep Penelope untouched by its wickedness—a challenge indeed as the lady discovers her own desires, and her willingness to wager anything for them... even her heart.
If the Viscount Falls by Sabrina Jeffries [4 stars]
Historical Romance -- Regency England
The heir presumptive to the Viscount Rathmoor, Dominick Manton once had his heart's desire within reach—a bright future as a barrister and engagement to Jane Vernon, a wealthy baron's daughter. Then a shattering betrayal by his vindictive brother George snatched away Dom's inheritance and his hopes of offering Jane a secure future. Brokenhearted, and attempting to end their engagement without destroying Jane's reputation, Dom staged a betrayal of his own to convince her that he's not the husband-to-be that she thought.
Now George is gone and the viscountcy restored to Dom, since his brother's widow, Nancy—Jane's cousin and closest confidant—never bore an heir. But when Nancy goes missing, a panicked Jane calls on her former fiancé to track down her cousin. Dom knows the mistakes of the past may be unforgiveable—but now, entangled together in mystery and danger, will they rekindle a passionate longing that was never lost to begin with?
The Unsung Hero by Suzanne Brockmann [4 stars]
Romantic Suspense
After a near-fatal head injury, navy SEAL lieutenant Tom Paoletti catches a terrifying glimpse of an international terrorist in his New England hometown. When he calls for help, the navy dismisses the danger as injury-induced imaginings. In a desperate, last-ditch effort to prevent disaster, Tom creates his own makeshift counterterrorist team, assembling his most loyal officers, two elderly war veterans, a couple of misfit teenagers, and Dr. Kelly Ashton-the sweet "girl next door" who has grown into a remarkable woman. The town's infamous bad boy, Tom has always longed for Kelly. Now he has one final chance for happiness, one last chance to win her heart, and one desperate chance to save the day . . .
Friends Without Benefits by Penny Reid [4 stars]
Contemporary Romance
There are three things you need to know about Elizabeth Finney: 1) She suffers from severe sarcastic syndrome, especially when she's unnerved, 2) No one unnerves her like Nico Manganiello, and 3) She knows how to knit.

Elizabeth Finney is almost always right about everything: the musical merits of boy bands are undervalued by society, "benefits" with human Ken dolls are better without friendship, and the sun has set on her once-in-a-lifetime chance for true love. But when Elizabeth's plans for benefits without friendship are disarmed by the irritatingly charismatic and chauvinistic Nico Manganiello- her former nemesis- she finds herself struggling to maintain the electric fence around her heart while avoiding electrocution or, worse, falling in love.
Rock Redemption by Nalini Singh [4.25 stars]
Contemporary Romance
Kit Devigny could have loved rock guitarist Noah St. John. Their friendship burned with the promise of intense passion and searing tenderness…until the night Noah deliberately shattered her heart.

Noah knows he destroyed something precious the night he chose to betray Kit, but he'd rather she hate him than learn his darkest secret. All he has left is his music. It's his saving grace, but it doesn't silence the voices that keep him up at night. Chasing oblivion through endless one-night-stands, he earns a few hours' sleep and his bad boy reputation.

When a media error sees Noah and Kit dubbed the new "it" couple, Kit discovers her chance at the role of a lifetime hinges on riding the media wave. Wanting—needing—to give Kit this, even if he can't give her everything, Noah agrees to play the adoring boyfriend. Only the illusion is suddenly too real, too painful, too beautiful…and it may be too late for the redemption of Noah St. John.
The Bollywood Bride by Sonali Dev [4.25 stars]
Contemporary Romance
Ria Parkar is Bollywood's favorite Ice Princess--beautiful, poised, and scandal-proof--until one impulsive act threatens to expose her destructive past. Traveling home to Chicago for her cousin's wedding offers a chance to diffuse the coming media storm and find solace in family, food, and outsized celebrations that are like one of her vibrant movies come to life. But it also means confronting Vikram Jathar.

Ria and Vikram spent childhood summers together, a world away from Ria's exclusive boarding school in Mumbai. Their friendship grew seamlessly into love--until Ria made a shattering decision. As far as Vikram is concerned, Ria sold her soul for stardom and it's taken him years to rebuild his life. But beneath his pent-up anger, their bond remains unchanged. And now, among those who know her best, Ria may find the courage to face the secrets she's been guarding for everyone else's benefit--and a chance to stop acting and start living.


The Understatement of the Year by Sarina Bowen [4.5 stars]
NA Contemporary -- Male/Male
What happened in high school stayed in high school. Until now.
Five years ago, Michael Graham betrayed the only person who ever really knew him. Since then, he's made an art of hiding his sexuality from everyone. Including himself.
So it's a shock when his past strolls right into the Harkness College locker room, sporting a bag of hockey gear and the same slow smile that had always rendered Graham defenseless. For Graham, there is only one possible reaction: total, debilitating panic. With one loose word, the team's new left wing could destroy Graham's life as he knows it.
John Rikker is stuck being the new guy. Again. And it's worse than usual, because the media has latched onto the story of the only "out" player in Division One hockey. As the satellite trucks line the sidewalk outside the rink, his new teammates are not amused.
And one player in particular looks sick every time he enters the room.
Rikker didn't exactly expect a warm welcome from Graham. But the guy won't even meet his eyes. From the looks of it, his former… best friend / boyfriend / whatever isn't doing so well. He drinks too much and can't focus during practice.
Either the two loneliest guys on the team will self destruct from all the new pressures in their lives, or they can navigate the pain to find a way back to one another. To say that it won't be easy is the Understatement of the Year.
Level Hands by Amy Jo Cousins [4 stars]
NA Contemporary -- Male/Male
When it comes to love, there's no such thing as smooth sailing.
Rafael Castro is so far out of his element he can't even see it anymore. Carlisle College in Massachusetts is a long way from his Chicago home, even farther from his Dominican Republic roots.

The only thing keeping him attached to his last nerve is the prospect of seeing Denny Winslow again. The first time they met, Denny taught Rafi to fly across the water, rowing hard in a knife-like boat. Now, two years later, on the wings of a rowing scholarship, Rafi is attending Denny's elite college.

Even before the excitement wears off, Rafi is struggling with classes and fending off rumors that Denny's family, not Rafi's talent, won him his spot. To quash the gossip, Rafi tries to steer clear of the man he wants. A plan that evaporates in the fire of renewed attraction.
But Carlisle's academic pressure cooker has Rafi barely treading water. And when a family crisis hits, both Rafi and Denny must pull hard to keep their relationship from capsizing in rough waters.
Mine to Possess by Nalini Singh [4 stars]
Paranormal Romance
Clay Bennett is a powerful DarkRiver sentinel, but he grew up in the slums with his human mother, never knowing his changeling father. As a young boy without the bonds of Pack, he tried to stifle his animal nature. He failed...and committed the most extreme act of violence, killing a man and losing his best friend, Talin, in the bloody aftermath. Everything good in him died the day he was told that she, too, was dead.
Talin McKade barely survived a childhood drenched in bloodshed and terror. Now a new nightmare is stalking her life--the street children she works to protect are disappearing and turning up dead. Determined to keep them safe, she unlocks the darkest secret in her heart and returns to ask the help of the strongest man she knows...
Clay lost Talin once. He will not let her go again, his hunger to possess her, a clawing need born of the leopard within. As they race to save the innocent, Clay and Talin must face the violent truths of their past...or lose everything that ever mattered.
Reaver by Larissa Ione [4 stars]
Paranormal Romance
WARRIOR OF HEAVEN
Reaver is an angel with a past, a record, and a less-than-heavenly attitude. Powerful enough to fight alongside the fiercest battle angels-and crazy enough to risk his wings on a one-way mission to hell-he's agreed to go where no angel has ever gone before...to steal the most seductive and dangerous prize of Satan himself.
ANGEL OF HELL
Harvester is one of the Fallen, a once-heroic angel who sacrificed her wings to work as an undercover agent in hell. But now her cover has been blown, and she's been doomed to an eternity of agonizing torture. Even if Reaver can snatch her away from Satan's lair, even if they can fight their way out of the underworld's darkest depths, there is one thing Harvester can never escape-her newfound thirst for an angel's blood...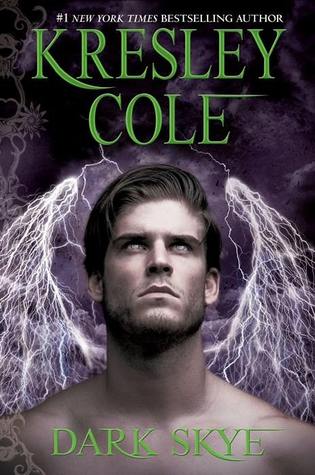 Dark Skye by Kresley Cole [4 stars]
Paranormal Romance
ETERNAL OBSESSION
As a boy, Thronos, prince of Skye Hall, loved Lanthe, a mischievous Sorceri girl who made him question everything about his Vrekener clan. But when the two got caught in the middle of their families' war, tragedy struck, leaving Thronos and Lanthe bitter enemies. Though centuries have passed, nothing can cool his seething need for the beautiful enchantress who scarred his body—and left an even deeper impression on his soul.
ENDLESS YEARNING
Lanthe, a once-formidable sorceress struggling to reclaim her gifts, searches for love and acceptance with all the wrong immortal suitors. But she's never forgotten Thronos, the magnificent silver-eyed boy who protected her until she was ripped from the shelter of his arms. One harrowing night changed everything between them. Now he's a notorious warlord with a blood vendetta against Lanthe, hunting her relentlessly.

The Last Best Kiss by Claire LaZebnik [4 stars]
YA Contemporary
Anna Eliot is tired of worrying about what other people think. After all, that was how she lost the only guy she ever really liked, Finn Westbrook.
Now, three years after she broke his heart, the one who got away is back in her life.
All Anna wants is a chance to relive their last kiss again (and again and again). But Finn obviously hasn't forgotten how she treated him, and he's made it clear he has no interest in having anything to do with her.
Anna keeps trying to persuade herself that she doesn't care about Finn either, but even though they've both changed since they first met, deep down she knows he's the guy for her. Now if only she can get him to believe that, too....
For Darkness Shows the Stars by Diana Peterfreund [4.5 stars]
YA Science Fiction
It's been several generations since a genetic experiment gone wrong caused the Reduction, decimating humanity and giving rise to a Luddite nobility who outlawed most technology.
Elliot North has always known her place in this world. Four years ago Elliot refused to run away with her childhood sweetheart, the servant Kai, choosing duty to her family's estate over love. Since then the world has changed: a new class of Post-Reductionists is jumpstarting the wheel of progress, and Elliot's estate is foundering, forcing her to rent land to the mysterious Cloud Fleet, a group of shipbuilders that includes renowned explorer Captain Malakai Wentforth--an almost unrecognizable Kai. And while Elliot wonders if this could be their second chance, Kai seems determined to show Elliot exactly what she gave up when she let him go.
But Elliot soon discovers her old friend carries a secret--one that could change their society . . . or bring it to its knees. And again, she's faced with a choice: cling to what she's been raised to believe, or cast her lot with the only boy she's ever loved, even if she's lost him forever.