This is part of a feature where I focus on a specific theme (or trope) that I have found in my years as a voracious reader/blogger. I love finding commonalities between my favorite books and how that helps define me as a reader.

Please note this is not meant to be a comprehensive list. I am just picking a few examples of this trope. So, if you have a favorite example of this theme, let me know about it in the comments. I'm always on the lookout for more books to be added to my wishlist.
GHOSTS
While I am a bit of a baby when it comes to horror movies, I do love a good ghost story. These are some books I've read that prominently feature ghosts whether as one of the protagonists, as the antagonist, or just as an important side character. What I find so interesting is the different way each author approaches the ghost mythology and each spirit's motivation.
Bitter Spirits by Jenn Bennett [I gave it 3.75 stars]
Historical/Paranormal Romance -- 1920s San Francisco
It's the roaring twenties, and San Francisco is a hotbed of illegal boozing, raw lust, and black magic. The fog-covered Bay Area can be an intoxicating scene, particularly when you specialize in spirits…
Aida Palmer performs a spirit medium show onstage at Chinatown's illustrious Gris-Gris speakeasy. However, her ability to summon (and expel) the dead is more than just an act.
Winter Magnusson is a notorious bootlegger who's more comfortable with guns than ghosts—unfortunately for him, he's the recent target of a malevolent hex that renders him a magnet for hauntings. After Aida's supernatural assistance is enlisted to banish the ghosts, her spirit-chilled aura heats up as the charming bootlegger casts a different sort of spell on her.
On the hunt for the curseworker responsible for the hex, Aida and Winter become drunk on passion. And the closer they become, the more they realize they have ghosts of their own to exorcise…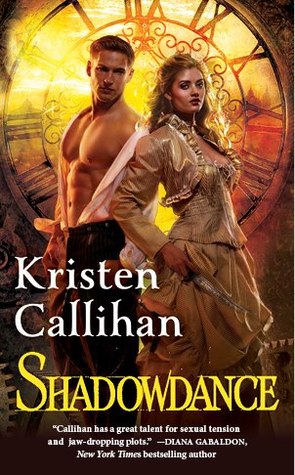 Shadowdance by Kristen Callihan [I gave it 3.5 stars]
Historical/Paranormal Romance
Once a heart is lost in shadow...
Life has been anything but kind to Mary Chase. But the Society for the Suppression of Supernaturals has given her purpose. Now she's been tasked with catching a vicious murderer dubbed the Bishop of Charing Cross. But someone is already on the case—and the last thing he relishes is a partner.
Only someone who lives in darkness can find it.
Jack Talent has been alone with his demons for many years. He never expected to have the willful Mary Chase assist him on the Bishop case. Their age-old rivalry reaches new heights—even as their desire for one another reaches a fever pitch. Though he aches to bring her close, Jack's dark secrets are a chasm between them. With dangerous enemies closing in, Jack must find the strength to face the past...or risk losing Mary forever.
Dark Needs at Night's Edge by Kresley Cole [I gave it 4 stars]
Paranormal Romance
A RAVEN-HAIRED TEMPTRESS OF THE DARK...
Naomi Laress, a famous ballerina from a past century, became a phantom the night she was murdered. Imbued with otherworldly powers but invisible to the living, she haunts her beloved home, scaring away trespassers -- until she encounters a ruthless

A VAMPIRE WARRIOR CONSUMED BY MADNESS...
To prevent him from harming others, Conrad Wroth's brothers imprison him in an abandoned manor. But there, a female only he can see seems determined to drive him further into madness. The exquisite creature torments him with desire, leaving his body racked with lust and his soul torn as he finds himself coveting her for his own.
HOW FAR WILL HE GO TO CLAIM HER?
Yet even if Conrad can win Naomi, evil still surrounds her. Once he returns to the brutality of his past to protect her, will he succumb to the dark needs seething inside him?
Better Homes and Hauntings by Molly Harper [I gave it 4 stars]
Paranormal Romance
When Nina Linden is hired to landscape a private island off the New England coast, she sees it as her chance to rebuild her failing business after being cheated by her unscrupulous ex. She never expects that her new client, software mogul Deacon Whitney, would see more in her than just a talented gardener. Deacon has paid top dollar to the crews he's hired to renovate the desolate Whitney estate—he had to, because the bumps, thumps, and unexplained sightings of ghostly figures in nineteenth-century dress are driving workers away faster than he can say "Boo."
But Nina shows no signs of being scared away, even as she experiences some unnerving apparitions herself. And as the two of them work closely together to restore the mansion's faded glory, Deacon realizes that he's found someone who doesn't seem to like his fortune more than himself—while Nina may have finally found the one man she can trust with her bruised and battered heart.
But something on the island doesn't believe in true love…and if Nina and Deacon can't figure out how to put these angry spirits to rest, their own love doesn't stand a ghost of a chance.
First Grave on the Right by Darynda Jones [I gave it 4 stars]
Urban Fantasy
This whole grim reaper thing should have come with a manual. Or a diagram of some kind. A flow chart would have been nice.
Charley Davidson is a part-time private investigator and full-time grim reaper. Meaning, she sees dead people. Really. And it's her job to convince them to "go into the light." But when these very dead people have died under less than ideal circumstances (like murder), sometimes they want Charley to bring the bad guys to justice. Complicating matters are the intensely hot dreams she's been having about an entity who has been following her all her life...and it turns out he might not be dead after all. In fact, he might be something else entirely. But what does he want with Charley? And why can't she seem to resist him? And what does she have to lose by giving in?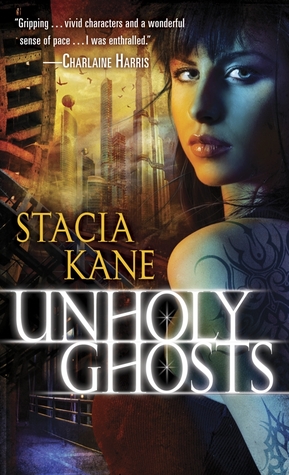 Unholy Ghosts by Stacia Kane [I gave it 4 stars]
Urban Fantasy
The world is not the way it was. The dead have risen, and the living are under attack. The powerful Church of Real Truth, in charge since the government fell, has sworn to reimburse citizens being harassed by the deceased. Enter Chess Putnam, a fully tattooed witch and freewheeling ghost hunter. She's got a real talent for banishing the wicked dead. But Chess is keeping a dark secret: She owes a lot of money to a murderous drug lord named Bump, who wants immediate payback in the form of a dangerous job that involves black magic, human sacrifice, a nefarious demonic creature, and enough wicked energy to wipe out a city of souls. Toss in lust for a rival gang leader and a dangerous attraction to Bump's ruthless enforcer, and Chess begins to wonder if the rush is really worth it. Hell, yeah.
The Ghost and the Goth by Stacey Kade [I gave it 4 stars]
Young Adult Paranormal
Alona Dare–Senior in high school, co-captain of the cheerleading squad, Homecoming Queen three years in a row, voted most likely to marry a movie star… and newly dead.
I'm the girl you hated in high school. Is it my fault I was born with it all-good looks, silky blond hair, a hot body, and a keen sense of what everyone else should not be wearing? But my life isn't perfect, especially since I died. Run over by a bus of band geeks—is there anything more humiliating? As it turns out, yes—watching your boyfriend and friends move on with life, only days after your funeral. And you wouldn't believe what they're saying about me now that they think I can't hear them. To top it off, I'm starting to disappear, flickering in and out of existence. I don't know where I go when I'm gone, but it's not good. Where is that freaking white light already?
Will Killian–Senior in high school, outcast, dubbed "Will Kill" by the popular crowd for the unearthly aura around him, voted most likely to rob a bank…and a ghost-talker.
I can see, hear, and touch the dead. Unfortunately, they can also see, hear and touch me. Yeah, because surviving high school isn't hard enough already. I've done my best to hide my "gift." After all, my dad, who shared my ability, killed himself because of it when I was fifteen. But lately, pretending to be normal has gotten a lot harder. A new ghost—an anonymous, seething cloud of negative energy with the capacity to throw me around—is pursuing me with a vengeance. My mom, who knows nothing about what I can do, is worrying about the increase in odd incidents, my shrink is tossing around terms like "temporary confinement for psychiatric evaluation," and my principal, who thinks I'm a disruption and a faker, is searching for every way possible to get rid of me. How many weeks until graduation?
The Gravedigger's Brawl by Abigail Roux [I gave it 4 stars]
Male/Male Paranormal
Dr. Wyatt Case is never happier than when he's walking the halls of his history museum. Playing wingman for his best friend at Gravedigger's Tavern throws him way out of his comfort zone, but not as much as the eccentric man behind the bar, Ash Lucroix.
Ash is everything Wyatt doesn't understand: exuberant, quirky, and elbow deep in a Gaslight lifestyle that weaves history into everyday life. He coordinates his suspenders with his tongue rings. Within hours, Wyatt and Ash are hooked.
But strange things are afoot at Gravedigger's, and after a knock to the head, Ash starts seeing things that can't be explained by old appliances or faulty wiring. Soon everyone at Gravedigger's is wondering if they're seeing ghosts, or just going crazy. The answer to that question could end more than just Wyatt and Ash's fragile relationship—it might also end their lives.