This is part of a feature where I focus on a specific theme (or trope) that I have found in my years as a voracious reader/blogger. I love finding commonalities between my favorite books and how that helps define me as a reader.

Please note this is not meant to be a comprehensive list. I am just picking a few examples of this trope. So, if you have a favorite example of this theme, let me know about it in the comments. I'm always on the lookout for more books to be added to my wishlist.
ARRANGED MARRIAGE
While I wouldn't want to have an arranged marriage, I do find them fascinating in my romance novels. I enjoy the idea of strangers or just acquaintances navigating the early days of marriage while learning more about one another. For this particular list, I am not counting mail order brides since I will probably do one for them later on.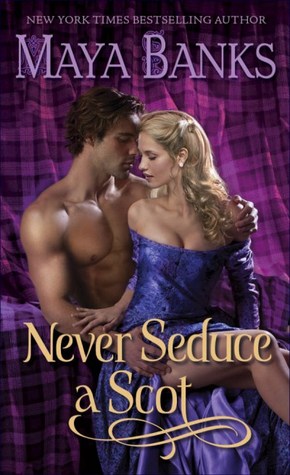 Never Seduce a Scot by Maya Banks [I gave it 4 stars]
Historical Romance -- Medieval Scotland
Eveline Armstrong is fiercely loved and protected by her powerful clan, but outsiders consider her "touched." Beautiful, fey, with a level, intent gaze, she doesn't speak. No one, not even her family, knows that she cannot hear. Content with her life of seclusion, Eveline has taught herself to read lips and allows the outside world to view her as daft. But when an arranged marriage into a rival clan makes Graeme Montgomery her husband, Eveline accepts her duty—unprepared for the delights to come. Graeme is a rugged warrior with a voice so deep and powerful that his new bride can hear it, and hands and kisses so tender and skilled that he stirs her deepest passions.
Graeme is intrigued by the mysterious Eveline, whose silent lips are ripe with temptation and whose bright, intelligent eyes can see into his soul. As intimacy deepens, he learns her secret. But when clan rivalries and dark deeds threaten the wife he has only begun to cherish, the Scottish warrior will move heaven and earth to save the woman who has awakened his heart to the beautiful song of a rare and magical love.
Untamed by Elizabeth Lowell [I gave it 4.5 stars]
Historical Romance -- Medieval Scotland
A hero of the crusades, Dominic le Sabre has returned in glory and in triumph to claim his reward: the beautiful Saxon bride awarded to him by the conqueror king. But Lady Margaret of the Blackthorne cannot yield to the bold Norman invader. The beloved daughter of a sacred tribe of the Celtic mystics, she fears an ancient curse that could bring further turmoil to her battle-scarred land...and sorrow to her marriage bed.
With a word, the lady could turn her wedding into war. But there awaits in the noble knight's embrace a promise of passion unbound - and a love that neither violence nor treachery can tear asunder, a love both invincible and...untamed.


Born in Sin by Kinley MacGregor [I gave it 5 stars]
Historical Romance -- Medieval Scotland
Stunning Caledonia MacNeely fights an unfamiliar shiver when she is offered in marriage to the infamous ′Lord Sin′. Though Callie fears this mysterious knight - less for the dark whispers that damn him than for the burning desire he invokes - she is under order of the English King. And with the fate of her troubled clan hanging in the balance, she has little recourse.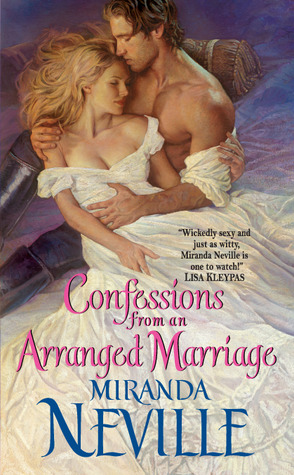 Confessions From an Arranged Marriage by Miranda Neville [I gave it 4 stars]
Historical Romance -- Regency England
In London after a two-year exile, Lord Blakeney plans to cut a swathe through the bedchambers of the demimonde. Marriage is not on his agenda, especially to an annoying chit like Minerva Montrose, with her superior attitude and a tendency to get into trouble. And certainly the last man Minerva wants is Blake, a careless wastrel without a thought in his handsome head.

The heat and noise of her debutante ball give Minerva a migraine. Surely a moment's rest could do no harm . . . until Blake mistakes her for another lady, leaving Minerva's guests to catch them in a very compromising position. To her horror, the scandal will force them to do the unthinkable: marry. Their mutual loathing blazes into unexpected passion but Blake remains distant, desperate to hide a shameful secret. Minerva's never been a woman to take things lying down, and she'll let nothing stop her from winning his trust . . . and his heart.
A Matter of Class by Mary Balogh [I gave it 4 stars]
Historical Romance -- Regency England
Reginald Mason is wealthy, refined, and, by all accounts, a gentleman. However, he is not a gentleman by title, a factor that pains him and his father within the Regency society that upholds station over all else. That is, until an opportunity for social advancement arises, namely, Lady Annabelle Ashton. Daughter of the Earl of Havercroft, a neighbor and enemy of the Mason family, Annabelle finds herself disgraced by a scandal, one that has left her branded as damaged goods. Besmirched by shame, the earl is only too happy to marry Annabelle off to anyone willing to have her.
Though Reginald Mason, Senior, wishes to use Annabelle to propel his family up the social ladder, his son does not wish to marry her, preferring instead to live the wild, single life he is accustomed to. With this, Reginald Senior serves his son an ultimatum: marry Annabelle, or make do without family funds. Having no choice, Reginald consents, and enters into a hostile engagement in which the prospective bride and groom are openly antagonistic, each one resenting the other for their current state of affairs while their respective fathers revel in their suffering.
So begins an intoxicating tale rife with dark secrets, deception, and the trials of love—a story in which very little is as it seems.
Beast by Judith Ivory [I gave it 4 stars]
Historical Romance -- Early 20th Century France
American heiress Louise Vandermeer has agreed to marry a European aristocrat. Her intended is rumored to be a hideously ugly man, a prospect that propels her into a reckless shipboard affair with a compelling stranger she never sees in the light of day. Unbeknownst to Louise, her mystery man is actually her betrothed, Charles d'Harcourt, whose romantic prank backfires when he becomes smitten with his own fiancee.
My Darling Caroline by Adele Ashworth [I gave it 4 stars]
Historical Romance -- Regency England
One by one, Lady Caroline Grayson watched her four sisters celebrate their betrothals, truly sure that marriage was not in her future—and perfectly pleased with that fact. Or so she thought.
Brent Ravenscroft, Earl of Weymerth, nearly gave his life for the Crown. He returned to England a hero with no intention of taking a bride, certain his brusque demeanor would intimidate any young ladies drawn to his good looks—or so he thought.
Bound by a business transaction, Caroline and Brent begin life as husband and wife. Utterly determined not to fall for each other, they stubbornly ignore the sparks flying between them and keep secrets at every turn. They would resist the lure of love—and the pleasures of the marriage bed—forever . . . or so they thought.
A Texan's Luck by Jodi Thomas [I gave it 4 stars]
Historical Romance -- Western
Captain Walker Larson received the shock of his life when a beautiful stranger boldly walked into his office—claiming to be his wife. His father may have bought Lacy Larson for him in a wife lottery, but Walker had no desire for a bride—even one as captivating as the one standing before him. So he promptly sent Lacy back to Cedar Point.
Nearly three years later, Lacy is shocked when Walker shows up on her doorstep—ordered by the military to protect his wife from a killer. Lacy wants nothing to do with the gruff soldier who once drove her away.
But despite their different lifestyles and expectations, she finds herself wondering if their marriage was a far better gamble than either of them had imagined...and what it would feel like to be in his arms.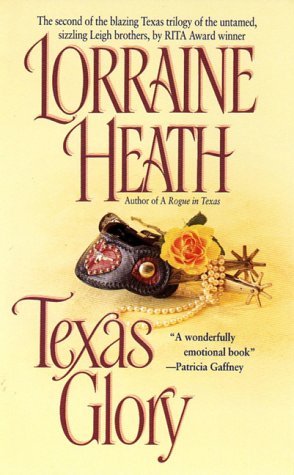 Texas Glory by Lorraine Heath [I gave it 4.5 stars]
Historical Romance -- Western
SHE WAS GIVEN TO A STRANGER
Cordelia McQueen was a virtual prisoner in her father's house. Until everything changed when she was shamelessly traded in a battle for land and water rights, and thrust into an unfamiliar world as the bride of Dallas Leigh.
HE BELONGED TO THE LAND
Dallas had given his life to the land. Now he aimed to put West Texas on the map. But as he gazed into the eyes of the lovely stranger who belonged to him, he caught a glimpse of another ambition—a warm, radiant desire of the heart. Was this the woman who would walk beside him as, together, they carved out a rich future with all the promise of love?
Kiss an Angel by Susan Elizabeth Phillips [I gave it 4 stars]
Contemporary Romance
Pretty, flighty Daisy Devreaux can either go to jail or marry the mystery man her father has chosen for her. Arranged marriages don't happen in the modern world, so how did the irrepressible Daisy find herself in this fix?
Alex Markov, as humorless as he is deadly handsome, has no intention of playing the loving bridegroom to a spoiled little feather-head with champagne tastes. He drags Daisy from her uptown life to a broken down traveling circus and sets out to tame her to his ways.
But this man without a soul has met his match in a woman who's nothing but heart. Before long, passion will send them flying sky high without a safety net... risking it all in search of a love that will last forever.
Lover Enshrined by JR Ward [I gave it 4 stars]
Paranormal Romance -- Vampires
Fiercely loyal to the Black Dagger Brotherhood, Phury has sacrificed himself for the good of the race, becoming the male responsible for keeping the Brotherhood's bloodlines alive. As Primale of the Chosen, he is obligated to father the sons and daughters who will ensure that the traditions of the race survive, and that there are warriors to fight those who want all vampires extinguished.

As his first mate, the Chosen Cormia wants to win not only his body, but his heart for herself. She is drawn to the noble responsibility behind the emotionally scarred male. But Phury has never allowed himself to know pleasure or joy. As the war with the Lessening Society grows grim, tragedy looms over the Brotherhood's mansion, and Phury must decide between duty and love....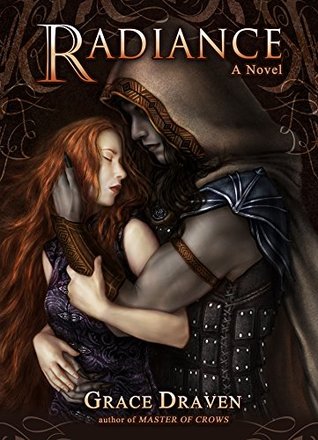 Radiance by Grace Draven [I gave it 4.5 stars]
Fantasy Romance
THE PRINCE OF NO VALUE
Brishen Khaskem, prince of the Kai, has lived content as the nonessential spare heir to a throne secured many times over. A trade and political alliance between the human kingdom of Gaur and the Kai kingdom of Bast-Haradis requires that he marry a Gauri woman to seal the treaty. Always a dutiful son, Brishen agrees to the marriage and discovers his bride is as ugly as he expected and more beautiful than he could have imagined.

THE NOBLEWOMAN OF NO IMPORTANCE
Ildiko, niece of the Gauri king, has always known her only worth to the royal family lay in a strategic marriage. Resigned to her fate, she is horrified to learn that her intended groom isn't just a foreign aristocrat but the younger prince of a people neither familiar nor human. Bound to her new husband, Ildiko will leave behind all she's known to embrace a man shrouded in darkness but with a soul forged by light.

Two people brought together by the trappings of duty and politics will discover they are destined for each other, even as the powers of a hostile kingdom scheme to tear them apart.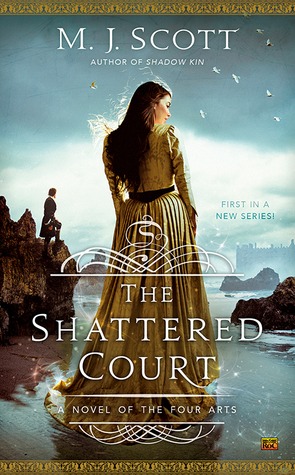 The Shattered Court by M.J. Scott [I gave it 4.25 stars]
Fantasy Romance
The royal witches of Anglion have bowed to tradition for centuries. If a woman of royal blood manifests powers, she is immediately bound by rites of marriage. She will serve her lord by practicing the tamer magics of the earth—ensuring good harvests and predicting the weather. Any magic more dangerous is forbidden.
Lady Sophia Kendall, thirty-second in line to the throne, is only days away from finding out if she will be blessed—or perhaps cursed—with magic. When a vicious attack by Anglion's ancient enemies leaves the kingdom in chaos, Sophia is forced to flee the court. Her protector by happenstance is Lieutenant Cameron Mackenzie, a member of the royal guard, raised all his life to be fiercely loyal to the Crown.
Then Sophia's powers manifest stronger than she ever imagined they would, and Cameron and she are inextricably linked in the process. As a witch unbound by marriage rites, Sophia is not only a threat to the established order of her country, but is also a weapon for those who seek to destroy it. Faced with old secrets and new truths, she must decide if she will fight for her country or succumb to the delicious temptation of power.…
Firelight by Kristen Callihan [I gave it 3.5 stars]
Historical/Paranormal Romance
Once the flames are ignited . . .Miranda Ellis is a woman tormented. Plagued since birth by a strange and powerful gift, she has spent her entire life struggling to control her exceptional abilities. Yet one innocent but irreversible mistake has left her family's fortune decimated and forced her to wed London's most nefarious nobleman.
They will burn for eternity . . .
Lord Benjamin Archer is no ordinary man. Doomed to hide his disfigured face behind masks, Archer knows it's selfish to take Miranda as his bride. Yet he can't help being drawn to the flame-haired beauty whose touch sparks a passion he hasn't felt in a lifetime. When Archer is accused of a series of gruesome murders, he gives in to the beastly nature he has fought so hard to hide from the world. But the curse that haunts him cannot be denied. Now, to save his soul, Miranda will enter a world of dark magic and darker intrigue. For only she can see the man hiding behind the mask.