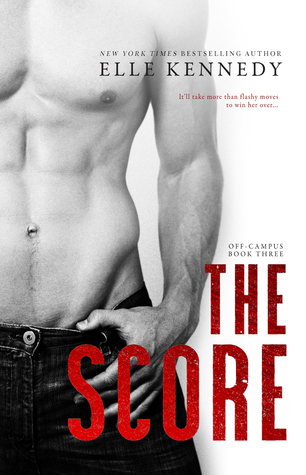 (Off-Campus #3)

For Ages 18+ (Language, Sensuality)
New Adult -- Contemporary

Self-Published -- Published on January 11, 2016
Ebook, 361 pages
Read in January 2016
Purchased from Amazon

RATING: 4 STARS
THEMES/TROPES
First Person Narrative, Multiple Narratives, Athlete Hero, Actress Heroine
SUMMARY
He knows how to score, on and off the ice...

Allie Hayes is in crisis mode. With graduation looming, she still doesn't have the first clue about what she's going to do after college. To make matters worse, she's nursing a broken heart thanks to the end of her longtime relationship. Wild rebound sex is definitely not the solution to her problems, but gorgeous hockey star Dean Di-Laurentis is impossible to resist. Just once, though, because even if her future is uncertain, it sure as heck won't include the king of one-night stands.

It'll take more than flashy moves to win her over...

Dean always gets what he wants. Girls, grades, girls, recognition, girls…he's a ladies man, all right, and he's yet to meet a woman who's immune to his charms. Until Allie. For one night, the feisty blonde rocked his entire world—and now she wants to be friends? Nope. It's not over until he says it's over. Dean is in full-on pursuit, but when life-rocking changes strike, he starts to wonder if maybe it's time to stop focusing on scoring…and shoot for love.
FIRST LINE
"There are six text messages waiting for me when I check my phone on the way out of the campus fitness center on Friday night."


MY THOUGHTS
The Score
is the third book in the Off-Campus series and, while the previous couples play a big role, it can be easily read as a stand-alone. This time the focus shifts to Allie Hayes, best friend of Hannah from
The Deal
. She has recently broken up with her boyfriend and is feeling lost with the end of her college career approaching. The last thing she needs is to get tangled up with campus's resident ladies' man, Dean Di-Laurentis, but that is exactly what happens. And then Allie and Dean have to deal with the fact that their physical relationship is slowly becoming something much more.
I adored Allie in earlier books in this series and I enjoyed learning more about her. I liked the fact that she was an actress and is trying to figure out what her next career move will be. I also adored seeing her relationship with her dad and that affected her decisions. In terms of romance, Allie is interesting because she enjoys being in relationships so the situation with Dean is definitely new ground for her.
Dean was a fabulous hero and I will admit I wasn't sure what to expect from him. I thought it was great that he was unapologetic about his love of sex and also treated his lovers with respect. After reading many NA romances where the hero is hiding "deep, secret pain from their past", I liked that Dean came from a solid, loving family. He does go through a dark period that I thought provided more complexity to his character and allowed him to re-evaluate what he wanted from life.
Allie and Dean's chemistry was electric from the start. I am not usually into the "friends with benefits turned into lovers" plot, but it worked for me here. These two got along so well that I relished every scene with them especially the ones where they watched the French soap opera to help Allie learn the language. I felt like these scenes helped establish them as great friends that could easily work as a couple if they would just let it happen. Both of them have reasons why they want to keep their connection strictly physical and it was interesting to see how they reacted to those reasons becoming less important. When Dean suddenly has to deal with a personal tragedy, their relationship is tested and they learn how much they really do mean to one another.
I found
The Score
to be very entertaining with likable characters and an intriguing romance. Elle Kennedy's NA writing style definitely works for me and I am very excited to see what she does with this series next especially with the big reveal we got at the end of this book.