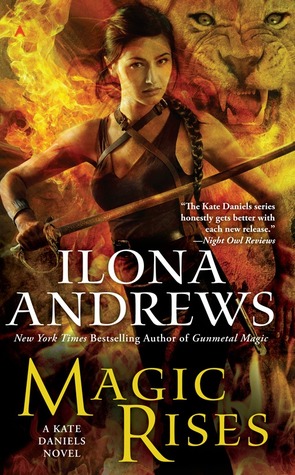 (Kate Daniels #6)

For Ages 18+ (Language, Violence, Sensuality)
Urban Fantasy

Penguin -- Published on July 30, 2013
SUMMARY
Atlanta is a city plagued by magical problems. Kate Daniels will fight to solve them—no matter the cost.

Mercenary Kate Daniels and her mate, Curran, the Beast Lord, are struggling to solve a heartbreaking crisis. Unable to control their beasts, many of the Pack's shapeshifting children fail to survive to adulthood. While there is a medicine that can help, the secret to its making is closely guarded by the European packs, and there's little available in Atlanta.

Kate can't bear to watch innocents suffer, but the solution she and Curran have found threatens to be even more painful. The European shapeshifters who once outmaneuvered the Beast Lord have asked him to arbitrate a dispute—and they'll pay him in medicine. With the young people's survival and the Pack's future at stake, Kate and Curran know they must accept the offer—but they have little doubt that they're heading straight into a trap…
THEMES AND TROPES
Alpha Hero, Alpha Heroine, Established Couple, Magic/Sorcery
READING CHALLENGES
2016 Spooks, Howls, and Fangs Challenge
MY THOUGHTS
I'm finally back to this series! I fell in love with Kate and Curran last year and then had to wait awhile to get the two most recent releases from the library. But, now I'm close to being caught up and am just loving how Ilona Andrews is building this world and these characters.
In Magic Rises, Kate and her boyfriend, Curran, are dealing with a major issue within the Pack. It is common knowledge that there is a chance of shapeshifters going loup and dying during childhood. So, when Curran is offered the opportunity to receive a medicine that would help prevent such tragedies, he knows he has to take it even if it means acting as a bodyguard and negotiator for two volatile Packs in Europe. He and Kate knows this is a likely trap so they travel with a large entourage and just hope they all come home.

This was such an action-packed story! Things get going right away and the plot never lets go. I loved the suspense element as to who is trying to sabotage the negotiations. It was also interesting to see the way that the overall series plot is moving along. The inevitable confrontation between Kate and her father is still in the works, but it is obvious that the effects of it will reverberate throughout the world.

Of course, the characters are what makes this book (and series) come to life. Kate is narrator and is just one of the best heroines I've ever read. Her strength is obvious, but this book really shows her vulnerabilities especially when it comes her impending battle with her father and her relationship with Curran. Speaking of Curran, I was really worried about certain aspects of his storyline in this book. But, Ilona Andrews did not let me down and even had me tearing up with the beauty of Kate and Curran's connection.

And then there's all the side characters which provide balance and conflict for Kate and Curran. Pack dynamics are a key aspect of Magic Rises and that is shown in the sheer amount of characters that pepper the landscape of this book. I loved that Derek, Jim, Barabas, and Andrea were very prominent in this book. I enjoyed interacting with new characters like Christopher and Astamur. There are also tons of villains in here to keep Kate and Curran on their toes.

Magic Rises was an emotional, dark, and surprisingly fun installment that continues to show off the authors' writing skills. The series is just getting better and better which isn't always the case in popular, long-running collections like this. After the events of this book, I am really interested in where the plot is going next so I'm off to read Magic Breaks!
"Go to the Black Sea, meet new people, see beautiful places, get killed by a mutant carnivorous kangaroo goat. One item off my bucket list."