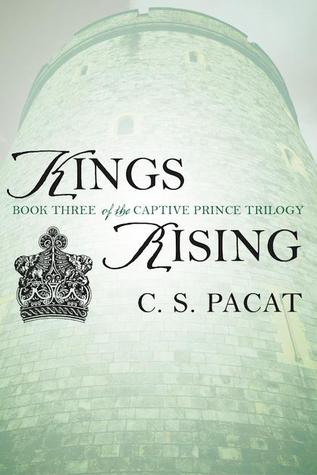 Kings Rising (Captive Prince #3) by C.S. Pacat
M/M Fantasy
Penguin -- February 2, 2016
Damianos of Akielos has returned.
His identity now revealed, Damen must face his master Prince Laurent as Damianos of Akielos, the man Laurent has sworn to kill.
On the brink of a momentous battle, the future of both their countries hangs in the balance. In the south, Kastor's forces are massing. In the north, the Regent's armies are mobilising for war. Damen's only hope of reclaiming his throne is to fight together with Laurent against their usurpers.
Forced into an uneasy alliance the two princes journey deep into Akielos, where they face their most dangerous opposition yet. But even if the fragile trust they have built survives the revelation of Damen's identity - can it stand against the Regent's final, deadly play for the throne?
I have been anticipating this book for almost five years and am happy to say that it met almost all of my expectations! Damen and Laurent are amazingly developed and it was great to see them working together to reach their destinies. I just adore the way how Laurent is always a few steps ahead of others. The world building continues to be detailed and creative while the side characters were almost as fascinating as the main couple. I do wish that the ending wasn't as abrupt, but I am hoping to get more of Damen and Laurent in the future.
(4.5 STARS)
Full Exposure by Amy Jo Cousins
M/M Contemporary
Smashwords -- August 4, 2015
There's more than one way to be a rock star...

Evan Pak is a card-carrying geek (he even has the job to prove it), but when his photographer brother invites him to tag along on a photo shoot with rock star Riley Flood, he figures it will be two days of ogling and eye-rolling and nothing more. But the reckless bad boy is nothing like he expected, and Evan is mesmerized by the mix of cocky and sweet he sees in Riley.
When a spontaneous idea ends with Evan stripping down under the hot lights for an intimate portrait for Riley's next album cover, Evan is absolutely sure their connection won't end when the lights are turned off. Especially since Riley can't seem to keep his hands off the tattoos Evan hides under his clothes.

Even a spoiled rock star wants to give up control sometimes, if only for a weekend. The world is full of people who want things from Riley and the demands on him never stop. Evan knows exactly how to turn off the noise in Riley's head and it starts by putting him on his knees.

Together, they will push each other higher and farther than either one of them have ever gone before. It's easy to take risks when there's a time limit on the game. But when their time is up, what comes next if they don't want the game to end?
This was sweet and sexy novella that was very different from the other Amy Jo Cousins's romances I've read. I really liked the depiction of Evan especially and thought Riley was a good partner for him. The chemistry between the guys was electric and their love scenes were much more sensual than I'm used to from this author. I thought the shorter page length worked well for this story, but I would love to see more about them.
(3.5 STARS)
How the Cookie Crumbles (Bluewater Bay #12) by Jaime Samms
M/M Contemporary
Riptide Publishing -- February 13, 2016
After losing a rigged cooking show competition — and a potential lover — to another baker, Frederic Jackson packs up his considerable baggage and moves to Bluewater Bay. He uses the network's hush money to buy a new bakery where he hopes the small town's revitalized economy will let him start anew.
Blaire Caruthers never wanted to work for his father at Caruthers Industries. He should have known that fixing the company's show results was a mistake, and that choosing another man over kind, generous Frederic was an even bigger one. But the damage is done. As punishment, he's been sent to Bluewater Bay to oversee the company's interest in Wolf's Landing merchandise.
Stuck in a small, nowhere town doing a job he hates, Blaire wants nothing more than to prove to Frederic he's changed. However, Frederic struggles to trust the man who betrayed him once already. As Blaire loses ground with his father, and Frederic starts falling back into self-destructive habits, they both have to find the balance and control that's been missing from their lives.
I received a free eARC of this book from Riptide Publishing via Netgalley in exchange for an honest review.
I am always happy to return to Bluewater Bay and this was another decent read in the series. I liked the premise of the couple knowing each other from a rigged reality show and being reunited. Frederic was fascinating especially with his bakery obsession. I really felt for Blaire as he tried to prove himself to Frederic. I just wanted more romance development before the I Love Yous. Still I had a good time reading this and recommend it for fans of sweet M/M contemporaries.
(3.5 STARS)
Clockwork Heart (Clockwork Love #1) by Heidi Cullinan
M/M Steampunk
Samhain Publishing -- February 2, 2016
As the French army leader's bastard son, Cornelius Stevens enjoys a great deal of latitude. But when he saves an enemy soldier using clockwork parts, he's well aware he risks hanging for treason. That doesn't worry him half as much, however, as the realization he's falling for his patient.
Johann Berger never expected to survive his regiment's suicide attack on Calais, much less wake up with mechanical parts. To avoid discovery, he's forced to hide in plain sight as Cornelius's lover—a role Johann finds himself taking to surprisingly well.
When a threat is made on Cornelius's life, Johann learns the secret of the device implanted in his chest—a mythical weapon both warring countries would kill to obtain. Caught up in a political frenzy, in league with pirates, dodging rogue spies, mobsters and princesses with deadly parasols, Cornelius and Johann have no time to contemplate how they ended up in this mess. All they know is, the only way out is together—or not at all.
I received a free eARC of this book from Samhain Publishing via Netgalley in exchange for an honest review.

I adore almost everything Heidi Cullinan writes so, of course, I was excited about her new steampunk series. The world building was very creative and exactly what I want from steampunk. I especially liked how varied the descriptions of the European countries were. Cornelius and Johann were lots of fun to read about and very easy to root for. I loved how well they worked as a couple despite how different they were. The beginning was a little slow, but things picked up once they joined the pirate crew and the action just kept going from there. I'm hoping to see more in this world especially if Valentin and Crawley get a story next! (4 STARS)