Hosted by the ladies over at The Broke and the Bookish.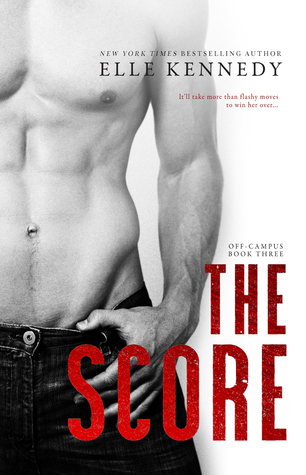 1. The Score by Elle Kennedy (NA contemporary)
He knows how to score, on and off the ice...
Allie Hayes is in crisis mode. With graduation looming, she still doesn't have the first clue about what she's going to do after college. To make matters worse, she's nursing a broken heart thanks to the end of her longtime relationship. Wild rebound sex is definitely not the solution to her problems, but gorgeous hockey star Dean Di-Laurentis is impossible to resist. Just once, though, because even if her future is uncertain, it sure as heck won't include the king of one-night stands.

It'll take more than flashy moves to win her over...
Dean always gets what he wants. Girls, grades, girls, recognition, girls…he's a ladies man, all right, and he's yet to meet a woman who's immune to his charms. Until Allie. For one night, the feisty blonde rocked his entire world—and now she wants to be friends? Nope. It's not over until he says it's over. Dean is in full-on pursuit, but when life-rocking changes strike, he starts to wonder if maybe it's time to stop focusing on scoring…and shoot for love.

2. Dark Horse by Michelle Diener (science fiction romance)
Some secrets carry the weight of the world.
Rose McKenzie may be far from Earth with no way back, but she's made a powerful ally--a fellow prisoner with whom she's formed a strong bond. Sazo's an artificial intelligence. He's saved her from captivity and torture, but he's also put her in the middle of a conflict, leaving Rose with her loyalties divided.
Captain Dav Jallan doesn't know why he and his crew have stumbled across an almost legendary Class 5 battleship, but he's not going to complain. The only problem is, all its crew are dead, all except for one strange, new alien being.
She calls herself Rose. She seems small and harmless, but less and less about her story is adding up, and Dav has a bad feeling his crew, and maybe even the four planets, are in jeopardy. The Class 5's owners, the Tecran, look set to start a war to get it back and Dav suspects Rose isn't the only alien being who survived what happened on the Class 5. And whatever else is out there is playing its own games.

3. Crash & Burn by Abigail Roux (M/M contemporary)
It's been five years since Special Agents Ty Grady and Zane Garrett first worked together to solve the Tri-State murders, and time has been both harsh and kind. Engaged now, they face the challenge of planning a deeply uncertain future together. Zane is at the pinnacle of his career with one last mystery to solve, while Ty is at sea in a world where he's no longer the tip of a spear.
There's just one more hurdle in the way of their happy ever after: a traitor from their inner circle who threatens to burn their world to the ground.
Squeezed between the Vega cartel, an unknown mole, and too many alphabet agencies to count, Ty and Zane must gather all their strength and resources to beat the longest odds they've ever faced. To make it out alive, they'll need help from every friend they've got. Even the friends who might betray their trust.

4. A Rebel without a Rogue by Bliss Bennet (historical romance)
A woman striving for justice...
Fianna Cameron has devoted her life to avenging the death of her father, hanged as a traitor during the Irish Rebellion of 1798. Now, on the eve of her thirtieth birthday, only one last miscreant remains: Major Christopher Pennington, the English army officer who not only oversaw her father's execution, but falsely maligned his honor. Fianna risks everything to travel to London and confront the man who has haunted her every nightmare. Only after her pistol misfires does she realize her sickening mistake: the Pennington she wounded is far too young to be the man who killed her father.
A man who will protect his family at all costs...
Rumors of being shot by a spurned mistress might burnish the reputation of a rake, but for Kit Pennington, determined to add to his family's honor by winning a seat in Parliament, such salacious gossip is nothing but a nightmare. To regain his good name, Kit will have to track down his mysterious attacker and force her to reveal the true motivation behind her unprovoked assault. Accepting an acquaintance's mistress as an ally in his search is risky enough, but when Kit begins to develop feelings for the icy, ethereal Miss Cameron, more than his political career is in danger. For Kit is beginning to suspect that Fianna Cameron knows far more about the shooting—and the reasons behind it—than she's willing to reveal.
As their search begins to unearth long-held secrets, Kit and Fianna find themselves caught between duty to family and their beliefs in what's right. How can you balance the competing demands of loyalty and justice—especially when you add love to the mix?

5. True Pretenses by Rose Lerner (historical romance)
Through sheer force of will, Ash Cohen raised himself and his younger brother from the London slums to become the best of confidence men. He's heartbroken to learn Rafe wants out of the life, but determined to grant his brother his wish.
It seems simple: find a lonely, wealthy woman. If he can get her to fall in love with Rafe, his brother will be set. There's just one problem—Ash can't take his eyes off her.
Heiress Lydia Reeve is immediately drawn to the kind, unassuming stranger who asks to tour her family's portrait gallery. And if she married, she could use the money from her dowry for her philanthropic schemes. The attraction seems mutual and oh so serendipitous—until she realizes Ash is determined to matchmake for his younger brother.
When Lydia's passionate kiss puts Rafe's future at risk, Ash is forced to reveal a terrible family secret. Rafe disappears, and Lydia asks Ash to marry her instead. Leaving Ash to wonder—did he choose the perfect woman for his brother, or for himself?

6. Upon a Midnight Dream by Rachel Van Dyken (historical romance)
"I release you..." were the last words Rosalind remembered before her world went black. Stefan, the future duke of Montmouth, no doubt thought his words were welcomed but he couldn't have been more wrong. Oh, he was handsome as a pagan Norse god, but that was unimportant when her life as well as those of her family hung in the balance.

With less than six weeks left, Rosalind has stopped believing in the fairy tale, the prince on the white horse, and the stolen kiss that would awaken her from her worst nightmares. Resigned to her fate, she waits for the inevitable curse to run it's course.

"We must marry at once!" Stefan declared, fully expecting Rosalind to be delighted that he had come to save her, but he was sorely mistaken. Rosalind was no simpering docile female; she was a fiery temptress with a stubborn streak only matched by his horse, Samson. Insulting, infuriating, intoxicating and alluring enough to drive a man mad. Stefan found himself thankful for the curse that required him marry her, thankful for the betrothal contract he had so recently tried to release her from...With the fortitude of a sailor shipwrecked, abandoned, and a solider warring for his life Stefan decides to lay siege to the greatest prize, Rosalind's heart.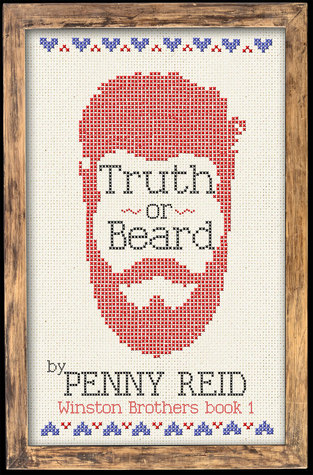 7. Truth or Beard by Penny Reid (contemporary romance)
Beards, brothers, and bikers! Oh my!
Identical twins Beau and Duane Winston might share the same devastatingly handsome face, but where Beau is outgoing and sociable, Duane is broody and reserved. This is why Jessica James, recent college graduate and perpetual level headed good girl, has been in naïve and unhealthy infatuation with Beau Winston for most of her life. His friendly smiles make her tongue-tied and weak-kneed, and she's never been able to move beyond her childhood crush. Whereas Duane and Jessica have always been adversaries. She can't stand him, and she's pretty sure he can't stand the sight of her…
But after a case of mistaken identity, Jessica finds herself in a massive confusion kerfuffle. Jessica James has spent her whole life paralyzed by the fantasy of Beau and her assumptions of Duane's disdain; therefore she's unprepared for the reality that is Duane's insatiable interest, as well as his hot hands and hot mouth and hotter looks. Not helping Jessica's muddled mind and good girl sensibilities, Duane seems to have gotten himself in trouble with the local biker gang.
Certainly, Beau's magic spell is broken. Yet when Jessica finds herself drawn to the man who was always her adversary, now more dangerous than ever, how much of her level-headed heart is she willing to risk?

8. Slamdunked by Love by Jamie Wesley (contemporary romance)
Revenge is supposed to be sweet…\
Caitlin Monroe is ready to confront her past. Years ago, her father ditched her mother for the NBA, leaving her pregnant and alone. Now he's a big-shot coach, and Caitlin's ready to take the so-called "family man" down. But on her way to the team gala, her car dies, and it's her father's sexy new star player who comes to her rescue.
Brady Hudson wants nothing more than to put his past behind him and concentrate on winning the championship for his new team. But when he finds himself the recipient of unwanted attention—attention that could destroy his career—he introduces the beautiful woman he saved on the side of the road as his "girlfriend."

Brady needs to focus on his job. And Caitlin isn't about to date an athlete whose career is riding on her father—though he is a convenient way to get the dirt she needs. But sometimes love has other ideas, and it's not long before their pretend relationship becomes a liability neither can resist…

9. A Pirate for Christmas by Anna Campbell (historical romance)
There's a pirate in the manor house!

What is vicar's daughter Bess Farrar to do when the dashing new earl, the man gossip paints as a ruthless pirate, kisses her the day they meet? Why, kiss him right back, of course! Now Lord Channing vows to claim the lovely firebrand, despite interfering villagers, a snowstorm, scandal, and a rascally donkey. The gallant naval captain's first landlocked Christmas promises mayhem – and a lifetime of breathtaking passion

Pursued by the pirate…

Bess Farrar might be an innocent village miss, but she knows enough about the world to doubt Lord Channing's motives when he kisses her the very day they meet. After all, local gossip insists that before this dashing rake became an earl, he sailed the Seven Seas as a ruthless pirate.

Bewitched by the vicar's daughter…

Until he unexpectedly inherits a title, staunchly honorable Scotsman Rory Beaton has devoted his adventurous life to the Royal Navy. But he sets his course for tempestuous new waters when he meets lovely, sparkling Bess Farrar. Now this daring mariner will do whatever it takes to convince the spirited lassie to launch herself into his arms and set sail into the sunset.

A Christmas marked by mayhem.

Wooing his vivacious lady, the new Earl of Channing finds himself embroiled with matchmaking villagers, an eccentric vicar, mistaken identities, a snowstorm, scandal, and a rascally donkey. Life at sea was never this exciting. The gallant naval captain's first landlocked Christmas promises hijinks, danger, and passion – and a breathtaking chance to win the love of a lifetime.


10. Happily Ever Ninja (Knitting in the City #5) by Penny Reid (contemporary romance)
There are three things you need to know about Fiona Archer… I would tell you what they are, but then I'd have to kill you.
But I can tell you that Fiona's husband—the always irrepressible and often cantankerous Greg Archer—is desperately in love with his wife. He aches for her when they are apart, and is insatiable when they are together. Yet as the years pass, Greg has begun to suspect that Fiona is a ninja. A ninja mom. A ninja wife. A ninja friend. After fourteen years of marriage, Greg is trying not to panic. Because Fiona's talent for blending in is starting to resemble fading away.
However, when unexpected events mean Fiona must take center stage to keep her family safe, her response stuns everyone—Greg most of all. It seems like Greg's wish has come true.

Except… not.

When all is said and done, can Greg handle this new version of his wife? Will his irrepressible cantankerousness push her away? Or can the couple find a way forward without either being forced to step back into the shadows?