This is part of a feature where I focus on a specific theme (or trope) that I have found in my years as a voracious reader/blogger. I love finding commonalities between my favorite books and how that helps define me as a reader.

Please note this is not meant to be a comprehensive list. I am just picking a few examples of this trope. So, if you have a favorite example of this theme, let me know about it in the comments. I'm always on the lookout for more books to be added to my wishlist.
SCARLET PIMPERNEL RETELLINGS
These are books where the hero or the heroine disguises themselves as their opposite in order to keep their true purpose a secret. Very often they act foolish or clumsy or empty-headed so that no one suspects them of being a vigilante. Things, of course, get complicated in romantic retellings of this tale when the protagonist falls in love and must figure out what to do about their disguise.
The Black Moth by Georgette Heyer
Historical Romance -- Regency England
A disgraced lord, a notorious highwayman...
Jack Carstares, the disgraced Earl of Wyndam, left England seven long years ago, sacrificing his honor for that of his brother when he was accused of cheating at cards. Now Jack is back, roaming his beloved South Country in the disguise of a highwayman.

And the beauty who would steal his heart...
Not long after Jack's return, he encounters his old adversary, the libertine Duke of Andover, attempting the abduction of the beautiful Diana Beauleigh. At the point of Jack's sword, the duke is vanquished, but foiled once, the "Black Moth" has no intention of failing again?
His at Night by Sherry Thomas
[I gave it 4.5 stars.]
Historical Romance -- Victorian England
Elissande Edgerton is a desperate woman, a virtual prisoner in the home of her tyrannical uncle. Only through marriage can she claim the freedom she craves. But how to catch the perfect man?

Lord Vere is used to baiting irresistible traps. As a secret agent for the government, he's tracked down some of the most devious criminals in London, all the while maintaining his cover as one of Society's most harmless—and idiotic—bachelors. But nothing can prepare him for the scandal of being ensnared by Elissande.

Forced into a marriage of convenience, Elissande and Vere are each about to discover that they're not the only one with a hidden agenda. With seduction their only weapon—and a dark secret from the past endangering both their lives—can they learn to trust each other even as they surrender to a passion that won't be denied?
No Ordinary Groom by Gayle Cullen
Historical Romance -- Regency England
Miss Jane Whittington's hopes have been dashed. She'd always imagined herself marrying someone daring, adventurous, exciting. Instead, the man her father has betrothed her to is...a fop! Certainly William Chadwick is devastatingly handsome, but Jane could never love a dandy who cares for nothing save the latest fashions. So why does his heated gaze enflame a desire in her that she's never known?

His work as a British spy has kept William apart from proper society for years -- and he has no idea that his latest "disguise" is anything less than appropriate. Now that he longs for a simpler, safer lot, he believes he's found his ideal bride in this irresistible beauty. But it will take a special sort of seduction to win Jane's heart. And when the Crown calls him back into service, how can William refuse -- even if it costs him the peace he covets...and the woman he can no longer live without?
Confessions of a Little Black Gown by Elizabeth Boyle
[I gave it 3.5 stars.]
Historical Romance -- Regency England
Thalia Langley spied him in the shadows and in an instant, knew the man before her was no pious saint. He might claim to be the Duke of Hollindrake's unassuming country cousin, Milo Ryder, but no man that handsome, so arresting could be anything but... well, he simply must be an unrepentant rogue. His cat-like grace and power leaves Tally shivering in her slippers at the notion of all the wicked, forbidden things he might be capable of doing . . . to her, or the secrets he could uncover.

Indeed, Lord Larken is no bumbling vicar, but a master spy there in His Majesty's service to find—and murder—a notorious pirate freed in a daring prison escape. Devoted to the Crown, Larken's not about to let an interfering (and not entirely innocent) Mayfair miss disrupt his ruthless plans. He cannot be tempted . . . not even by the little black gown she dons to tantalize him . . . a dress revealing enough to lead even Larken astray.
The Forbidden Rose by Joanna Bourne
Historical Romance -- Regency England
Marguerite de Fleurignac, once privileged aristocrat, is on the run, disguised as penniless British governess Maggie Duncan. William Doyle, England's top spy, has a score to settle with her, recognized when he pulls her from her burned-out chateau. Drawn inexorably into mad revolutionary Paris, they gamble on a inadmissible love destined for betrayal.
The Saint Who Stole My Heart by Stefanie Sloane
Historical Romance -- Regency England
Possessed of a brilliant mind and a love for puzzles, Dashiell Matthews, Viscount Carrington, is a crucial member of the elite Young Corinthians spy league. Assuming the façade of an addle-brained Adonis, he hunts for a notorious London murderer known as the Bishop. When fate causes him to cross paths with Miss Elena Barnes, Dash discovers an enigma that will prove delightfully intoxicating to unravel: a voluptuous beauty as intelligent as she is fearless.

Only the lure of a collection of rare books bequeathed to her family by Dash's late father could tempt Elena from her cozy rural life to the crush and vanity of London. But if Elena finds his lordship to be the most impossibly beautiful man she's ever seen, he also seems to be the stupidest. Which made her body's shameless response to his masterful seduction all the more unfathomable. Yet when she discovers Dash's mission to track the dangerous Bishop, she willingly risks everything—her trust, her heart, her very life—to join him.
Thief of Shadows by Elizabeth Hoyt

[I gave it 5 stars.]
Historical Romance -- Georgian England
Winter Makepeace lives a double life. By day he's the stoic headmaster of a home for foundling children. But the night brings out a darker side of Winter. As the moon rises, so does the Ghost of St. Giles-protector, judge, fugitive. When the Ghost, beaten and wounded, is rescued by a beautiful aristocrat, Winter has no idea that his two worlds are about to collide.

Lady Isabel Beckinhall enjoys nothing more than a challenge. Yet when she's asked to tutor the Home's dour manager in the ways of society-flirtation, double-entendres, and scandalous liaisons-Isabel can't help wondering why his eyes seem so familiar-and his lips so tempting.

During the day Isabel and Winter engage in a battle of wills. At night their passions are revealed . . . But when little girls start disappearing from St. Giles, Winter must avenge them. For that he might have to sacrifice everything-the Home, Isabel . . . and his life.
The Secret History of the Pink Carnation by Lauren Willig
[I gave it 4 stars.]
Historical Romance -- Regency England
Deciding that true romantic heroes are a thing of the past, Eloise Kelly, an intelligent American who always manages to wear her Jimmy Choo suede boots on the day it rains, leaves Harvard's Widener Library bound for England to finish her dissertation on the dashing pair of spies the Scarlet Pimpernel and the Purple Gentian. What she discovers is something the finest historians have missed: a secret history that begins with a letter dated 1803. Eloise has found the secret history of the Pink Carnation the most elusive spy of all time, the spy who single-handedly saved England from Napoleon's invasion.

The Secret History of the Pink Carnation, a wildly imaginative and highly adventurous debut, opens with the story of a modern-day heroine but soon becomes a book within a book. Eloise Kelly settles in to read the secret history hoping to unmask the Pink Carnation's identity, but before she can make this discovery, she uncovers a passionate romance within the pages of the secret history that almost threw off the course of world events. How did the Pink Carnation save England? What became of the Scarlet Pimpernel and the Purple Gentian? And will Eloise Kelly find a hero of her own?
Dragon Bones by Patricia Briggs
High Fantasy
Riding into a war that's heating up on the border, Ward, the new lord of Hurog, is sure he's on the fast track to glory. But soon his mission takes a deadly turn. For he has seen a pile of magical dragon bones hidden deep beneath Hurog Keep. The bones could prove to be dangerous in the wrong hands, and Ward is certain his enemies will stop at nothing to possess them.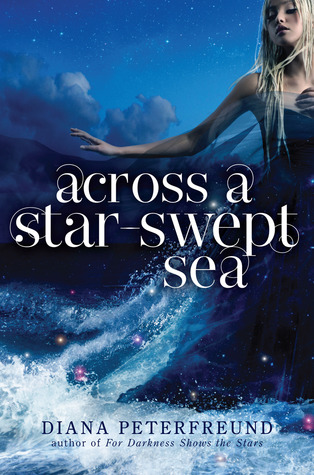 Across a Star-Swept Sea by Diana Peterfreund

[I gave it 5 stars.]
Young Adult -- Science Fiction/Dystopian
Centuries after wars nearly destroyed civilization, the two islands of New Pacifica stand alone, a terraformed paradise where even the Reduction—the devastating brain disorder that sparked the wars—is a distant memory. Yet on the isle of Galatea, an uprising against the ruling aristocrats has turned deadly. The revolutionaries' weapon is a drug that damages their enemies' brains, and the only hope is rescue by a mysterious spy known as the Wild Poppy.

On the neighboring island of Albion, no one suspects that the Wild Poppy is actually famously frivolous aristocrat Persis Blake. The teenager uses her shallow, socialite trappings to hide her true purpose: her gossipy flutternotes are encrypted plans, her pampered sea mink is genetically engineered for spying, and her well-publicized new romance with handsome Galatean medic Justen Helo… is her most dangerous mission ever.

Though Persis is falling for Justen, she can't risk showing him her true self, especially once she learns he's hiding far more than simply his disenchantment with his country's revolution and his undeniable attraction to the silly socialite he's pretending to love. His darkest secret could plunge both islands into a new dark age, and Persis realizes that when it comes to Justen Helo, she's not only risking her heart, she's risking the world she's sworn to protect.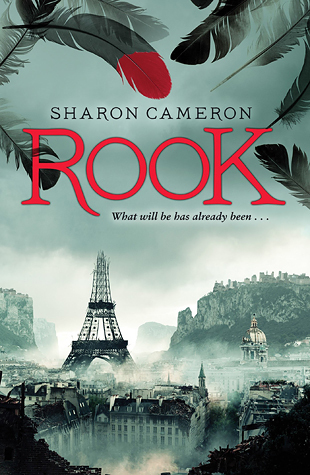 Rook by Sharon Cameron
Young Adult -- Dystopian
History has a way of repeating itself. In the Sunken City that was once Paris, all who oppose the new revolution are being put to the blade. Except for those who disappear from their prison cells, a red-tipped rook feather left in their place. Is the mysterious Red Rook a savior of the innocent or a criminal?

Meanwhile, across the sea in the Commonwealth, Sophia Bellamy's arranged marriage to the wealthy René Hasard is the last chance to save her family from ruin. But when the search for the Red Rook comes straight to her doorstep, Sophia discovers that her fiancé is not all he seems. Which is only fair, because neither is she.

As the Red Rook grows bolder and the stakes grow higher, Sophia and René find themselves locked in a tantalizing game of cat and mouse.