This is part of a feature where I focus on a specific theme (or trope) that I have found in my years as a voracious reader/blogger. I love finding commonalities between my favorite books and how that helps define me as a reader.

Please note this is not meant to be a comprehensive list. I am just picking a few examples of this trope. So, if you have a favorite example of this theme, let me know about it in the comments. I'm always on the lookout for more books to be added to my wishlist.
Medical Professionals -- Heroines
This list includes romance heroines who are involved in the medical profession. They can be doctors, nurses, midwives, or healers. I enjoy this romances because the medical details are usually interesting and there is often a sense of danger/drama associated with this profession.
Untamed by Elizabeth Lowell
-- Lady Margaret of Blackthorne is a healer.
[4.5 Stars]
Historical Romance -- Medieval Scotland
A hero of the crusades, Dominic le Sabre has returned in glory and in triumph to claim his reward: the beautiful Saxon bride awarded to him by the conqueror king. But Lady Margaret of the Blackthorne cannot yield to the bold Norman invader. The beloved daughter of a sacred tribe of the Celtic mystics, she fears an ancient curse that could bring further turmoil to her battle-scarred land...and sorrow to her marriage bed.
With a word, the lady could turn her wedding into war. But there awaits in the noble knight's embrace a promise of passion unbound - and a love that neither violence nor treachery can tear asunder, a love both invincible and...untamed.
Highland Destiny by Hannah Howell
-- Maldie Kirkaldy is a healer.
[3 Stars]
Historical Romance -- Medieval Scotland
When destiny brought Sir Balfour Murray and his wounded brother down the same road as Maldie Kirkaldy, she offered her services as a nurse even as she tried to deny the desire this dark-eyed knight had ignited at first sight. Soon they discover that they both share a mission of vengeance, but Maldie cannot tell him her true identity—to do so would brand her a spy...
Sworn to avenge his family as chief of the Doncoill Clan, Balfour vows to destroy his greatest foe, Beaton of Dubblinn, with Maldie at his side. Yet Balfour knows that he can no more afford to trust her than he can ignore his lust for his sultry beauty. Now, he is not only determined to unearth her deepest secrets, but also to pursue his passion for her. And nothing will stand in his way...
Outlander by Diana Gabaldon --
Claire Randall is a World War II-era nurse.
[5 Stars]
Historical Fiction -- 1940s England/1740s Scotland
The year is 1945. Claire Randall, a former combat nurse, is just back from the war and reunited with her husband on a second honeymoon when she walks through a standing stone in one of the ancient circles that dot the British Isles. Suddenly she is a Sassenach—an "outlander"—in a Scotland torn by war and raiding border clans in the year of Our Lord...1743.
Hurled back in time by forces she cannot understand, Claire is catapulted into the intrigues of lairds and spies that may threaten her life, and shatter her heart. For here James Fraser, a gallant young Scots warrior, shows her a love so absolute that Claire becomes a woman torn between fidelity and desire—and between two vastly different men in two irreconcilable lives.
Lady of Skye by Patricia Cabot --
Brenna Donnegal is a doctor.
[3 Stars]
Historical Romance -- Regency Scotland
Dr. Reilly Stanton, eighth Marquis of Stillworth, must mend his injured pride by proving himself a hero -- and not a drunken wastrel, as his former fiance e claimed. Against all sane advice, the Londoner takes a medical post in a tiny fishing village on the remote Isle of Skye -- and is convinced that he can cope with the primitive conditions, horrendous Highland weather, and rampant illness. But Miss Brenna Donnegal is another matter entirely....Try as he might, Reilly cannot ignore the toweringly tall lady with flaming chestnut locks and an equally fiery will. She has filled her father's former role as the local physician, and is more than annoyed to find the urbane Dr. Stanton taking over her work and her father's cottage. By fair means or foul, she will give the usurper his comeuppance. But what begins as a sparking tug-of-war between two proud hearts soon flames to a passionate fire...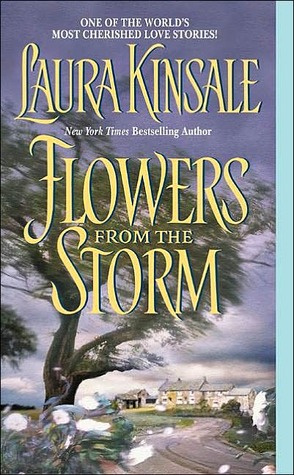 Flowers from the Storm by Laura Kinsale --
Maddy Timms is an asylum nurse.
[4.5 Stars]
Historical Romance -- Regency England
The Duke of Jervaulx was brilliant - and dangerous. Considered dissolute, reckless, and extravagant, he was transparently referred to as the "D of J" in scandal sheets. But sometimes the most womanizing rakehell can be irresistible, and even his most causal attentions fascinated the sheltered Maddy Timms.

Then one fateful day she receives the shocking news - the duke is lost to the world. And Maddy knows it is her destiny to help him and her only chance to find the true man behind the wicked facade. But she never dreamed her gentle, healing touch would alter his life and her own so completely - and bind them together in need, desire...and love.
Yours Until Dawn by Teresa Medeiros --
Samantha Wickersham is a personal nurse.
[5 Stars]
Historical Romance -- Regency England
Gabriel Fairchild's valor during battle earns him the reputation of hero, but costs him both his sight and his hope for the future. Abandoned by the fiancée he adored, the man who once walked like a prince among London's elite secludes himself in his family's mansion, cursing his way through dark days and darker nights.
Prim nurse Samantha Wickersham arrives at Fairchild Park to find her new charge behaving more like a beast than a man. Determined to do her duty, she engages the arrogant earl in a battle of both wit and wills. Although he claims she doesn't possess an ounce of womanly softness, she can feel his heart racing at her slightest touch. As Samantha begins to let the light back into Gabriel's life and his heart, they both discover that some secrets -- and some pleasures -- are best explored in the dark ...
Saving the Rifleman by Julie Rowe
-- Maria Hunt is a World War I-era nurse.
[3 Stars]
Historical Romance -- WWI Belgium
British Red Cross nurse Maria Hunt lives in daily fear that the Germans will uncover her secret: she helps wounded British soldiers escape.
Lieutenant John Bennet is wounded and running out of options. Trapped behind enemy lines while collecting intelligence, he needs to get out of Belgium if he's going to escape with the information and his life.
Maria is devoted to her patients and her cause, but something else compels her to risk her life for this soldier. While a man of Lieutenant Bennet's station would barely speak to her in other circumstances, something in his kind eyes inspires a passion deep within her.
As his injuries worsen, can Maria find the courage to guide him through the war-torn countryside? And should they make it back to England, will their burgeoning desire survive the ravages of war?
Not Quite a Husband by Sherry Thomas
-- Bryony Asquith-Marsden is a physician.
[4 Stars]
Historical Romance -- Edwardian India/England
Their marriage lasted only slightly longer than the honeymoon—to no one's surprise, not even Bryony Asquith's. A man as talented, handsome, and sought after by society as Leo Marsden couldn't possibly want to spend his entire life with a woman who rebelled against propriety by becoming a doctor. Why, then, three years after their annulment and half a world away, does he track her down at her clinic in the remotest corner of India?
Leo has no reason to think Bryony could ever forgive him for the way he treated her, but he won't rest until he's delivered an urgent message from her sister—and fulfilled his duty by escorting her safely back to England. But as they risk their lives for each other on the journey home, will the biggest danger be the treacherous war around them—or their rekindling passion?
Friends without Benefits by Penny Reid
-- Elizabeth Finney is a medical resident.
[4 Stars]
Contemporary Romance
There are three things you need to know about Elizabeth Finney: 1) She suffers from severe sarcastic syndrome, especially when she's unnerved, 2) No one unnerves her like Nico Manganiello, and 3) She knows how to knit.

Elizabeth Finney is almost always right about everything: the musical merits of boy bands are undervalued by society, "benefits" with human Ken dolls are better without friendship, and the sun has set on her once-in-a-lifetime chance for true love. But when Elizabeth's plans for benefits without friendship are disarmed by the irritatingly charismatic and chauvinistic Nico Manganiello- her former nemesis- she finds herself struggling to maintain the electric fence around her heart while avoiding electrocution or, worse, falling in love.
The Unsung Hero by Suzanne Brockmann
-- Kelly Ashton is a pediatrician.
[4 Stars]
Romantic Suspense
After a near-fatal head injury, navy SEAL lieutenant Tom Paoletti catches a terrifying glimpse of an international terrorist in his New England hometown. When he calls for help, the navy dismisses the danger as injury-induced imaginings. In a desperate, last-ditch effort to prevent disaster, Tom creates his own makeshift counterterrorist team, assembling his most loyal officers, two elderly war veterans, a couple of misfit teenagers, and Dr. Kelly Ashton-the sweet "girl next door" who has grown into a remarkable woman. The town's infamous bad boy, Tom has always longed for Kelly. Now he has one final chance for happiness, one last chance to win her heart, and one desperate chance to save the day . . .

Lover Unbound by JR Ward
-- Jane Whitcomb is a surgeon.
[4 Stars]
Paranormal Romance -- Vampires
Ruthless and brilliant, Vishous, son of the Bloodletter, possesses a destructive curse and a frightening ability to see the future. As a pretrans growing up in his father's war camp he was tormented and abused. As a member of the Brotherhood, he has no interest in love or emotion, only the battle with the Lessening Society. But when a mortal injury puts him in the care of human surgeon, Dr. Jane Whitcomb compels him to reveal his inner pain and taste true pleasure for the first time—until a destiny he didn't choose takes him into a future that cannot include her...
Kiss of Crimson by Lara Adrian
-- Tess Culver is a veterinarian.
[4 Stars]
Paranormal Romance -- Vampires
He comes to her more dead than alive, a towering black-clad stranger riddled with bullets and rapidly losing blood. As she struggles to save him, veterinarian Tess Culver is unaware that the man calling himself Dante is no man at all, but one of the Breed, vampire warriors engaged in a desperate battle. In a single erotically charged moment Tess is plunged into his world—a shifting, shadowed place where bands of Rogue vampires stalk the night, cutting a swath of terror.
Haunted by visions of a dark future, Dante lives and fights like there is no tomorrow. Tess is a complication he does not need—but now, with his brethren under attack, he must shield Tess from a growing threat that includes Dante himself. For with one reckless, irresistible kiss, she has become an inextricable part of his underworld realm…and his touch awakens her to hidden gifts, desires, and hungers she never knew she possessed. Bonded by blood, Dante and Tess must work together to thwart deadly enemies, even as they discover a passion that transcends the boundaries of life itself….
Hostage to Pleasure by Nalini Singh
-- Ashaya Aleine is a M-Psy.
[4 Stars]
Paranormal Romance
Separated from her son and forced to create a neural implant that will mean the effective enslavement of her psychically gifted race, Ashaya Aleine is the perfect Psy--cool, calm, emotionless...at least on the surface. Inside, she's fighting a desperate battle to save her son and escape the vicious cold of the PsyNet. Yet when escape comes, it leads not to safety, but to the lethal danger of a sniper's embrace.
DarkRiver sniper Dorian Christensen lost his sister to a Psy killer. Though he lacks the changeling ability to shift into animal form, his leopard lives within. And that leopard's rage at the brutal loss is a clawing darkness that hungers for vengeance. Falling for a Psy has never been on Dorian's agenda. But charged with protecting Ashaya and her son, he discovers that passion has a way of changing the rules...
Beat of Temptation by Nalini Singh
-- Tamsyn is the pack's healer.
[4 Stars]
Paranormal Romance
Innocent Tamsyn has always had a place in her heart for Nathan, a blooded DarkRiver sentinel. But is she ready for the fierce demands of the mating bond?

If Angels Burn by Lynn Viehl
-- Alexandra Keller is a plastic surgeon.
[4 Stars]
Paranormal Romance
SHE RESTORES THE LIGHT OF HOPE.Dr. Alexandra Keller is Chicago's most brilliant reconstructive surgeon.
HE DWELLS IN SHADOW.Michael Cyprien is New Orleans's most reclusive millionaire--and in desperate need of Dr. Keller's skills.
A NEW DAWN AWAITS THEM BOTH....Beneath the foundation of a mansion in the heart of the Garden District, Alexandra will perform an illegal surgery. Her patient's disfigurement is beyond medical repair. But his body's ability to recuperate from his wounds borders on the miraculous.
Alexandra knows Michael Cyprien is no ordinary patient. Intrigued by how his remarkable physiology might benefit medical science, she is even more compelled by his presence--and the mystery surrounding him and his associates, a cadre of immortals who call themselves the Darkyn.